When Tricia Rhynold receives a birthday party invitation for her son Timothy she normally gets a sinking feeling.
Timothy, seven, has a severe form of nonverbal autism which means he struggles in large crowds, when being touched or in unfamiliar environments.
This means the Canadian mum of three feels forced to politely decline any and every birthday party invitation she gets for him- despite his protests.
She explained on her blog, the book of Timothy, that: "We have received countless invitations in the past few years, but mostly by kids who mercilessly invite the entire class. Don't get me wrong, I am grateful.
"But I wonder if the parents know what would happen if I brought Timothy? The interruptions, the meltdowns. How I would hate to take the spotlight from the birthday child."
But this changed when she received an invite from a mum in Timothy's class who personally asked for him to attend saying her son Carter sat next to him at school and was "always talks about him".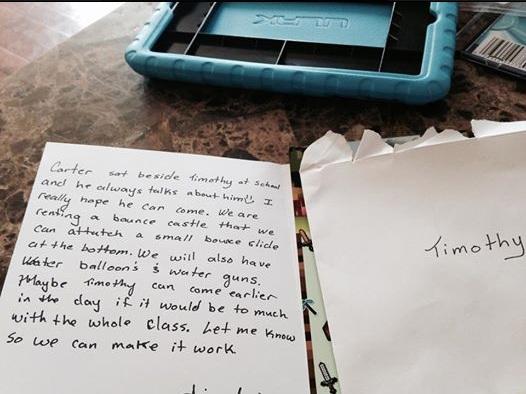 She said she wanted to work around Timothy's problems so he could attend saying: "Maybe Timothy can come earlier in the day if it would be too much with the whole class. Let me know how we can make it work."
Tricia wrote: "This Mom wrote exactly what I needed to see that day and didn't even know it. This Mom gives me hope for Timothy's future when sometimes I get stuck in the darkness of his diagnosis.
"This Mom is everything I strive to be. This Mom rocks."
Timothy will attend his first party, complete with "water balloons and bouncy castle" today.
Tricia told Metro.co.uk: "I am so very grateful and touched that someone went out of their way to include Timothy in their own child's special day. It was unexpected but unbelievably special to receive the invite.
"Sometimes we become so wrapped up in our own needs that we are unaware of others….it restored my faith in humanity."
Reuse content