A man who was rescued after spending a week stranded at sea off the east US coast said he did everything he could to save his mother before she drowned.
Nathan Carman set off on a fishing trip with his 54-year-old mother on 17 September from a harbour in Rhode Island.
He was found a week later on an inflatable life raft 100 miles off the coast of neighbouring state Massachusetts – but his mother had died in a "terrible tragedy", he told Associated Press.
Mr Carman said their boat, a 31ft aluminium fishing vessel called Chicken Pox, sank in a matter of minutes on the second day of the trip after he heard a "funny noise" in the engine compartment and saw water pouring in. 
He said he saw his mother in the cockpit, and grabbed three bags containing food, flares and life jackets. But when he looked back, his mother was no longer there.
Mr Carman, who has Asperger's syndrome, said he swam to the boat's life raft — about 15 to 20 feet away — then blew a whistle and called out frantically for her for hours.
"I was yelling, 'Mom! Mom!"' Mr Carman said. He added: "I loved my mother and my mother loved me."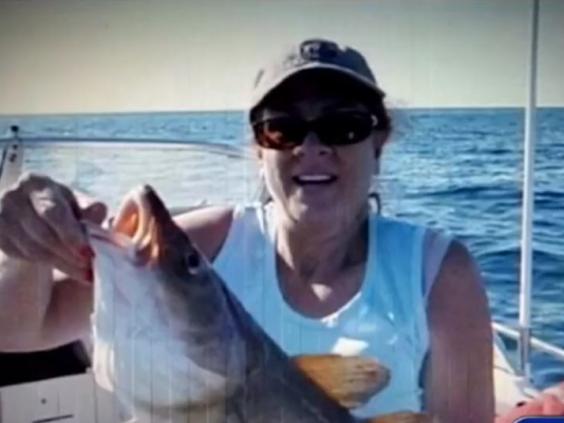 Coast Guard officials interviewed Mr Carman, and police searched his home in Vermont on Monday as part of an investigation into the ill-fated trip. 
He has not been charged with anything and authorities would not discuss the investigation into the boating trip – but Mr Carman said suspicions about his account of the sinking of his boat were compounding his grief after the incident.
"What happened on the boat was a terrible tragedy that I am still trying to process and that I am still trying to come to terms with," he said. 
"I don't know what to make of people being suspicious," he added. "I have enough to deal with."
The search warrant indicated investigators think Mr Carman was handling some boat motor repairs himself and that the vessel might not have been seaworthy.
In pictures: Canada whale-watching boat sinks
In pictures: Canada whale-watching boat sinks
1/5

Rescue personnel mounting a search for victims of a capsized whale watching boat park on a wharf in Tofino, British Columbia

Reuters

2/5

A woman pays her condolences from the First St. dock to passengers of a capsized whale watching boat in Tofino

AP

3/5

A candle burns on the First St. Dock in memory of those who lost their lives on a whale watching boat that capsized, in Tofino

AP

4/5

Canadian Coast Guard crew arrive at a dock in Tofino

AP

5/5

Rescue personnel mounting a search for victims of a capsized whale-watching boat park on a wharf in Tofino

Reuters
"The investigation has also revealed that Nathan had intended to go fishing further off-shore in a different location than what were his mother's intentions and understanding," the warrant said.
The 22-year-old had been a suspect in the still unsolved killing of his rich grandfather in 2013. According to court documents, he was the last person to see 87-year-old John Chakalos alive before he was shot dead.
Carmen had bought a rifle which matched the one used in the crime, and also thrown away his GPS unit around the time of the shooting. He was never charged.
Experts say people with Asperger's, a high-functioning form of autism, are no more likely than others to commit violent crimes.
Reuse content