Tens of thousands of police officers gathered for the funeral of the second New York police officer shot dead by a lone gunman who then took his own life. Once again, scores of officers turned their backs when Mayor Bill de Blasio spoke, despite an appeal by New York's police chief not to do so.
The service for Wenjian Liu combined Buddhist elements as well as the rituals of a police force that for many years was dominated by Catholic officers of Irish and Italian descent. The killing of Mr Liu, whose family was originally from China, underscored the increasing diverse background of officers now joining the New York Police Department.
"This city welcomed Detective Liu," the mayor said in his remarks. "New York stands a little taller today because of the time he walked among us."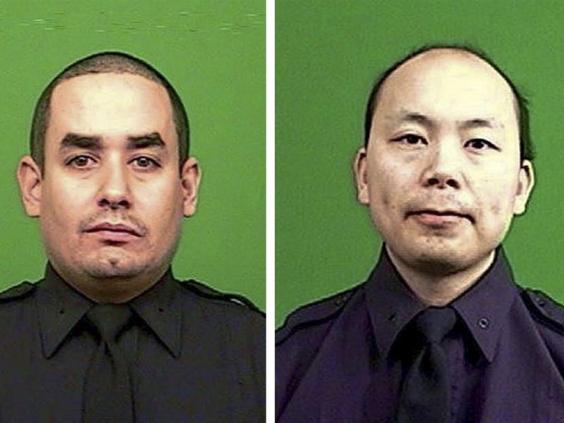 Mr de Blasio has been struggling to heal his relationship with many of the rank and file of the police department after he was accused of failing to sufficiently support the department amid a national controversy over the deaths of black suspects at the hands of the police.
The controversy followed a series of incidents including the shooting of 18-year-old Michael Brown in Ferguson, Missouri, and the death of Eric Garner, a 46-year-old man from Staten Island, New York, who died after being placed in a choke-hold by officers. In both cases, prosecutors decided not to charge officers.
The tension between officers and the city's civilian leadership increased following the killing of Mr Liu,32, and Mr Ramos, 40, who were shot dead as they waited in their patrol car in Brooklyn on December 20. The gunman, Ismaaiyl Brinsley, fled the scene and shot himself on a subway platform shortly afterwards.
At the funeral of Mr Ramos a week ago, many officers turned their backs when Mr de Blasio spoke, their actions mirroring a move by officers at a press conference held by the mayor at the hospital where the officers' bodies had been taken. The head of one of the police union's claimed that Mr de Blasio had "blood on his hands".
Ahead of Sunday's funeral, Police Commissioner Bill Bratton had appealed to officers not to repeat the high-profile sign of disrespect. "A hero's funeral is about grieving, not grievance," Mr Bratton wrote in a note to officers.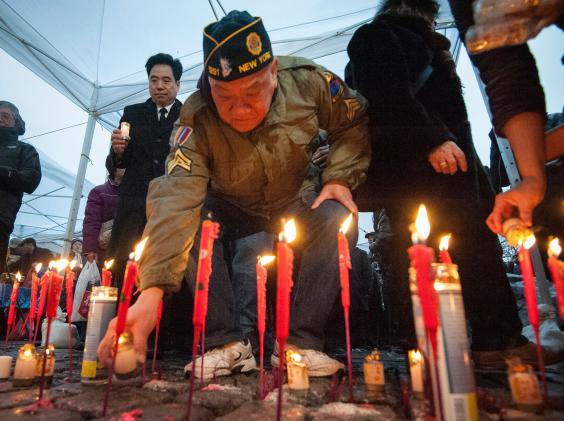 But the New York Times said scores of officers ignored his appeal and turned their backs on a video screen as the mayor spoke inside the Aievoli Funeral Home in the city's Bensonhurst neighbourhood.
"All of our city is heart-broken today," added Mr de Blasio. "All of this city is feeling the pain, and all of the city wants to lift up the Liu family and the Ramos family."
The director of the Federal Bureau of Investigation, James Comey, also spoke during the ceremony, which began shortly after 11 am.
So did did Detective Liu's father, who delivered his remarks in tears. Speaking through a translator, he said: "No words can express my sadness."