Computers traced back to the network at the New York Police Department's (NYPD) headquarters have been used to change Wikipedia pages containing details of alleged police conduct in the cases of Eric Garner, shooting victim Sean Bell and others, it has been reported.
Edits made to the Wikipedia pages were linked back to the NYPD Police Plaza building through IP addresses by Capital New York. IP addresses can be used to determine a computer's location when it connects to the internet. There are more than 15,000 IP addresses registered to the NYPD.
Capital's investigation reportedly found changes were made to a page detailing the death of Mr Garner, a black man who died after being restrained in a chokehold by NYPD police.
A user identified by Capital as working from inside the 1 Police Plaza network  page changed  "Garner raised both his arms in the air" to "Garner flailed his arms about as he spoke".  The sentence "Garner, who was considerably larger than any of the officers, continued to struggle with them," was added to a description of the events leading up to his death. It has since been removed by another Wikipedia user.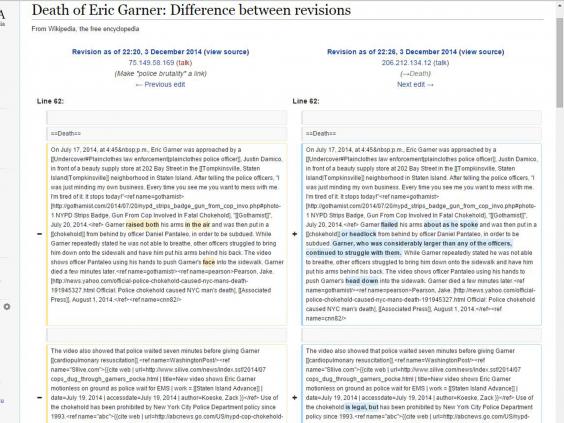 The edits

were made just hours after a grand jury chose not to indict an NYPD officer in Mr Garner's death on 3 December 2014, it is alleged.
In another change, "[P]ush Garner's face into the sidewalk" was amended to read: "Push Garner's head down into the sidewalk."
Wikipedia allows anyone to edit entries by either logging in with an account and doing so or making changes anonymously. Capital reports that edits made from 1 Police Plaza were made anonymously. This created a permanent Wikipedia log of edits made on IP addresses within the network, allowing Capital to write a computer program capable of searching Wikipedia for all anonymous edits made by IP addresses registered to 1 Police Plaza.
It claims NYPD IP addresses have made hundreds of anonymous edits over the past decade, including on pages that were unrelated to police activities.
Capital say that a separate entry that was also targeted focused on the death of Mr Bell, who died in 2006 when undercover officers fired 50 times at him and two other unarmed men.
A user allegedly on the 1 Police Plaza network put the article forward for deletion in April 2007, arguing: "He was in the news for about two months, and now no one except Al Sharpton cares anymore.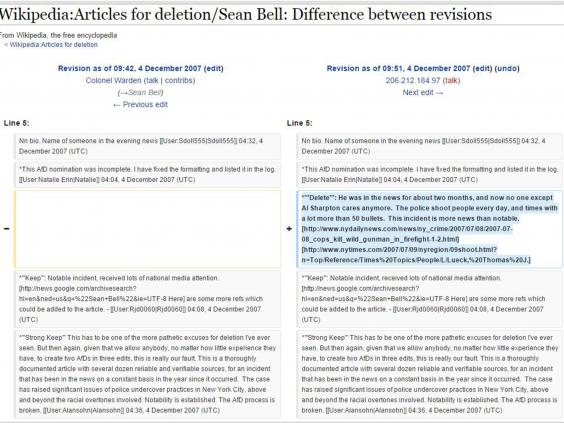 "The police shoot people every day, and times with a lot more than 50 bullets.  This incident is more news than notable."
Another edit in 2009 saw "one Latino and two African-American men were shot a total of fifty times" changed to "one Latino and two African-American men were shot at a total of fifty times".
In November 2013 a computer reportedly linked back to the 1 Police Plaza network changed an entry for the "Alexien Lien beating," it is claimed. Lien was chased and assaulted by a group of bikers and an off-duty NYPD officer in 2013. Paragraphs of text that could be considered "anti-NYPD vandalism" were removed from the page, Capital reports, including one that suggested Lien had "influential friends in the govt [sic]".
Other NYPD IP addresses were allegedly used to alter entries on stop-and-frisk, scandals relating to the NYPD and key figures within the police department's leadership, and articles describing police misconduct.
The Independent has contacted the NYPD for comment.
Reuse content