A 55-year-old armed anti-government militia man protesting at a federal wildlife refuge in Oregon has holed himself up under a blue tarpaulin sheet on live TV, saying he did "not intend to spend any time in a concrete cell".
Lavoy Finicum spoke to a presenter from news channel MSNBC while standing – or sitting – guard outside the Malheur National Wildlife Refuge in Princeton, Oregon.
Armed protesters took over the facility on Monday, accusing government officials of unfairly punishing ranchers who refuse to sell their land.
Mr Finicum was reportedly armed with a rifle under his blanket, and had apparently been sitting under the plastic sheet until the interview began.
He told MSNBC he believes there was a federal warrant out for his arrest in relation to the takeover, although he could not verify the accuracy of his claim.
He said: "If that is the case, I do not want the FBI running around in the dark, kicking in doors and looking for me, ok? I want them to know exactly where I'm at [sic].
"I have no intention of spending any of my days in a concrete box," he added.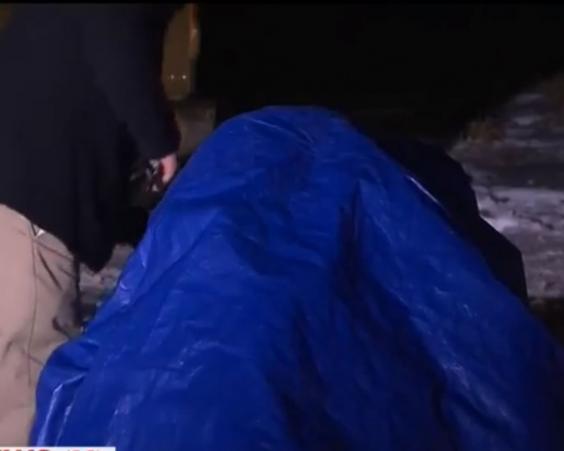 The interviewer goes on to ask what he plans to do if federal agents arrive at the scene to arrest him, "point a gun at you and try to put cuffs on you".
Mr Finicum, whose rifle butt can be seen sticking out from under the blanket, said: "Well, don't point a gun at me. You don't point a gun at somebody unless you're going to shoot them.
"That's the first thing your thought is [sic], don't point guns at people."
The interviewer then asks Mr Finicum if he would be "better dead than in a cell", to which he replies: "Absolutely. Would you like to be in a cell?"
In a separate video posted on Gawker, Mr Finicum is seen pulling the blue tarpaulin sheet over his head to cover his whole body.
"I don't intend to spend any time in a concrete cell." But he'll stick with the tarp... #LastWord pic.twitter.com/AjmRwZFG3c

— MJ (@BeachPeanuts) January 6, 2016
It is unclear how long the takeover will continue for, but one protester, Ammon Bundy, told CNN they are prepared to stay for "as long as necessary".
Mr Bundy, 40, said the protesters were using the refuge as a place for people to come and "assist in helping the people of Harney County claim back their lands and resources".
Reuse content