"We cannot let this happen," declared Ammon Bundy. "We have to have access to the land and its resources."
So spoke the man apparently leading the armed protesters who have seized the  Malheur National Wildlife Refuge in Oregon, and whose conflict with the federal government reaches back to the neighbouring state of Nevada.
Ammon Bundy, who has been joined by his two bothers and dozens of other supporters, is the son of Cliven Bundy, a rancher from Nevada who has been involved in in infamous dispute with the federal government over grazing rights stretching back decades.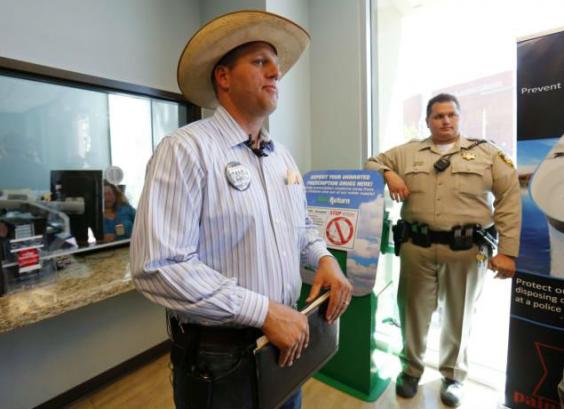 Mr Bundy posted a video on his Facebook page asking for people to come help him. Below the video is the statement "**ALL PATRIOTS ITS TIME TO STAND UP NOT STAND DOWN!!! WE NEED YOUR HELP!!! COME PREPARED."
Ammon Bundy said the group planned to stay at the refuge indefinitely. "We're planning on staying here for years, absolutely," he told local media. "This is not a decision we've made at the last minute."
The action led by the Bundys followed a peaceful protest earlier on Saturday in support of local residents, Dwight Hammond and his son Steven. Mr Hammond, 73, and his 46-year-old son, were convicted of starting fires that spread to government land that they leased to graze cattle.
The Associated Press said that the Hammonds, who said they lit fires in 2001 and 2006 to reduce the growth of invasive plants and protect their property from wildfires, were convicted and served time for arson. 
However a judge later ruled their sentences — three months for the father, one year for the son — were too short and ordered them back to prison. The Hammonds are due to report to jail on Monday, according to KTVZ.
Yet it is unclear to what extent the local people in Oregon welcome the presence of the Bundys. The Hammonds have reportedly said they have not welcomed the Bundys help.
"Neither Ammon Bundy nor anyone within his group/organisation speak for the Hammond Family," the Hammonds' lawyer, Alan Schroeder, wrote to local sheriff David Ward.
According to the Washington Post, Mr Ward issued a statement on Sunday evening that said: "These men came to Harney County claiming to be part of militia groups supporting local ranchers, when in reality these men had alternative motives, to attempt to overthrow the county and federal government in hopes to spark a movement across the United States."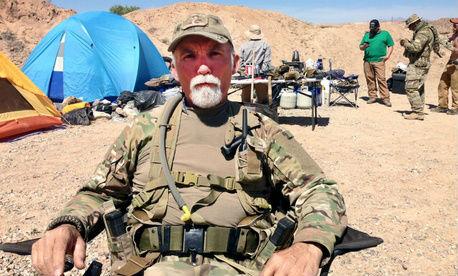 On Sunday, Ammon Bundy held a press conference at which he said his group had not heard from law enforcement since taking over the unoccupied site.
"This refuge here is rightfully owned by the people and we intend to use it," he said. "We will be here as a unified body of people that understand the principles of the Constitution.
Cliven Bundy, whose own conflict with the federal government dates back to 1993, told Oregon Public Broadcasting on Saturday night that he had nothing to do with the takeover of the building. Rather, he said that his sons had felt obliged to intervene on behalf of the Hammonds.
"That's not exactly what I thought should happen, but I didn't know what to do," he said.
"You know, if the Hammonds wouldn't stand, if the sheriff didn't stand, then, you know, the people had to do something. And I guess this is what they did decide to do. I wasn't in on that."
His son Ammon told him they are committed to staying in the building, said Mr Bundy.
"He told me that they were there for the long run. I guess they figured they're going to be there for whatever time it takes - and I don't know what that means," he said. 
"I asked him, 'Well how long can you, how long you going to stand out there?' He just told me it was for long term."
In April 2014, agents from the Bureau of Land Management arranged a round-up of hundreds of cattle belonging to Mr Bundy that had grazing on federal land. They said Mr Bundy had not paid up to $1.1m in unpaid grazing fees and two federal orders had been issued against him.
In the end, the agents were obliged to release the cattle after a standoff between armed protesters and federal agents on April 12.
In June 2014, Jerad and Amanda Miller killed two Las Vegas police officers and a civilian before taking their own lives during a shootout. During the attacks, they shouted "this is a revolution". 
It later emerged they had spent time at the Bundy ranch in the spring, though Ammon Bundy claimed they had been asked to leave because they were too radical.
Reuse content