A school in the US has been forced to apologise and promise it won't do it again after its method for punishing late children was exposed via social media.
Grandmother Laura Hoover sparked outrage online after she posted images showing her six-year-old grandson Hunter being made to eat his lunch on his own behind a screen because he was "one minute late" in the morning.
The pictures have since been shared more than 130,000 times by Facebook users around the world, and on Friday Lincoln Elementary School in Grants Pass had to issue a public statement that it would stop using the controversial punishment, and that late children would be made to do catch-up work in a separate, supervised room in future.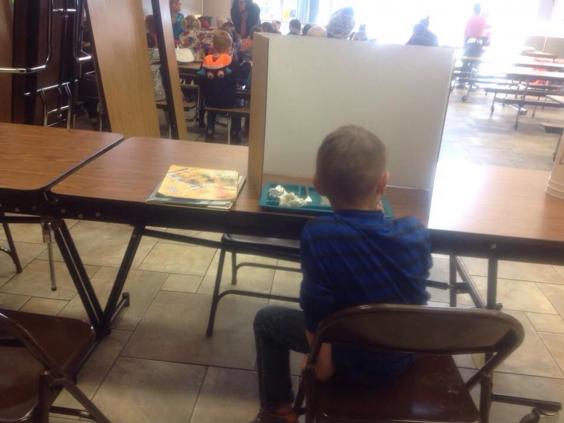 On what the school described as her grandson's "chronic tardiness", Ms Hoover said: "His momma's car sometimes doesn't like to start right up. Sometimes he's a couple of minutes late to school.
"They have done this to him 6 times for something that is out of this baby's control! They make a mockery of him in front of the other students! His mom found him there, crying, and took him home for the day."
Speaking to the local Grants Pass Daily Courier, the boy's parents, Nicole Gerloff and Mark Cmelo, said they received an apology from the school's principal on Thursday and that they were confident no more children would be "placed on display" like that again.
Reuse content