More than 1,000 migrant children are being sent without their families to a detention centre in Arizona from the Mexican border as authorities are overwhelmed by the number of arrivals.
Jan Brewer, the Republican Governor of Arizona, said she was "disturbed" by the news and claimed her administration had not been notified of the plan.
She called the policy "dangerous and inhumane" and blamed Barack Obama's government for failing to address an increase in illegal immigrants and provide for them after their release into the US.
According to the Arizona Department of Emergency and Military Affairs, 432 children were transported on Friday and another 734 over Saturday and Sunday.
An unknown number of adults is expected to join them.
Conditions at the facility, in Nogales, were so dire that federal officials asked the state to urgently release stores of medical supplies and send them to the centre, according to Governor Brewer's spokesman.
In some cases, families who cannot be detained are reportedly dropped off at bus stops across Texas and Arizona with orders to attend meetings with immigration officials at a later date.
The governors of Texas and Arizona have written letters to the Government asking them to stop the practice but it looks set to continue.
Rumours of illegal immigrants being freed if they have children has reached Central America and could be driving up numbers trying to enter the US.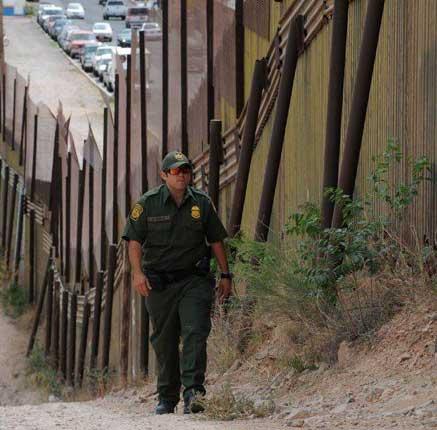 Although there has been no change in the law, there is nowhere to hold migrant families waiting for deportation hearings and the one family detention centre in Pennsylvania is full.
With no room, authorities are freeing immigrants with with instructions to attend appointments but how many are complying with the order is unknown.
Officials have reported a dramatic spike in the number of children caught travelling without adults.
Border Patrol agents in southern Texas, across the Rio Grande from Reynosa, made more than 160,000 arrests between October and May - 70 per cent up on the previous year.
Nearly one third of those detained - 47,000 - were children traveling alone.
President Obama last week called the phenomenon "an urgent humanitarian situation," and asked Congress to approve additional spending to house the children at two military bases.
The spike in migrant detentions comes as Mr Obama is under pressure both to reform immigration laws and to do more to stop illegal migrants, with Republicans suggesting the rise is a result of lax enforcement.
A spokesman for Immigration and Customs Enforcement, said decisions regarding detention are made on a case-by-case basis, with top concern given to national security and public safety.
He added: "They are subject to removal but may not be detained through the length of their proceedings."
Additional reporting by AP