An orphaned polar bear cub found wandering around the town of Churchill in eastern Canada without its mother has found a new home at a conservation centre.
The female cub, who weighs 100lbs (45kg) and is believed to be 11 months old, was "identified as in need of intervention", the centre said in a post on its Facebook page.
"The young cub was observed alone in the Churchill area without its mother for some time before wandering near the town of Churchill," the zoo said.
"Cubs of this age need to stay with their mothers for at least one winter, or freeze-up of the Western Hudson Bay, to learn how to hunt and to have her protection from other bears.
"Wildlife experts agree cubs this young are not able to survive on their own."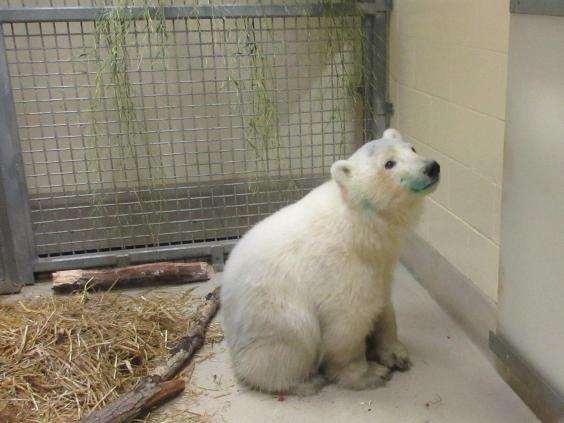 Responding to questions about its decision to take care of the young animal, the zoo replied: "First and foremost please know that we at the Assiniboine Park Zoo were hoping more than anyone that we would not get a call this year about a cub needing our help.
"We believe these beautiful animals belong in the wild.
"We also believe when we receive a call from conservation experts from the Province of Manitoba saying an animal needs our help that it is our obligation to do so."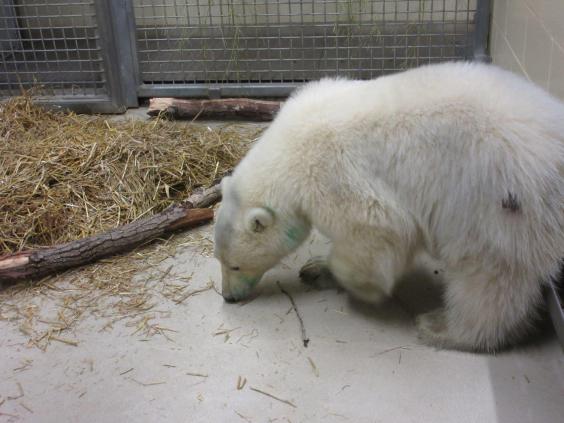 Head veterinarian Dr Chris Enright said: "This is a very unfortunate situation as it appeared we would make it through the 2016 polar bear season without a bear needing our help.
"We are happy to report that the cub is in good health and is doing well in her new surroundings."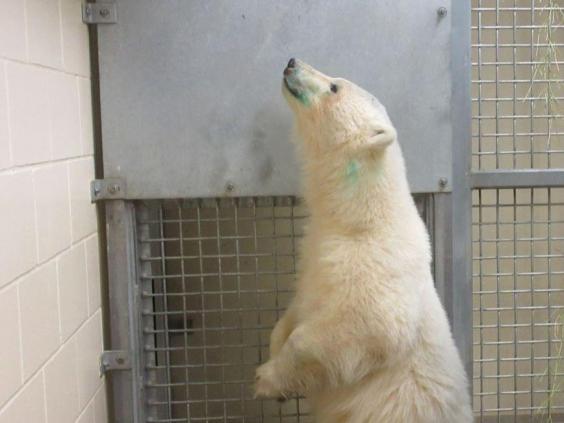 The bear will be quarantined for 30 days before it is introduced to the public and seven other polar bears called Storm, Aurora, Kaska, Blizzard, Stark, York and Eli, already living at the zoo. The female cub has not yet been named.
10 photographs to show to anyone who doesn't believe in climate change
10 photographs to show to anyone who doesn't believe in climate change
1/10

A group of emperor penguins face a crack in the sea ice, near McMurdo Station, Antarctica

Kira Morris

2/10

Amid a flood in Islampur, Jamalpur, Bangladesh, a woman on a raft searches for somewhere dry to take shelter. Bangladesh is one of the most vulnerable places in the world to sea level rise, which is expected to make tens of millions of people homeless by 2050.

Probal Rashid

3/10

Hanna Petursdottir examines a cave inside the Svinafellsjokull glacier in Iceland, which she said had been growing rapidly. Since 2000, the size of glaciers on Iceland has reduced by 12 per cent.

Tom Schifanella

4/10

Floods destroyed eight bridges and ruined crops such as wheat, maize and peas in the Karimabad valley in northern Pakistan, a mountainous region with many glaciers. In many parts of the world, glaciers have been in retreat, creating dangerously large lakes that can cause devastating flooding when the banks break. Climate change can also increase rainfall in some areas, while bringing drought to others.

Hira Ali

5/10

Smoke – filled with the carbon that is driving climate change – drifts across a field in Colombia.

Sandra Rondon

6/10

A river once flowed along the depression in the dry earth of this part of Bangladesh, but it has disappeared amid rising temperatures.

Abrar Hossain

7/10

Sindh province in Pakistan has experienced a grim mix of two consequences of climate change. "Because of climate change either we have floods or not enough water to irrigate our crop and feed our animals," says the photographer. "Picture clearly indicates that the extreme drought makes wide cracks in clay. Crops are very difficult to grow."

Rizwan Dharejo

8/10

A shepherd moves his herd as he looks for green pasture near the village of Sirohi in Rajasthan, northern India. The region has been badly affected by heatwaves and drought, making local people nervous about further predicted increases in temperature.

Riddhima Singh Bhati

9/10

A factory in China is shrouded by a haze of air pollution. The World Health Organisation has warned such pollution, much of which is from the fossil fuels that cause climate change, is a "public health emergency".

Leung Ka Wa

10/10

Water levels in reservoirs, like this one in Gers, France, have been getting perilously low in areas across the world affected by drought, forcing authorities to introduce water restrictions.

Mahtuf Ikhsan
The 10-acre Assinboine nature park is home to other artic animals and runs an exhibit that generates awareness of the implications of climate change.
Reuse content