Six months after a policeman shot an dead unarmed black teenager in Ferguson, officers in the Missouri suburb are to this week become the first in the US to test a non-lethal device called The Alternative
Makers of the device, an attachment that fits onto a normal weapon, says it shoots a projectile the size of a ping-pong ball that is intended to immobilise but not kill a suspect, even at close range. The head of the company that makes the device said he bought the patent from a retired law enforcement official.
The Washington Post reported that the move to trial the device has been led by Ferguson's assistant police chief, Al Eickhoff, who in the days after the killing of Mr Brown took to the internet to try and find out more about non-lethal weapons.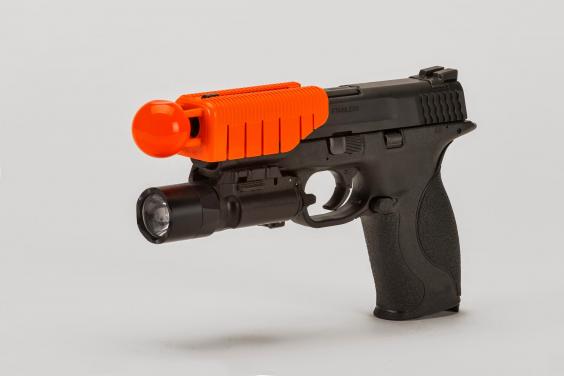 Mr Eickhoff suggested that if trials go well, he wanted to equip all 55 of his officers with the device.
"It gives another option," said Mr Eickhoff, who tested the device himself.  "I really liked it. You are always looking to save a life, not take a life."
The device, produced by California-based Alternative Ballistics, is one of a number of non-lethal weapons such as tazers, bean-bag-loaded shotguns, pepper-filled pellets, already available to officers.
Yet interest in such devices has perhaps never been greater. There has been mounting public concern in the US about the way some police officers deal with suspects, particularly black men.
A series of incidents in which black suspects have been killed by officers has led to protests in cities across the US. In New York City there was outrage, in particular, over the death of Eric Garner, an unarmed 46-year-old man who died after he was placed in a choke-hold by police who were investigating the alleged illegal sale of loose cigarettes.
Both killing of Mr Brown last summer in Ferguson, and the subsequent decision not to charge the officer who shot him, triggered angry, sometimes violent protests in the St Louis suburb.
At the same time, there has been concern about the increasing militarisation of even small police forces, which have been given access to surplus equipment and vehicles typically designed for the armed forces.
The website of Alternative Ballistics said it has "developed an innovative device, which allows an officer the ability to choose another option in lethal force situations, while keeping themselves safe".
It adds:"Concerned with the number of deaths of officers and citizens resulting when confrontations occur, where a new lethal force option would have been preferred but not readily available, we developed The Alternative".
Yet not everyone is a fan of the device. Steve Ijames, a former police officers from Springfield, Missouri, told the newspaper he was concerned about it because it took time for an officer to remove the device from his or her belt, and attach it to their gun.
"I am all about less lethal," he said. "What bothers me is we will allow an officer to face immediate deadly jeopardy with a less-lethal round. Deadly force is the most likely thing to repel deadly force."
Follow Andrew Buncombe on Twitter: @AndrewBuncombe
Reuse content