Anti-government protesters in Haiti are aiming to shut down the capital city for two days as the country lurches towards chaos amid mounting anger over fuel prices and delayed elections.
In recent days, police have fired tear gas to disperse demonstrators in Port au Prince who set fire to tyres as thousands of people marched in an effort do dislodge the government.
The protests have remained largely peaceful though reports say there is growing tension at a time when the country would traditionally be preparing for its Mardi Gras Carnival.
After a one-day fuel strike last Monday, the government announced lower fuel prices, reducing petrol to 195 gourdes ($4.25) per gallon from 215 gourdes ($4.62).
"We are asking for gasoline prices to be reduced to 100 gourdes ($2) a gallon," Assad Volcy, one of the leaders of the protest movement, told Reuters.
But fuel prices are just one of a several issues that have angered Haitians. In December, the previous prime minister was forced to resign. President Michel Martelly appointed opposition leader Evans Paul as his replacement.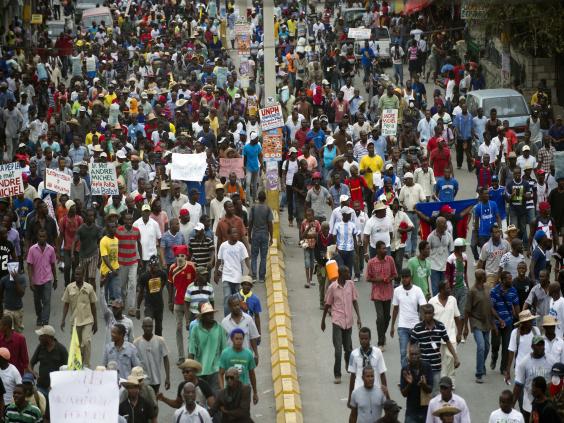 In January, Mr Martelly, a former musician who performed as Sweet Mickey, failed to reach an agreement with lawmakers and the terms of all the members of the lower house, and of a third of the upper house, expired.
Mr Paul has not been formally confirmed and anti-government protesters claim that the president is effectively ruling by decree.
Over the weekend, Mr Paul made an appeal for clam on social media and said the government would act to ensure public safety. He said the government could not reduce petrol prices further because Haiti was obliged to pay off a mounting fuel debt it has with Venezuela – a debt that has soared to around $1.5bn.
Haiti is the poorest country in the Western Hemisphere and the World Bank says around six million of its citizens, around 60 per cent of the country, lives on less than two dollars a day. In 2010, the country was devastated by a powerful earthquake.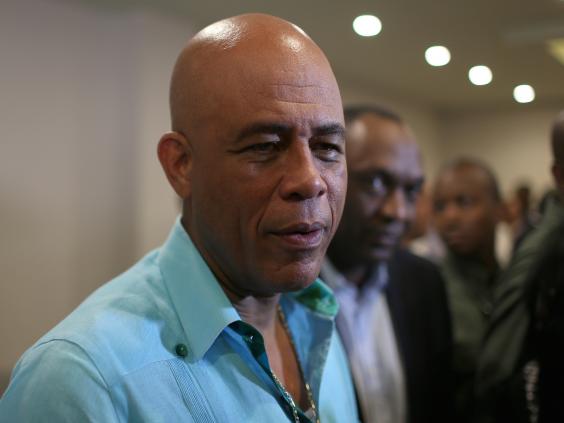 The US has repeatedly been accused of interfering with Haiti's domestic politics as well as its economy. In 2004, it supported those who forced the ousting of the elected president, Jean-Bertrand Aristide.
A UN peace-keeping force has stood beside Mr Martelly. And last month, the US Embassy in Haiti issued a statement saying that it would continue to work with him, even if a deal could not be found to ensure the continuation of the parliament.
"If such a solution cannot be reached by January 12, the US will continue to work with President Martelly and whatever legitimate Haitian government institutions remain to safeguard the significant gains we have achieved together since the January 12, 2010 earthquake," it said.
On Saturday, the 29th anniversary of the overthrow of the dictatorship of Jean-Claude Baby Doc Duvalier, several thousand protesters marched in protest in Port-au-Prince to demand the departure of Mr Martelly.
"Today, we have a spiritual son of Duvalier in power, who has done everything to shut down parliament," said Mr Volcy. "We're giving a lesson of democracy to Martelly to show him we are not accepting the return of dictatorship."
Reuse content