Advocates for victims of child abuse by Catholic priests are urging Pope Francis to use his visit to the United States to offer new reassurances that the Vatican is prepared to take additional steps to pursue past perpetrators and bring them to justice.
The pressure on the Pontiff will be greatest this weekend when he visits Philadelphia, one of several American cities rocked over the past decade by revelations not just of sexual assaults by the clergy, but of attempts by the Church hierarchy to cover up by shuffling them between parishes.  
Among those invited to attend the Papal events in Philadelphia is Cardinal Justin Rigali, who resigned as Archbishop of the city in 2011 as the paedophile scandal there was reaching its height and just months before the conviction of Monsignor William Lynn, his former head of clergy, for covering up cases of abuse and failing to report them.
Lynn, who remains the only Catholic official in the US to have been convicted in connection with the scandal, was until recently an inmate of the Curran-Fromhold prison just north of Philadelphia. However, he was moved to another facility shortly after it was announced that Pope Francis's schedule includes a visit to the prison.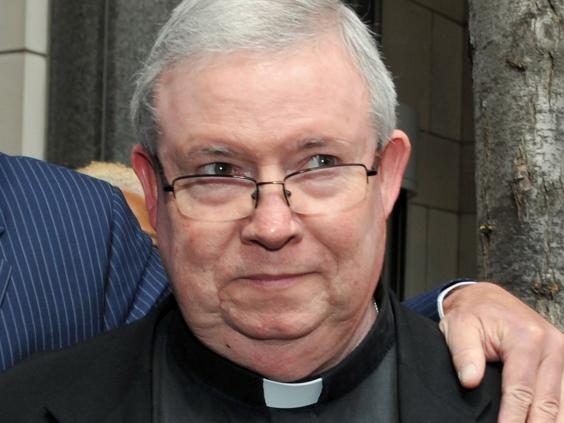 Including Cardinal Rigali in the celebrations this weekend will also strike critics as inappropriate. Catholic Whistleblowers, which seeks justice for victims of paedophile priests, has demanded that the Vatican open new investigations into the child protection records both of Cardinal Rigali and of Cardinal Raymond Burke, who led dioceses in Wisconsin and Missouri.
So far not on the Pontiff's public schedule is any meeting with abuse victims. Yet, it would be highly surprising if he were he to leave Philadelphia for Rome on Sunday evening without having encountered victims directly, although the meeting may not be announced until it is over. 
Two grand juries have been empanelled in Philadelphia to investigate abuse by priests. The most recent in 2011, when Cardinal Rigali retired and moved to a Tennessee diocese far from the limelight, concluded that 37 priests had been credibly accused of abuse and most remained active in the ministry.
Groups such as Catholic Whistleblowers have been lobbying for a change in the law to relax statute of limitation restrictions so accused priests can be prosecuted for crimes allegedly committed years ago. Some easing of the laws has happened in a handful of states, but Pennsylvania has remained resistant.
Under Pope Francis, the Vatican has taken more aggressive steps to address the crisis including setting up the advisory Pontifical Commission for the Protection of Minors, which includes two abuse victims. He has also created a tribunal to investigate bishops accused of covering up cases of abuse.  But critics contend more must be done.
"I think the Church would like people to think this is over," Sister Maureen Paul Turlish, a member of Catholic Whistleblowers, said last week. "It's not over."
Reuse content