Pope Francis has lifted the ban on the beatification process of a murdered Salvadoran Archbishop, indicating a relaxation of the Roman Catholic Church's previously highly conservative attitude to priests and politics.
For years, the Catholic Church blocked the process of Archbishop Oscar Romero over concerns he had Marxist ideas.
An outspoken critic of El Salvador's military regime, Romero was shot dead while celebrating Mass in1980 at the beginning of the country's bloody civil war.
On Monday, the Pontiff told journalists travelling home from South Korea Romero's case had previously been "blocked out of prudence" by the Vatican's Congregation for the Doctrine of the Faith.
"For me Romero is a man of God," Francis said, adding Romero's files had been sent to the Vatican's Saint-making office.
Beatification, or declaring a person "blessed", is the necessary prelude to full sainthood.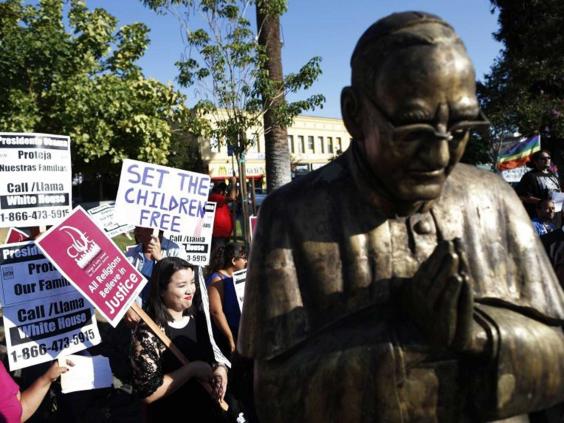 "There are no doctrinal problems and it is very important that [the beatification] is done quickly." He added.
Romero was one of the main proponents of Liberation Theology, a radical South American moment that grew in response to the poverty and ill-treatment of ordinary people.
Controversially, Liberationists said the church should act to bring social change and should ally itself with the working class to do so.
The decision to send Romero's case to the Vatican's saint-making office signals a clear, and many Catholics' would argue overdue, departure from what Francis' two predecessors advocated.
Romero spoke out against right-wing death squads and oppression against the poor, calling for an end to all violence during the left-wing insurgency against the US-backed right-wing government.
Beginning in 1980, 72,000 died in the brutal civil war which ended in 1992 with an UN-brokered peace agreement.
No one has ever been convicted in connection with the Archbishop's murder.
Reuse content