Warren Royal dreamed of a classier bobblehead pope. The owner of Royal Bobbleheads, a Georgia-based figurine company, is one of the many manufacturers, vendors and artists producing a heavenly host of souvenirs to surround Pope Francis on his visit to Washington, New York and Philadelphia next month. The multitudes will include papal mugs, magnets, badges and T-shirts, along with popes rendered in plush, plastic and even mozzarella.
Whatever this Pope's view of global capitalism, there's not much he can do about the Papal Industrial Complex busily slapping his name and face on souvenirs ranging from Pope Francis Cologne to "Yopo" ("You Only Pope Once") beer. But Royal has aimed beyond bobblehead popes of questionable taste. (One version on Etsy features the Holy Father's visage bobbing between a pair of boxing gloves, with a cheesesteak in one fist and a soft pretzel in the other.) Rather, he has reduced the plastic pontiff's head by 30 per cent ("it's not so cartoonish"), vetted his vestments with Catholic scholars and ordered him cast in the most substantial resin Guangzhou factories could provide.
Six million flock to see Pope in Philippines
Six million flock to see Pope in Philippines
1/10

Six million people attended the event in Rizal Mark, Manila

2/10

Dancers put on a show for the spectators

3/10

People standing with their families and friends at the event

4/10

Pope Francis also wore a poncho to protect from the rain

5/10

The pope making his way through the crowd in the pope-mobile

6/10

Dancers dressed in elaborate costumes

7/10

More followers of the Catholic faith in the Philippines amid the six million who attended

8/10

The pope leading the huge outdoor Mass session

9/10

A military scout watches the event from a nearby rooftop

10/10

Pope Francis talking to 12-year-old girl Glyzelle Palomar
"People seem to form a personal connection with this figure," Royal says proudly. That has led to sales of almost 10,000, at $25 (£16) each, in the weeks leading up to the Pope-apalooza. Now he is rushing a new shipment from China to supply stores on the back-order list.
It's an article of faith among sellers that Francis, who has achieved pop-star status with his populist touch, would approve of the folksy nature of T-shirts that portray him in a Philadelphia Eagles jersey. They say that the Pope, who has inveighed against global greed, is unlikely to apply that critique to the scrappy sidewalk vendors who will hawk knock-off "I [bishop's hat] Pope Francis" shirts outside the US Capitol while the pontiff addresses Congress.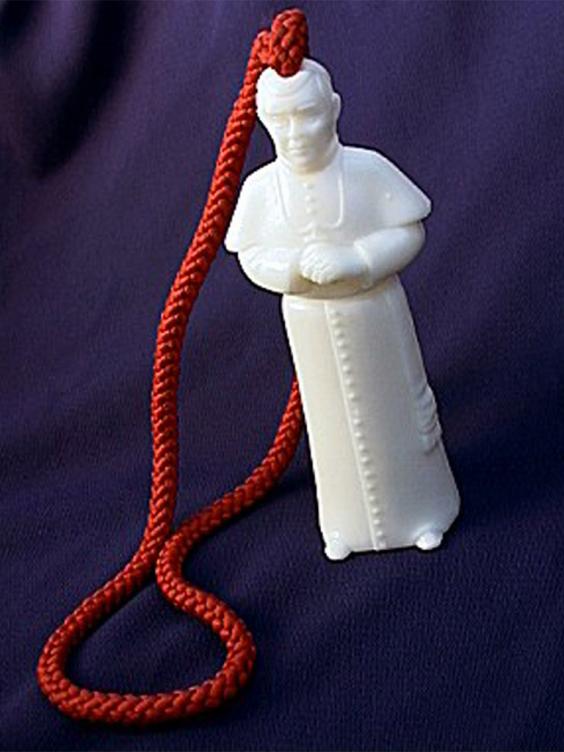 Still, as a public figure – arguably one of the most public on earth – Francis has limited ability to keep his face off the soaps, caps and cardboard masks that will soon be for sale around Washington. Indeed, trademark experts believe popes, like presidents, have become used to it. As Jess Collen, a property rights lawyer in New York, says, it's unlikely the average consumer is going to think the Vatican has officially licensed the toaster that burns an image of the Pope into your morning multigrain.
There is an official segment (call it a holy-owned subsidiary) of the market. With permission from the Archdiocese of Washington, the Basilica of the National Shrine of the Immaculate Conception, where Francis will canonise a saint, has commissioned several lines in English and Spanish. An island of shirts, medallions and holy water bottles, all emblazoned with a custom logo, already crowds the centre of the shrine's shop. And by the time Francis arrives, the inventory will fill a tented pop-up pope shop where more than 150 staff and volunteers will use iPads to sell key chains and mugs.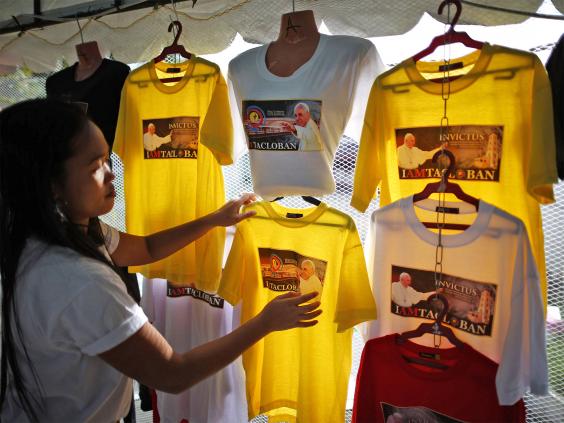 But Rocco Palmo, a Philadelphia-based journalist who writes the "Whispers in the Loggia" blog, says that's not at odds with the religious tradition. "Catholics believe in sacramentality. The faith embraces things that are tangible, such as statues and incense. T-shirts and bobbleheads can be an extension of that." Even beer. Down the street from the basilica, Brookland Pint plans to offer a specially brewed "No Pope 'til Brookland" draft. A Philadelphia priest recently blessed the bubbling vats of "Papal Pleasure" beer at Manayunk Brewery. And to accompany them, South Philly's Pastificio Homemade Pasta is offering two versions of Francis moulded in mozzarella, one hatted and one not.
Co-owner Anthony Messina expects to sell 700 to 1,000 of them, each weighing a bit over 1lb and costing $20. But he knows that carving the pontiff will be a challenge. "On mine, I'll cut off the shoulder, maybe the top of the hat," he says. "But not the face. I think we're going to have a lot of leftover faces."
This is an edited version of an article first published in 'The Washington Post'
Reuse content