On a trip to South America where he declared that the world should move to a more just ecological system where riches are shared by all, the Pope has received a crucifix mounted on a wooden hammer and sickle, from Bolivian President Evo Morales.
He received the Communist crucifix while visiting La Paz in Bolivia, during his ongoing tour of South America.
When he met the President, he was handed a wooden hammer and sickle, the symbol of Communism since the Russian Revolution.
Morales explained to Pope Francis that the cross was created by Jesuit Father Luis Espinal, who was assassinated in 1980 by paramilitaries during the short-lived dictatorship of Luis Garcia Meza.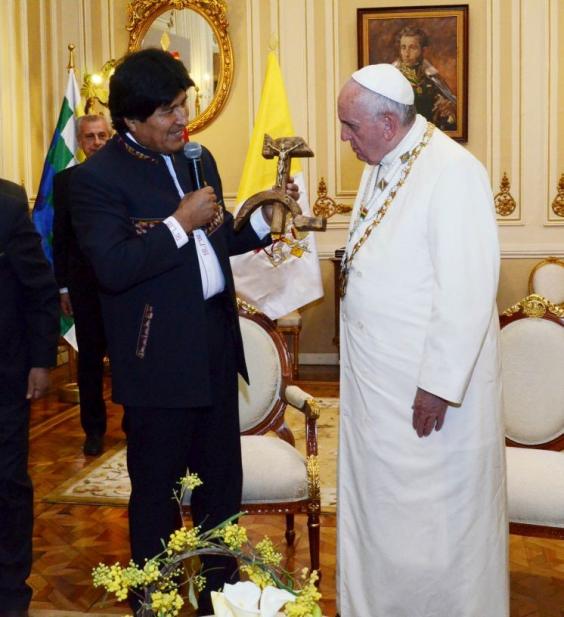 After Morales' explanation, the Pope replied "I didn't know that" - although some members of the press who were present reported he said "That's not right".
It seems likely to be the former, as the Pope stopped and prayed at the site of Father Espinal's shooting later that day.
Earlier this week, during a visit to Quito, Ecuador, the Pope told a group of local leaders and indigenous people about the importance of preserving the environment, rather than exploting it for short-term profit.
Six million flock to see Pope in Philippines
Six million flock to see Pope in Philippines
1/10

Six million people attended the event in Rizal Mark, Manila

2/10

Dancers put on a show for the spectators

3/10

People standing with their families and friends at the event

4/10

Pope Francis also wore a poncho to protect from the rain

5/10

The pope making his way through the crowd in the pope-mobile

6/10

Dancers dressed in elaborate costumes

7/10

More followers of the Catholic faith in the Philippines amid the six million who attended

8/10

The pope leading the huge outdoor Mass session

9/10

A military scout watches the event from a nearby rooftop

10/10

Pope Francis talking to 12-year-old girl Glyzelle Palomar
He said: "As stewards of these riches which we have received, we have an obligation towards society as a whole and towards future generations."
"We cannot bequeath this heritage to them without proper care for the environment, without a sense of gratuitousness born of our contemplation of the created world."
He continued: "The goods of the earth are meant for everyone, and however much someone may parade his property, it has a social mortgage... the tapping of natural resources, which are so abundant in Ecuador, must not be concerned with short-term benefits."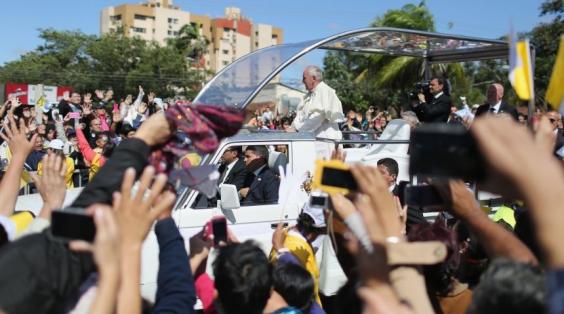 Pope Francis is widely known for his opposition to poverty, and before he was Pope, took care to distance himself from Marxist ideology while still calling for more economic equality and fairer distribution of wealth.
While it appears that Pope Francis appreciated the gift, Vatican spokesman Father Lombardi said: "Certainly, though, it will not be put in a church."
The Pope, as the first pontiff to come from South America, has received a very warm welcome on all stops of his current South American tour.
Due to Pope Francis losing part of one lung as a young man, he could only stay in La Paz, which is 3,650 metres above sea level, for a few hours, before the thin air meant he had to move on to lower areas of the country.
Reuse content