Donald Trump's capacity for self-promotion has been the driving force behind him becoming one of the most recognisable – if polarising – of American celebrities. The adage that 'all publicity is good publicity' could have been invented for the real estate mogul and, on that basis, the first Republican debate could hardly have gone better.
During the event Trump was questioned by the Fox News anchor Megyn Kelly on his description of women as 'fat pigs', prompting him to declare war on political correctness and later criticise the host's behaviour. The Apprentice host had already been booed by the crowd in Cleveland at the beginning of the two-hour debate for refusing to not challenge whoever eventually wins the nomination.
Perhaps unsurprisingly following a night on which the 69-year-old took centre stage, analysis from TheySay shows that Trump completely dwarfed the rest of the candidates in terms of social media interest, being mentioned  on Twitter more than twice as often as any of his rivals.
In terms of a percentage, users' opinion of Trump was almost perfectly split 50:50, while many candidates who attracted less overall interest, such as John Kasich, provoked far more positive overall responses.
However, in terms of sheer weight of volume he comfortably topped the list across a selection of emotional responses: he provoked more happiness than his rivals, but also more anger and fear.
Volume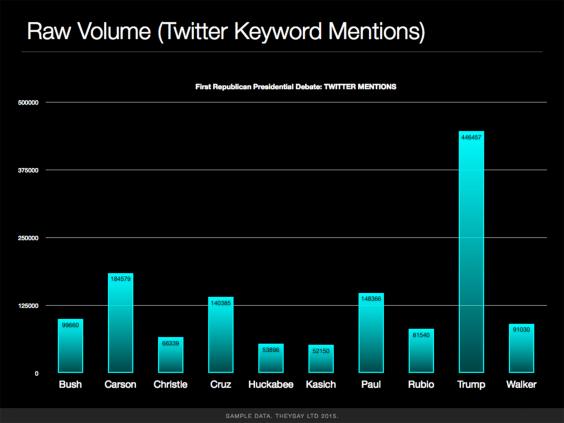 In terms of volume, with 44,6457 mentions Trump was comfortably ahead of any of his rivals. Ben Carson, Rand Paul and Ted Cruz were the only others to reach more than 100,000, while author and commentator Mick Huckabee generated the least interest.
---
Positive sentiment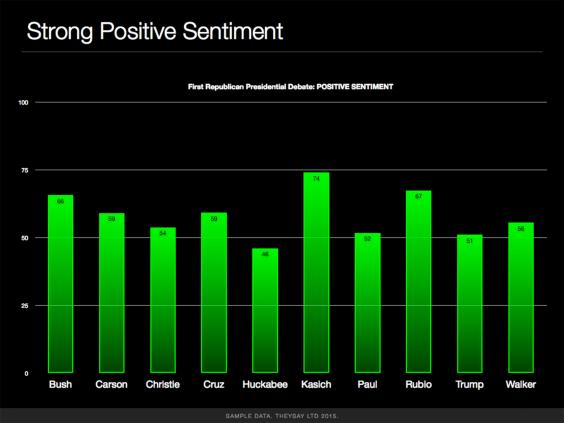 As a percentage, Trump drew a less positive response than many of his rivals: Kasich, the governor of Ohio, achieved the highest with 74% while Huckabee, who drew the least volume, was the only candidate to draw a more negative overall response than Trump.
---
Happiness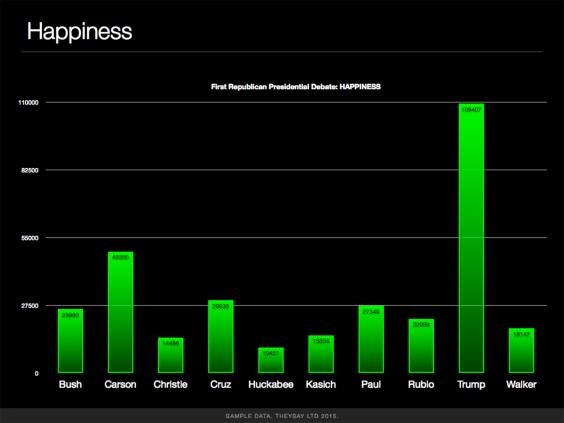 Thanks to sheer weight of volume, Trump drew far more happy responses from users than other candidates, garnering more than twice as many positive posts than Carson, his nearest rival. Again, Huckabee languished in last place.
---
Anger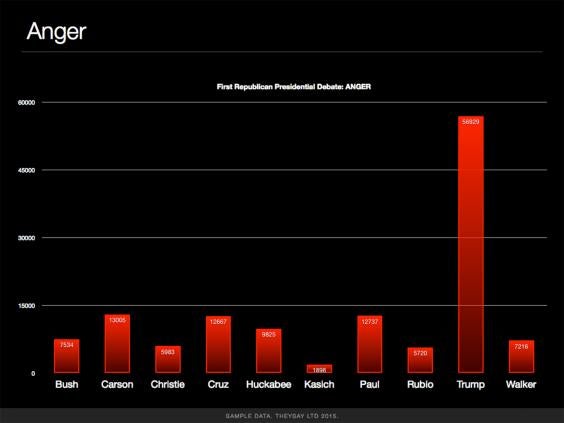 Perhaps unsurprisingly, Trump's combative style also triggered the most angry responses: more than four times as many as any of his rivals. Kasick comfortably prompted the smallest number of angry posts.
---
Fear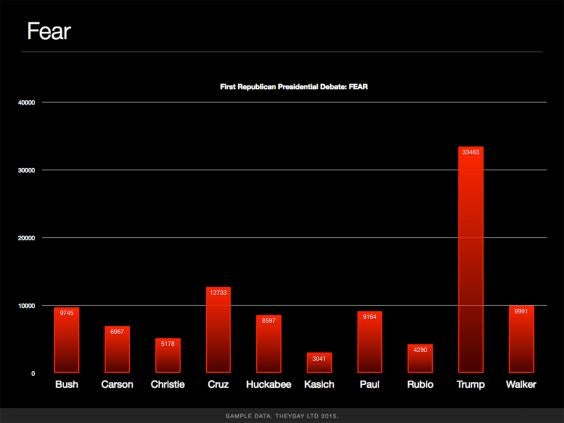 True to form, Trump's performance provoked more fearful responses than anybody else in the running, with Cruz the only other candidate to make five figures. Kasick, who drew the highest percentage of positive posts, received the least.
Data and graphs from TheySay
Reuse content