An American sailor has been rescued after surviving 66 days at sea clinging on to the hull of his capsized boat.
Louis Jordan, 37, was spotted by a passing German tanker 200 miles off the coast of North Carolina on Thursday.
Chief Petty Officer Ryan Doss, from the Coast Guard in Miami, told WITN that he survived adrift in the Atlantic Ocean by eating raw fish and collecting rainwater to drink.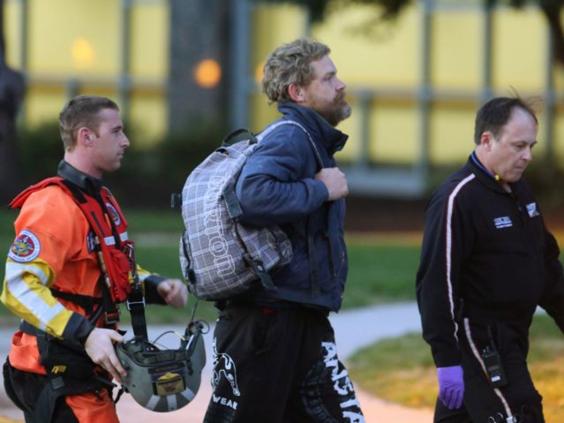 Mr Jordan's family reported him missing on 29 January and feared him dead after two months of no news of the sailor or his 35-foot vessel, Angel.
The US Coast Guard recorded his first emotional call with his father, Frank Jordan, after he was taken to safety.
"I'm just so glad that you're alive. We prayed and prayed and just hoped you were still alive – that's all that matters," his father said. "I thought I lost you."
Mr Jordan said he had also been praying for his parents because he knew they would be grieving.
"I couldn't fix it, I couldn't sail back, I'm so sorry," he told his father.
The sailor was spotted by German tanker the Houston Express at approximately 1.30pm local time on Thursday and the crew took him aboard.
A Coast Guard Jayhawk helicopter crew launched two hours later to hoist him to safety from the ship's deck and take him to Sentara Norfolk General Hospital.
Footage from the helicopter showed Mr Jordan being lifted inside a basket before climbing out and being assessed by a disbelieving paramedic, who seemed amazed the sailor had survived his ordeal.
Mr Jordan, from Conway in South Carolina, had set off from the Bucksport Marina on 23 January.
He told reporters from hospital yesterday he was travelling north when he hit severe weather.
The last thing he remembers is seeing a wave crash through the window and flying through the air, WAVY reported, then everything turned upside down as the boat filled with water.
The vessel capsized and lost its mast as all the electronics on board were disabled.
Mr Jordan's memory of the ordeal was fuzzy on Thursday but he believes that at some point, he broke his shoulder.
After he was rescued, his father called the captain of the German tanker that spotted him to express his gratitude.
"You're a good man, you did what you're supposed to do and I sure do appreciate it and I know my son appreciates it," he told the captain.
"This is a beautiful world."
Reuse content