A teenage boy is reportedly in a coma after being shot by police while holding a broomstick in Salt Lake City.
The incident on Saturday night sparked angry protests that saw officers pelted with rocks and missiles by a large crowd shouting "f*** the police".
Robert Boyd, a reporter at Fox 13 News, said relatives told him the boy's name was Abdi Mohamed and said he was 17.
"He was shot three times, he is out of surgery and currently in a coma at the (University of Utah hospital)," Mr Boyd wrote on Twitter.
The incident happened at around 8.15pm on Saturday evening (3.15am GMT) near a homeless shelter in the Utah capital's downtown area.
Selam Mohammad said his friend was shot in the chest and stomach after he got into a fight with another person.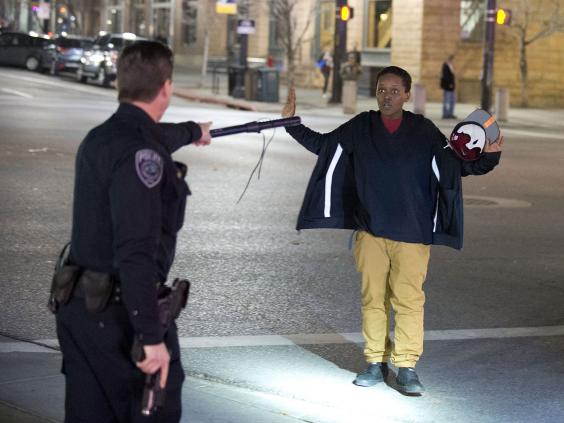 He told the Salt Lake Tribune that the teenager was holding part of a broomstick at his side when officers ran up.
"They told him to put it down, once, and started shooting him as soon as he turned around," he added, alleging that officers pulled their guns out as they ran towards the altercation and did not attempt to use Tasers, batons or any other means of breaking it up.
Recordings of radio communications between police officers revealed the aftermath of the incident.
"We need medical respondents on the way…for the person who's been shot," one officer could be heard saying in a clip obtained by Sky News.
Shortly afterwards, another voice said a group was "trying to riot" in the street, before an officer added: "They're starting to throw bottles and things at us from the east side…we need more units over here."
Police claimed at least one person was throwing rocks at their lines in the recording, when the sound of shouting and chanting could be heard in the background.
A light rail stop in the neighbourhood was closed and a security cordon put in place, with several people being detained. 
Authorities did not immediately confirm the boy's identity, condition or the circumstances of the reported shooting.
You do not have access to view this Atom.
Detective Greg Wilking, from the Salt Lake City Police Department, said: "Our officers were responding to a situation down in front of the shelter here.
"While they were on scene, there were shots fired and officers called for more assistance.
"Several people were agitated in the crowd. Our officers started arriving on scene and encountered a lot of hostile people upset about what had taken place, and we began clearing the area."
A spokesperson for the Unified Police Department, which is investigating the shooting, has not yet responded to The Independent's request for information.
Additional reporting by AP
Reuse content