A US lawmaker in California has proposed legislation to stop killer whales performing at shows in the popular marine mammal park SeaWorld, in San Diego.
More than 4 million people each year visit the attraction, which has come under scrutiny following the release of  the 2013 documentary Blackfish.
Assemblyman Richard Bloom said his decision was influenced by allegations made in the film.
Blackfish drew attention to how killer whales, or orcas, are treated at SeaWorld, where they are trained to perform tricks in live shows.
It also claimed that SeaWorld employees are not safe, and focused on trainer Dawn Brancheau, who died in Orlando, Florida.
During the incident in 2010, she was allegedly pulled into the pool by an orca called Tilikum and subsequently drowned.
Following Ms Brancheau's death, the US Occupational Safety and Health Administration imposed rules restricting trainers from being in the water with the whales during public performances.
"There is no justification for the continued captive display of orcas for entertainment purposes," said Mr Bloom in remarks prepared for the bill's release Friday, U-T San Diego reported.
"These beautiful creatures are much too large and far too intelligent to be confined in small, concrete tanks for their entire lives."
"In their natural habitat, orcas are family-oriented, highly adaptable, socially complex with cultural traditions and [are among] the most intelligent creatures on this planet," he said.
"If we truly want to help orca conservation, we should focus our efforts on restoring habitat in the wild and protecting our oceans," Mr Bloom added.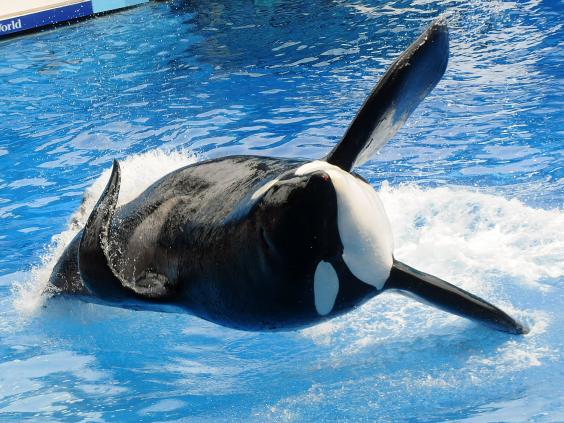 Mr Bloom aims to end themed shows, prohibit captive breeding, and ban the import and export of the animals.
While exhibiting whales in aquarium-like displays would be allowed, the animals would no longer be made to perform and entertain.
The legislation, scheduled to be unveiled at an event attended by Blackfish director Gabriela Cowperthwaite, would cover all animal water parks in California, of which SeaWorld is currently the only one.
SeaWorld spokesman Dave Koontz said the company has not seen the legislation and could not comment, the newspaper reported.
In a statement responding to Blackfish, SeaWorld said the documentary distorted how the whales are treated and falsely accuses officials at the park of attempting to "cover up the facts surrounding the tragic death" of Brancheau.
It added that the film is "emotionally manipulative", and relied on information from former SeaWorld employees with "little experience with killer whales".