Amid signs in Washington of deep anxiety about unintended consequences and unforeseeable outcomes, President Barack Obama's appeal to Congress for support for strikes against Syria will have its first big test on Tuesday as Secretary of State John Kerry and Defence Secretary Chuck Hagel face a fierce grilling on Capitol Hill.
As aides scrambled behind the scenes to redraft a first version of an authorisation bill that has so far received short shrift from increasingly sceptical members of Congress, Mr Obama won conditional support from two Republican hawks, Senators John McCain and Lindsey Graham during talks at the White House. Both warned him however that he would have to make a stronger case if he was to win broader congressional approval.
"We have to make it clear that a vote against this would be catastrophic in its consequences," now and in the future, McCain said afterwards. "A degrading strike limited in scope could have a beneficial effect to the battlefield momentum. There will never be a political settlement in Syria as long as Assad is winning," Mr Graham added.
No votes are expected until next week when Congress returns from its summer recess. But the administration has already given extensive briefings on the case for action. So far, reactions have ranged from muted and cautious support to near-open resistance with hopes for passage lower in the House than in the Democrat-controlled Senate.  In a conference call, Mr Kerry told Democrats they faced a "Munich moment" as they pondered their vote.
Hanging over all of Washington still is last Thursday's shock parliamentary vote in Britain, staying the hand of David Cameron. Casting just as long a shadow in the US – as they have in London – are memories of 2003 when the Bush administration took America into the Iraq War with what turned out to be severely flawed intelligence.
The lead advocates for the administration are Mr Kerry and Mr Hagel, who must lay out their best case before an open, emergency session of the Senate Foreign Relations Committee this afternoon. Its members include Mr McCain as well as Rand Paul, the Libertarian and Tea Party flag-bearer, who is firmly against military intervention.
The draft bill that was first circulated late on Sunday drew criticism from many members for promising only "limited" action against Syria yet seemingly seeking broad and open-ended powers. And while Mr Kerry has focused so far on what he has said is the proof of the regime's responsibility for gassing its own people 10 days ago, killing at least 1,429 civilians, it is now more what could come next. The end-game is concerning many members of Congress.
"Is military action actually going to make the situation better on the ground for the Syrian people and how do you make sure this doesn't escalate into something much more damaging and much more bloody within the region?" asked Chris Murphy, a Democrat senator from Connecticut.
There is little understating the stakes for Mr Obama. Rejection by Congress would be seen to significantly weaken his authority domestically and internationally. Since the War Powers Act of 1973, no US President has been turned down seeking authority to use the US military overseas, even if they haven't always paused to ask. A bill was passed in 2002 giving the green light to George W Bush for the Iraq War.
Russia, which will play host to Mr Obama at a G20 summit later this week, said it was considering sending a delegation of parliamentarians to Washington to pressure members of Congress to vote against a strike.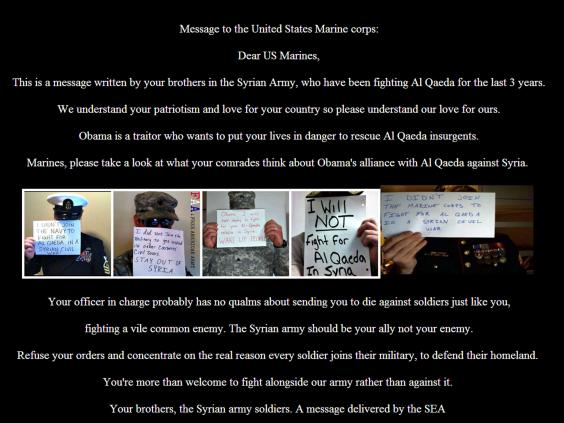 * Yet the president's decision to go through the whole rigmarole of gaining Congress support at all has been met with taunts from the Syrian government.
It was hailed as a "historic American retreat" by the official state al-Thawra newspaper, and met with derision from Syrian officials who simultaneously deny responsibility for the chemical attack in Damascus on 21 August, and accuse the Obama administration of weakness for not responding more decisively in the aftermath.
Syrian Deputy Foreign Minister Faisal Mekdad told reporters in Damascus: "It is clear there was a sense of hesitation and disappointment in what was said by President Barack Obama yesterday. And it is also clear there was a sense of confusion as well."
Meanwhile, the US Marines received a message calling for support from their "brothers, the Syrian army soldiers" – in the form of a web attack from the Syrian Electronic Army.
Changing the homepage of an official Marines recruitment website www.marines.com to a page entitled "Hacked by SEA", the message read: "Dear US Marines… We understand your patriotism and love for your country so please understand our love for ours.
"Obama is a traitor who wants to put your lives in danger to rescue Al-Qa'ida insurgents… The Syrian army should be your ally not your enemy.
"Refuse your orders and concentrate on the real reason every soldier joins their military, to defend their homeland. You're more than welcome to fight alongside our army rather than against it." Adam Withnall
Reuse content