Senator Ted Cruz has blasted the Washington Post after it published a cartoon depicting his daughters as dancing monkeys.
The image, by Pulitzer Prize-winning cartoonist Ann Telnaes, portrayed Ms Cruz in a Santa outfit with an organ-grinder and daughters Catherine, four, and Caroline, seven, as monkeys. It said that the Texas Senator used his children as "political props".
The cartoon sparked immediate controversy on social media, with both Mr Cruz and a number of his political rivals suggesting that the cartoon had stepped over the bounds of fair taste.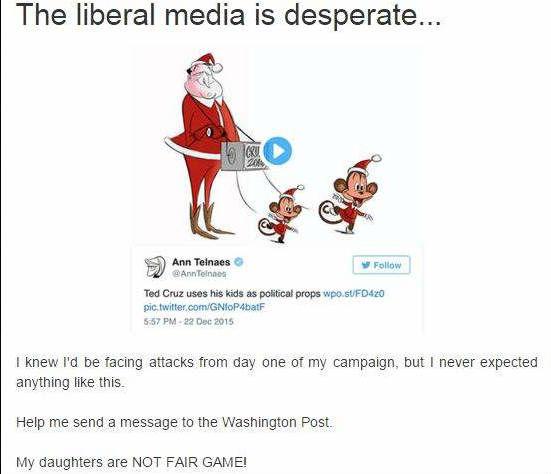 "My daughters are not FAIR GAME," he wrote in a fundraising email sent late on Tuesday. 
"I'm sickened. I knew I'd be facing attacks from day one of my campaign, but I never expected anything like this."
Mr Cruz used the incident to claim the "liberal media" was trying to destroy him and launched an "emergency campaign" to raise $1m in 24 hours.
Wash Post cartoon featuring @tedcruz's children is disgusting. The Post saying the kids are "fair game" is even worse.

— Marco Rubio (@marcorubio) December 23, 2015
"This is an emergency — all hands on deck," his fundraising letter added. "Click here to make an instant, emergency contribution and help me fight back."
Mr Cruz received support from his Republican rival Marco Rubio, who called the cartoon "disgusting
The newspaper's editorial page editor, Fred Hiatt, later deleted the cartoon and said it was usually the Post's policy "to leave children out of it."
Ted Cruz has put his children in a political ad- don't start screaming when editorial cartoonists draw them as well. https://t.co/7hafBacOiK

— Ann Telnaes (@AnnTelnaes) December 22, 2015
"I failed to look at this cartoon before it was published. I understand why Ann thought an exception to the policy was warranted in this case, but I do not agree," he wrote.
However, Ms Telnaes was unrepentant. On Tuesday she also posted a link on Twitter to a parody campaign ad released by Ms Cruz's campaign which showed him reading Christmas stories to his daughters with titles such as "How Obamacare Stole Christmas" and "Rudolph the Underemployed Reindeer." NBC said that advertisement aired during the most recent episode "Saturday Night Live."
Last weekend, Mr Cruz's wife, Heidi, and the couple's daughters joined him for a weekend trip through the South. While their father shook hands, his two daughters stood on stage and waved to the crowd.