Texas is scrambling to explain why it has suffered the sharpest increase in maternal deaths of anywhere in the US - a rate of mortality not matched anywhere within the developed world.
A new study has found the number of women who died from complications related to pregnancy doubled from 2010 to 2014. A number of observers believe the development is linked the slashing of funding for Planned Parenthood and other women's health programmes by the Republican-controlled state government.
A report in the September issue of Obstetrics and Gynecology, found that after a modest increase in maternal mortality in Texas between 2000 and 2010, the rate of pregnancy-related deaths nearly doubled in 2011 and 2012- a trend the researchers found "puzzling".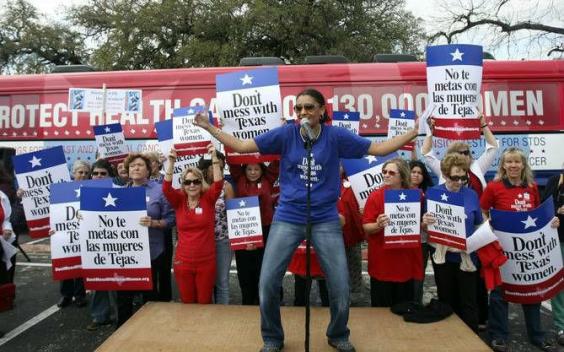 "Still, in the absence of war, natural disaster, or severe economic upheaval, the doubling of a mortality rate within a two-year period in a state with almost 400,000 annual births seems unlikely," the authors said.
"A future study will examine Texas data by race–ethnicity and detailed causes of death to better understand this unusual finding." 
Yet campaigners believe the increase is linked to a cut in funding for health clinics that were used by poorer women and members of the community.
Sarah Wheat, a spokeswoman for Planned Parenthood of Greater Texas, told the Dallas Morning News that many of the clinics that suffered a cut in funding acted as an "entry point into the health care system for women".
"Chances are they're going to have a harder time finding somewhere to go to get that first appointment," she said. 
"They may be delayed in getting that initial pregnancy test and then a prenatal referral."
While Texas performed the worst, the study found that the maternal mortality rate for the remainder of the US was "higher than previously reported, is increasing, and places the United States far behind other industrialised nations".
Indeed, the US is the only developed country in the world where maternal deaths increased between 1993 and 2013, according to the World Health Organisation.
While around 99 per cent of maternal deaths occur in developing countries, the US has a very high number for a developed nation. Other countries where maternal mortality increased during that same time period included Afghanistan, Botswana and Chad. 
Experts say that in the US, race and poverty play powerful roles in determining who is more vulnerable to maternal health crises. Poverty is tightly linked to the issue, along with depression, asthma, obesity and diabetes.
In Texas, the first attack on Planned Parenthood and other family planning clinics came in 2011, when politicians cut family-planning grants by 66 per cent across the state. The money that remained was directed toward community health centres and county health departments that provide more comprehensive care.
A study published in the New England Journal of Medicine earlier this year found that one impact was an increase in births among low-income women who lost access to affordable and effective birth control.
Reuse content