If America's National Rifle Association had its way, US schools would prepare for the terrible eventuality of a mass shooting by arming their own staff with guns. But when a young man with mental health problems entered the Ronald E McNair Discovery Learning Academy in Decatur, Georgia this week, brandishing an AK-47, the massacre he planned was prevented not by more firearms, but by the calming words of an unarmed school bookkeeper.
Dressed in black and carrying a backpack filled with 500 rounds of ammunition, 20-year-old Michael Hill slipped past the locked doors of the suburban Atlanta school for 3-to-11-year-olds on Tuesday afternoon, probably following behind a parent who had been buzzed in.
Police said Hill, who had a history of mental health issues, had taken the assault rifle "from the house of an acquaintance" and photographed himself wielding it in preparation for the violence he intended.
Antoinette Tuff was not scheduled to work that day, but the school clerk had agreed to change her shift at the last minute. She was manning the school's front office alone when Hill stormed in. "He had a look on him that he was willing to kill," Ms Tuff told ABC News. "Matter of fact he said it: he said he didn't have any reason to live and that he knew he was going to die today."
An agitated Hill refused to tell Ms Tuff his name, but said he had stopped taking his medication and ought to be in hospital. Shortly after the two began talking, the school's cafeteria manager, Malcolm Quillen, entered the office. Hill fired a shot into the floor and told Mr Quillen to leave. Yet Ms Tuff kept a cool head and dialled 911. A remarkable 25-minute recording of that call was released on Wednesday, demonstrating just how coolly she defused the situation.
Ms Tuff said later that she had learned from her pastor about how to "anchor" herself in the Lord during difficult times, and that she clung to her faith throughout the ordeal.
She had also been given training by the school in how to deal with dangerous trespassers. As she kept the gunman occupied in the office, she was able to signal to fellow staff to lock the school's doors and get its 870 children to safety.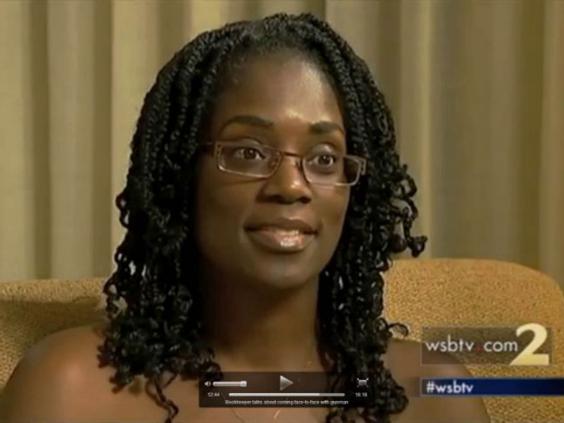 The school's principal, Brian Bolden, said afterwards: "Her name, Antoinette Tuff, says everything about her: tough. She has always been that way, from the first time I met her."
In fact, the gunman claimed he did not plan to kill any of the children, but instead wanted to die in a shootout with police. As armed police descended on the school, it appeared that Hill might get his wish: he fired several shots towards them from the office, but no one was hit. An officer fired one shot back, which simply made Hill determined to go out and begin firing again. He ordered Ms Tuff to call a local news station so that a camera crew could be sent out to capture the shootout.
Ms Tuff did as she was told, keeping her composure as she maintained multiple conversations: with Hill, with the local ABC News affiliate WSB-TV, and with the 911 operator. But at the same time she was determined not to let the gunman leave the room.
She said: "I knew that if he got outside, he was unstable enough to start shooting at everybody." As they spoke, he began filling magazines with ammunition from his bag. "He sat there right in front of me in the office and began to load them with bullets," she said.
Meanwhile, fearing that Hill might have planted explosives, the police carried out a controlled explosion in Hill's car, which was parked outside. The school's pupils were being evacuated from a back door, and fire-fighters cut a hole in a fence at the rear of the property to allow them to escape.
The live news footage was chillingly reminiscent of events in Newtown, Connecticut last December, when a gunman with an assault rifle killed 20 children, six teachers and himself.
Thanks to Ms Tuff, however, Tuesday's incident did not end in tragedy. During her conversation with the suicidal Hill, she opened up to him about the problems she had faced in her own life, explaining that she had a severely disabled son, and had recently separated from her husband of 33 years – but that she had picked herself up and started her own business. "I told him, we all have situations in our lives, [but] it was going to be okay. If I could recover, he could, too."
After about an hour, Hill had calmed down sufficiently that Ms Tuff began trying to persuade him to surrender, even suggesting that she walk outside with him to prevent his being shot by police. "[I] let him know that he could just give himself up," she told WSB-TV. "I told him to put [the guns] on the table, empty his pockets. He had me actually get on the intercom and tell everybody he was sorry...
"I give it all to God. I'm not the hero. I was terrified."
Hill eventually gave himself up, and was arrested without injury to himself or anyone else. He was charged with aggravated assault on a police officer, terrorist threats and possession of a firearm by a convicted felon.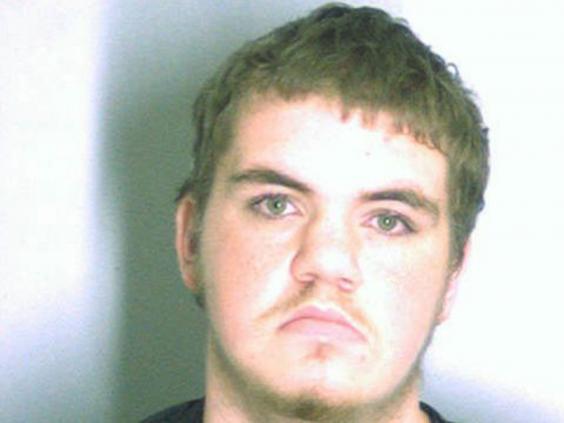 Speaking to ABC, Hill's older brother Timothy revealed that he suffered from serious mental health problems. "I had a feeling he was going to eventually, one day, do something stupid, but not of this magnitude," said Timothy Hill, 22. Police also revealed that Michael Hill had sent his brother a Facebook message last year, saying, "he would shoot him in the head and not think twice about it". The siblings had not seen each other since early 2011.
Ms Tuff said Hill told her he had no reason to live, because nobody loved him. "It was scary because I knew at that moment he was ready to take my life along with his, and if I didn't say the right thing, then we all would be dead." As Hill lay on the floor of the office and prepared to surrender, Ms Tuff can be heard on the 911 recording, telling him: "I just want you to know that I love you and I'm proud of you." It was then that he finally told her his name.
Shortly afterwards, the police can be heard entering the office and arresting the gunman.
As she broke down in sobs, Ms Tuff told the 911 operator, "I'm going to tell you something, baby. I've never been so scared in all the days in my life." "You did great," the operator replied.
Reuse content