Film star Chevy Chase was on the plane with Bill Clinton. So was a former President of Brazil. The founders of Google. A former President of Mexico. And actor John Cusack. They were all going to Davos, the Swiss resort that holds an annual conclave of the wealthy and powerful. The jet – arranged by a Saudi businessman – provided a luxurious setting for a rolling discussion: couldn't the big names at Davos be doing more to solve the world's big problems?
In the background, a Clinton staff member named Doug Band had an idea that would change the ex-President's life. "Only Bill Clinton could bring a group like this together," Band thought. Clinton didn't need Davos. He could do this himself. From that revelation came the Clinton Global Initiative – an annual gathering of the wealthy and powerful centred not on a place but a man. In the decade since, that programme has become the public face of the Bill, Hillary and Chelsea Clinton Foundation, the sprawling organisation that is now at the centre of the Clintons' lives, and a springboard for Hillary's presidential campaign.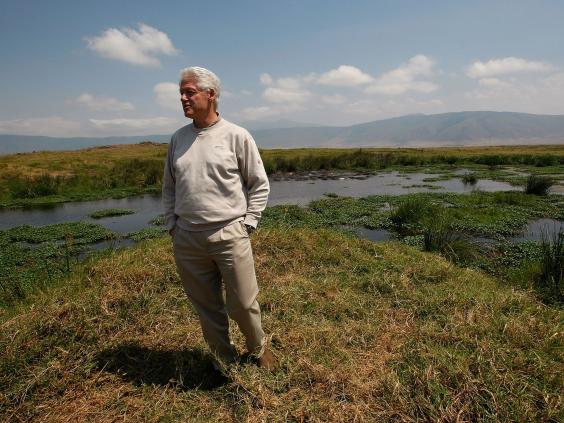 Today, the foundation is unlike anything else in the history of the nation and, perhaps, the world: a global philanthropic empire run by a former US President, closely affiliated with a potential future President, with the audacious goal of solving some of the world's most vexing problems by bringing together its wealthiest, glitziest and most powerful people.
The evolution of the foundation, which began as a modest non-profit focused largely on the ex-President's library in Arkansas, is a nearly perfect reflection of the Clintons themselves. It was not designed as a master plan but rather has grown, one brainstorm at a time, in accordance with the ambitious, loyal, restless and often scattered nature of its primary namesake. And many programmes were sparked by chance encounters in Bill Clinton's life. A meeting with a Harlem shopkeeper. A friend's plan to fight Aids. The flight to Davos. Emergency heart surgery.
Originally founded in 1997, the foundation has since grown to include a vast number of initiatives, the 11 biggest focused on issues as divergent as crop yields in Africa, earthquake relief in Haiti and the cost of Aids drugs worldwide. In all, the Clintons' constellation of related charities has raised $2bn, employs more than 2,000 people and has a combined annual budget of more than $223m. And in the middle of it all is Bill.
This account of the foundation's history is drawn from interviews with key players – including some who spoke on the condition of anonymity – as well as a review of organisation records, and a written statement from Bill Clinton.
At its heart, the foundation is an ingenious machine that can turn global goodwill into money. For the Clintons' charitable causes. For their aides and allies. And, indirectly, for the Clintons themselves. But today, the very things that made the foundation work for Bill's purposes have proved troublesome for Hillary's presidential campaign. As donations have surged, she has been forced to declare whether those supporters have been not merely giving to a charity but also currying favour with a former Secretary of State and a would-be President.
Let's start at the beginning. Bill Clinton was feeling unfulfilled. In the months after he left the White House in 2001, he was living at his  new home in Chappaqua, NY. His wife was in the Senate. His daughter was away, first at Stanford, then at Oxford. He stewed about leftover legal bills and bad press over last-minute pardons. To pass the time, he turned to TiVo. Director Steven Spielberg had given Clinton an early version of the digital television recorder. The former President holed up for hours watching movies and the television shows he had missed while he was President, several friends recalled. "You go from running the country," one insider says, "to doing nothing."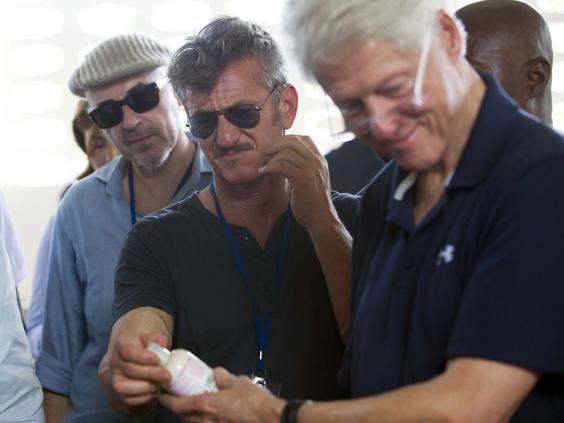 Well, not quite nothing. There was a Clinton Foundation back then, started in 1997. There were vague plans for international charity work – but the non-profit focused mainly on Little Rock, where Clinton was planning a library and a graduate school of public service, and envisioning an urban renaissance for the city that nurtured his political career. His ambitions only began to expand after he – and the fledgling foundation – moved into offices in Harlem, in the state where Hillary had just been elected senator. There, he was met by adoring crowds, and began to believe the foundation was ready to do more. Once again, as the Harlem offices buzzed with activity, Clinton had people who could follow up on his brainstorming.
"Dee Solomon owned a card shop on Lenox Avenue," says Clyde Williams, the foundation's domestic policy adviser at the time. "She said: 'Mr President, I need your help. I'm a small-business owner in this community'. " The President agreed to help – but how? "We'll figure this out," Williams told him. And they did. By 2002, Williams had recruited Booz Allen Hamilton, a management consulting firm, and New York University business school students to mentor Solomon and other small-business owners in Harlem.
The brainstorming continued. Clinton met high-schoolers who didn't feel prepared for the SAT exams. "He was like, 'We'll do something about it'," Williams recalls. Foundation staff members partnered The Princeton Review for a national programme. He met poor people who didn't know about the earned-income tax credit. Soon there was a programme for that, too.
At the same time, Clinton did more formal planning with aides. He was just 56. He would be an ex-President for a long time. He wanted to do something big. And something international. He wanted to stay out of domestic policy, so it didn't look as though he was meddling in the domain of the President who had succeeded him. Or the senator he was married to. And Ira Magaziner, a long-time aide, had an idea that fit both criteria.
New drugs were available to fight the progress of HIV and Aids, but in Africa the drugs were too expensive for many people. Magaziner wanted to lower the cost. He knew Clinton didn't have the money to help, because he was still fundraising for the library and his own legal bills. But, Magaziner told Clinton, he had a name brand with limitless value.
The idea was sealed, Magaziner said, when Clinton shared the stage with Nelson Mandela. But the truly big brainstorm of the foundation's early years came on that plane to Davos in 2004. Friends saw Clinton – the lost, lonely ex-President – transformed into a celebrity, even among celebrities. And that night in Switzerland, Band began to work on a memo proposing a new kind of conference.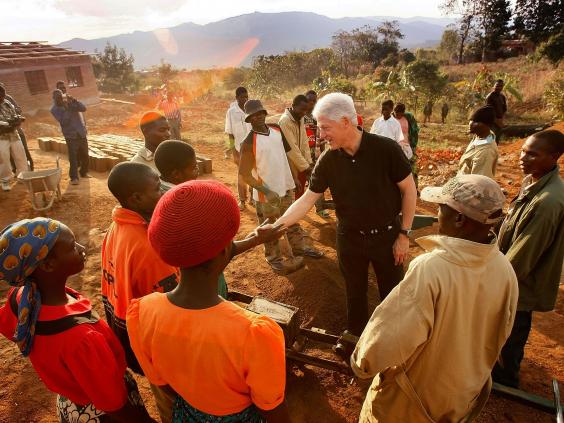 "Now here's something else in my hot little hand," Clinton said, standing on a stage at the Sheraton Times Square. "My old friend Carlos Slim Helu here has just said he's willing to develop a cell-phone network for Gaza and link it to Jordan's network. Why, thanks, Carlos. Come up here and be recognised."
It was September 2005, and at the first meeting of the Clinton Global Initiative dozens of heads of state were in attendance. Bono. Mick Jagger. Brangelina. So was Slim, a Mexican billionaire who is one of the world's richest men – and chief executives from around the world, who wanted to meet heads of state and people such as Bono and Slim.
To get in, their companies had all been required to pledge a specific "commitment to action". Starbucks pledged to help poor coffee farmers. Goldman Sachs pledged to preserve forests in Tierra del Fuego. The Crown Prince of Bahrain pledged to "educate select Bahraini students for leadership roles." For hours, they came to announce their pledges in front of Clinton – revivalists, suddenly seized by the spirit of charity.
Clinton nodded approvingly at the promises for projects that the foundation would monitor. (They added up to $2.5bn) He was doing good – but the foundation was also doing well: every ticket to the event cost $15,000 (although activists and non-profits got in free). Many corporations were also encouraged to make separate donations to the foundation. Corporate sponsors who generally paid at least $250,000 were showcased in the official literature, and received invitations to exclusive receptions.
From 2004 to 2006, the foundation's revenue more than doubled, from $58m to $134m. Now Clinton had found the model that would guide him – and in many ways later come to trouble his wife's campaign: woo the world's most powerful interests to help the powerless.
The 2005 meeting began a golden age for the foundation, and it started to expand in all directions. The old ideas kept growing. The business mentoring programme spread to nine cities. The Aids programme spread until it was reducing the cost of drugs in 70 countries. And at the same time, Clinton was approving new programmes, in widely divergent fields. After quadruple-bypass surgery, his foundation partnered with the American Heart Association to fight childhood obesity. After borrowing a plane from Canadian mining magnate Frank Giustra, the foundation began a new development effort – funded in part by $100m from Giustra – that included anti-poverty programmes in several countries where he has had business interests. And in one case, a programme began with a dinner party in London.
Clinton was seated next to Tom Hunter – a shoe-shop and property tycoon and Scotland's first billionaire – and the two men started talking about Africa. "I knew very little about Africa, so he said, 'If you are genuinely interested, come travel with me'," Hunter later told The Christian Science Monitor. He did – and then announced a $100m gift over 10 years, to fund the new "Clinton-Hunter Development Initiative", to help farmers and alleviate poverty in Malawi and Rwanda.
By 2009, the foundation had grown to a $242m-a-year organisation. It had nine branches, plus independent fundraising arms in Canada and Britain. And at the centre of it all was Clinton, inhabiting a role he had created for himself as "convener." He wasn't a philanthropist in the classic sense, more like the world's middleman – and the world's most powerful men went out of their way to see him. Slim, for example, began travelling to hear Clinton talk, and in 2007 made an even bigger pledge – $100m– to support projects in Latin America, where his telecom business is active.
For Clinton, the foundation had re-created many of the things he loved about the presidency. Even better, there were no foreign crises to derail his plans. And no meddling Republicans. (In fact, the foundation drew contributions from some who were once Clinton's most bitter political enemies.) There was also no date when the ride had to end.
The foundation came to mirror Clinton's White House in another way, too. It employed many of the same people. But the former White House employee who made the most in its heyday was probably Clinton himself. He didn't take an official salary, but he has received at least $26m in speaking fees from bodies that were major donors to his foundation. And in many cases, what Clinton got paid to speak about was, in part, the foundation.
In pictures: Hillary Clinton's 2016 presidential bid
In pictures: Hillary Clinton's 2016 presidential bid
1/30 Clinton campaign

11/09/2016: Hillary Clinton waves to the press as she leaves her daughter's apartment building after resting in New York. Clinton departed from a remembrance ceremony on the 15th anniversary of the 9/11 attacks after feeling "overheated," but was later doing "much better," her campaign said

AFP/Getty Images

2/30 Clinton campaign

25/08/2016: Hillary Clinton speaks at a campaign event in Reno, Nevada

AFP

3/30 Clinton campaign

27/07/2016: US President Barack Obama and Democratic presidential nominee Hillary Clinton embrace on stage during Day 3 of the Democratic National Convention at the Wells Fargo Center in Philadelphia, Pennsylvania

AFP/Getty Images

4/30 Clinton campaign

11/07/2016: Bernie Sanders officially endorsed Hillary Clinton, saying his progressive vision for 'a transformed America' would be 'best served by the defeat of Donald Trump'

Reuters

5/30 Clinton campaign

26/06/2016: New York Governor Andrew Cuomo, former Secretary of State and Democratic Presidential candidate Hillary Clinton, Al Sharpton and New York mayor Bill de Blasio march during the New York City Pride March in New York City

Getty Images

6/30 Clinton campaign

7/06/2016: Democratic presidential candidate Hillary Clinton gestures as she greets supporters at a presidential primary election night rally in New York

AP

7/30 Clinton campaign

26/05/2016: A supporter of democratic presidential candidate former Secretary of State Hillary Clinton holds up a shirt during a campaign event in San Francisco, California

Getty Images

8/30 Clinton campaign

26/04/2016: Hillary Clinton embraces her husband, former President Bill Clinton, at a primary night campaign event in Philadelphia, Pennsylvania. Early results indicated Clinton would win Pennsylvania's presidential primary

Getty Images

9/30 Clinton campaign

8/03/2016: Hillary Clinton and Bernie Sanders during of the CNN Democratic Presidential candidates' debate, at the Whiting Auditorium in Flint, Michigan

EPA

10/30 Clinton campaign

3/03/2016: Singer Katy Perry raises arms with U.S. Democratic presidential candidate Hillary Clinton at the end of the Hillary Victory Fund "I'm With Her" benefit concert at Radio City Music Hall in the Manhattan borough of New York City

REUTERS

11/30 Clinton campaign

28/02/2016: Hillary Clinton delivered a victory speech in Columbia

AP

12/30 Clinton campaign

16/02/2016: Hillary Clinton speaks at a rally at Truckee Meadows Community College in Reno, Nevada

AP

13/30 Clinton campaign

9/02/2016 (L-R) Priyadharshini Shanthakumar, Hattie Hughes and Claudia Blair with Hillary Clinton campaigning in Derry, New Hampshire

Hattie Hughes

14/30 Clinton campaign

30/01/2016: Hillary Clinton is introduced by her daughter Chelsea while the two campaigned together at a 'Get Out The Vote" caucus' event at the Carrollton Inn in Carroll, Iowa

Getty Images

15/30 Clinton campaign

14/12/2015: Hillary Clinton speaks during the National Immigrant Integration Conference in New York City. During the speech Clinton announced her immigration proposals if elected president

Getty Images

16/30 Clinton campaign

9/11/2015: Hillary Clinton speaks on stage during a rally after filing paperwork for the New Hampshire primary at the State House in Concord, New Hampshire. Each candidate must file paperwork to be on the New Hampshire primary ballot, which will be held on 9 February 2016

Getty Images

17/30 Clinton campaign

22/10/2015: Hillary Clinton avoided major damage to her presidential campaign during a nearly 11-hour congressional hearing dominated by Republican criticism of her response to the Benghazi attacks

AFP

18/30 Clinton campaign

9/09/2015: Hillary Clinton takes part in a discussion after speaking about the Iran nuclear deal at the Brookings Institution in Washington. Clinton expressed firm support for the nuclear accord with Iran, calling it flawed but still strong. Clinton added that the agreement must be strictly enforced and said that if elected president next year, she would not hesitate to use military force if Iran fails to live up to its word and tries to develop a bomb

AFP/Getty Images

19/30 Clinton campaign

8/09/2015: Hillary Clinton does the "Nae Nae" dance move with DJ Stephen "Twitch" Boss (L) and television host Ellen DeGeneres (R) during a taping of "The Ellen DeGeneres show" in New York

20/30 Clinton campaign

26/08/2015: Hillary Clinton greets guests during a campaign event at Tabor Home Vineyards and Winery in Baldwin, Iowa. A recent poll has Clinton leading all other Democratic contenders in Iowa by about 30 percentage points

Getty Images

21/30 Clinton campaign

13/07/2015: Hillary Clinton poses for a selfie with a student outside the New School after speaking to outline economic vision in New York. Clinton promised to raise incomes of hardworking Americans and rein in excesses on Wall Street in the first major economic policy address of her 2016 campaign

AFP/Getty Images

22/30 Clinton campaign

15/06/2015: Hillary Clinton speaks during a forum on early childhood education at the YMCA of Strafford County in Rochester, New Hampshire. Clinton held a formal launch event in New York City, and is hitting the first in the nation primary state for the third time since announcing her candidacy in April

Getty Images

23/30 Clinton campaign

22/05/2015: Hillary Clinton tours the Smuttynose Brewery in Hampton, New Hampshire

Getty Images

24/30 Clinton campaign

23/04/15: Hillary Clinton addresses the Women in the World Conference in New York City

Getty

25/30 Clinton campaign

22/04/15: Hillary Clinton waves to college students as she leaves after speaking during the Hillary Rodham Clinton Award for Advancing Women in Peace and Security at Georgetown University in Washington

AFP/Getty

26/30 Clinton campaign

21/04/15: Hillary Clinton meets with audience members after speaking with students and faculty of New Hampshire Technical Institute in Concord, New Hampshire. The conversation revolved around higher education, manufacturing and women in the work force

Getty

27/30 Clinton campaign

13/04/15: "Loaded the van & set off for IA. Met a great family when we stopped this afternoon. Many more to come." A picture of one family Hillary Clinton met on her road trip, which she tweeted

28/30 Clinton campaign

12/04/15: The building that will house Hillary Clinton's campaign headquarters, on the corner of Pierrepont and Clinton Streets in historic Brooklyn Heights, NY

Corbis

29/30 Clinton campaign

12/04/15: Some expect Hillary Clinton's campaign to cost more than Barack Obama's $1bn in 2012

EPA

30/30 Clinton campaign

12/04/15: Hillary Clinton formally declares in a video that she will seek the Democratic Party's presidential nomination for 2016, and says she wants to bring the benefits of the economic recovery to all Americans

AP
Overall, the foundation spends about 89 per cent of its money on its charitable mission, according to the independent American Institute of Philanthropy. (They gave it a rating of A for 2013, on a scale that goes to A-plus.) But, for Clinton, being the convener has brought some unexpected complications. For one thing, the work relies on other people's money. And sometimes, they run short.
By 2009, Hunter, the Scottish mogul, had lost big in the financial crisis. Having given between $20 and $25m, he told the foundation that he couldn't continue at the pace he had promised , though he would try to support the work in Rwanda. In response, the foundation found another donor for Malawi, and continued its broader Africa initiative under a new title. The "Clinton Development Initiative" was named after the convener alone: a super-connected retiree, a private citizen who could raise and spend money with very little scrutiny. But then, in 2007, Hillary began running for President; and since then, the foundation has been reshaped to accommodate her roles as candidate, secretary of state and, now, candidate again.
Hillary's rise has more closely aligned the foundation with the Clintons' political network. But it also brought a totally new level of scrutiny – and transparency – to the sprawling operation her husband built. For instance, donors to the successful Aids programme began to worry about conflicts of interest – so the Clinton Health Access Initiative, as it was now dubbed, became an independent legal entity. However, the spin-off added another level of complexity to an already difficult-to-track organisation, and a number of record-keeping slip-ups earned the foundation unwelcome scrutiny.
Ms Clinton's tenure at the State Department brought other big changes. For one thing, the Obama administration required the foundation to split itself again, so the Clinton Global Initiative became its own entity. Also, for the first time, the foundation had to say who had given it money.
The list stretched to 200,000 names (among them such governments as Saudi Arabia and Qatar) and included a variety of other figures who might benefit from a relationship – or the appearance of one – with Hillary. A businessman close to the ruler of Nigeria. Blackwater Training Centre, a controversial military contractor. And dozens of powerful American business leaders, including such prominent conservatives as Rupert Murdoch.
The identification of the foundation's donors also showed another side of Bill Clinton's "convening." It appeared some wealthy donors had also made valuable business connections in his company. Giustra, the Canadian mining magnate met the leaders of Kazakhstan and Colombia, countries where he would later make significant business deals. And in Haiti, after Clinton introduced the foundation's point man – Denis O'Brien, an Irish billionaire – to Marriott, another donor, they partnered in a hotel near the headquarters of O'Brien's company in Port-au-Prince.
Today, the Clintons defend their foundation's work by saying that its focus has always been on charity. "We and our supporters care only about impact, not ideology," Bill Clinton said in his written statement. "We are an entirely non-political foundation." However, at times, the foundation has employed several key members of Hillary's political team. In 2009, it also hired as a consultant Sidney Blumenthal, a long-time adviser to both Clintons, to work on a project to promote Bill Clinton's presidential legacy. (Unfortunately, recently released emails show that, while on the foundation payroll, Blumenthal fed back-channel – and often unreliable – intelligence reports on Libya to Secretary of State Clinton.)
After Hillary left the State Department, she became a member of the foundation's board of directors – and like her husband, she has never drawn a salary from it. However, her presidential ambitions coincided with a boom in the foundation's fundraising. Between leaving the State Department and beginning of her campaign this spring, the Clinton Foundation announced a plan to build a $250m endowment. But it also became the new vehicle for her policy ideas. Such as  "Too Small to Fail," a programme to encourage early-childhood education. And "No Ceilings," a joint effort with the Bill and Melinda Gates Foundation, which aims to improve women's lives around the world.
In 2011, Chelsea Clinton also started at the foundation. Bringing her experience working as a management consultant for several years with McKinsey, she helped lead management change, ousting Band and others. As for her mother, in beginning a new presidential run, she has brought new questions for the foundation. What if she wins? How could this President Clinton avoid conflicts of interest if she deals with donors to the family charity? And what if she doesn't win? Could the foundation still raise money if the family's political ambitions are dead and buried?
Trying to head off criticism, Hillary formally stepped down from the board when she began her campaign. The foundation has also been churning out fact sheets that highlight its charitable work – but it still remains a foundation about everything, sprawling into disjointed fields whose only common bond is that they once caught a Clinton's eye. (A recent example is a project to fight elephant poaching in Africa, a passion of Chelsea and Hillary's.)
In all this time, it has killed off only one major initiative: the one that started with that small-time card-shop owner. By 2012, the mentoring programme – renamed the Clinton Economic Opportunity Initiative – had recruited hundreds of volunteers. Then, it was gone, and the NYU students began working on projects in Haiti. The work of mentoring small businesses was "too labour-intensive to be successful at scale," the chairman of the board stated by email.
But in essence, for the Clintons' mega-charity, the project that had launched its ambitions was no longer ambitious enough.
Additional reporting by Alice Crites.
A version of this article first appeared in  The Washington Post
Reuse content