Where were the topless women of Times Square, did anybody know?
Spider-Man was preoccupied, two New York City cops were leaning a against a wall talking, while the Incredible Hulk seemed to suggest they were not there.
"You won't see them today," the Hulk said, grinning through his rubber mask. "They are scared."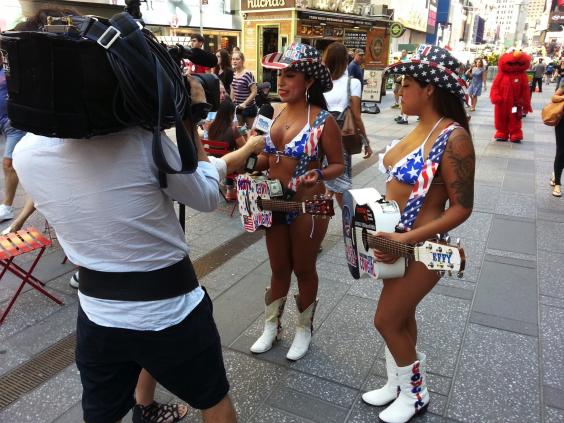 The naked ladies of Time Square, who paint over their breasts and who for many years have posed with smiling tourists for a few dollars, are on the run.
This week, after an apparent series of complaints that the women have been behaving too aggressively in an attempt to wrangle a buck, Mayor Bill de Blasio announced he was going to take action.
"It's wrong," Mr de Blasio said at a press conference, on the same day that some of the women's "handlers" were brought before a court.
"We are going to look for every appropriate way to regulate all activity that involves either begging, or asking people for a contribution based on, you know, the opportunity to take a picture, for example."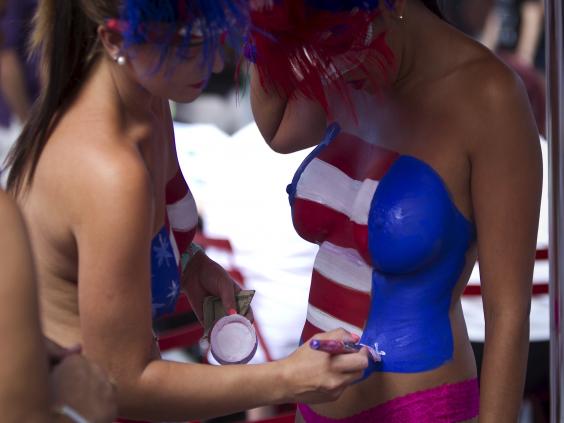 The mayor even went as far as to suggest pulling up the pedestrianised area and he added: "I don't like the situation in Times Square, and we're going to address it in a very aggressive manner."
It's been a good 15 years since the handful of mid-Manhattan streets known as Times Square were anywhere close to properly seedy.
Former mayor Rudolph Giuliani led a campaign against the sex shops, sex cinemas and sex workers that proliferated back then. Today, the most risqué Times Square gets is someone surreptitiously handing out a tired-looking flyer for a so-called Gentleman's Club.
But the area to some extent lives off its reputation for spectacle and fun, from cartoon characters such as Hulk and Spider-Man who pose for photographs with children, to the topless women, also known as desnudas.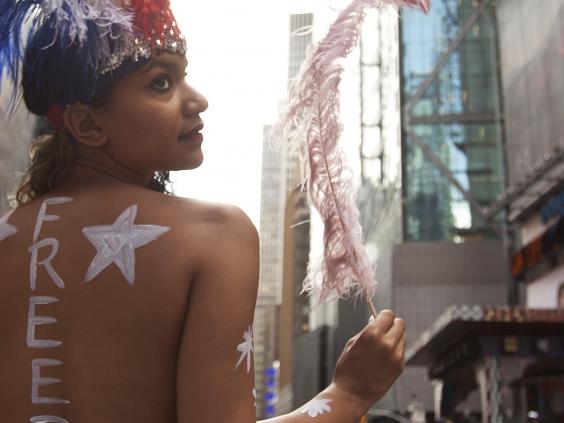 At the junction of 44th Street and 7th Avenue, Patricia Cruz, was working the pitch, wearing a bikini in the colours of the US flag and a guitar around her neck.
She called herself the Naked Cowgirl, to distinguish herself from the painted topless, and said she was married to Robert Burck, the area's celebrated Naked Cowboy. In the absence of the naked ladies, she found herself doing a lot of media interviews on Friday morning.
"I do know some of the painted ladies. Some of them are very nice, but they can sometimes be aggressive," she said. "I don't think the campaign is against us. We are not so aggressive."
Was anyone offended by any of this? From a quick straw poll, it was hard to think so.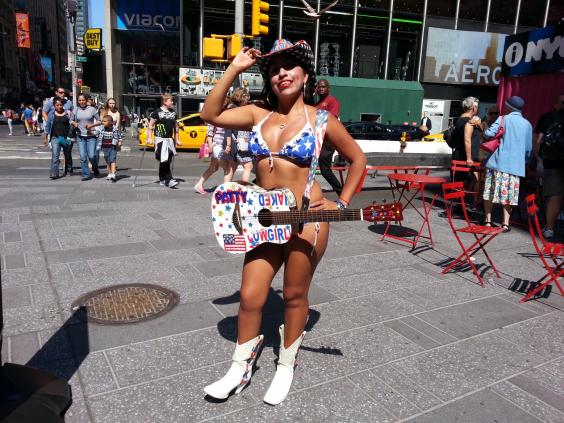 "I think North Americans are more uptight against nakedness than Europeans," said Kelly, who declined to give her second name and who said she was visiting with her husband from Toronto.
Her husband, Bill, said: "Compared to what you see on television or the internet, this is nothing."
What was without doubt was that everyone was keen to take a photograph of the cowboy and his two cowgirls, including a young Muslim mother with a baby in a pram, who stopped to get snap a picture with her cell phone as she kept a scarf firmly across her face.
The young woman said she was visiting New York from Michigan. And what did she make of all the drama? "It's tourist time."