Embattled Toronto Mayor Rob Ford has told reporters he's "ready to take a break" from the mayoral election campaign to "go get help" with his substance abuse problems.
The controversial mayor told the Toronto Sun that he realises "it's time" to get help to "deal with his issues."
The decision to step back from the campaign and seek help was later confirmed by Mr Ford's lawyer, who said his client acknowledged he had an abuse problem and wanted to do something about it.
The announcement came as a new video emerged which it is claimed shows Mr Ford allegedly smoking a substance described as 'crack-cocaine' in his sister's basement.
The national newspaper said two Globe reporters viewed the video from a self-professed drug dealer showing Ford taking a drag from a pipe early on Saturday morning.
The video is part "of a package of three videos the dealer said were surreptitiously filmed and which he says he is now selling for 'at least six figures,"' the paper reported.
Mr Ford has not so far commented on the new videos.
News reports of the existence of an earlier video of Mr Ford apparently smoking crack first surfaced last May, igniting a media firestorm.
An audio recording has also recently emerged which the Toronto Sun claims is of Ford swearing and ranting in a bar.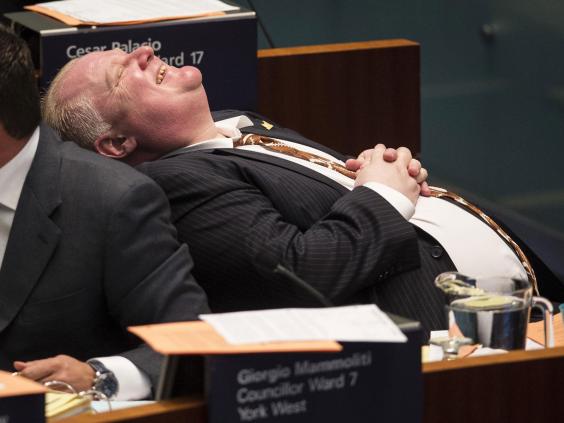 Mr Ford last year admitted, after months of denial, to smoking crack cocaine in a "drunken stupor".
His admission came after police said they had obtained a video which appeared to show him taking the illegal drug.
Mr Ford's lawyer, Dennis Morris, said the mayor will take a leave of absence for substance abuse. He is seeking re-election in the October 27 vote.
Mr Morris said he spoke to Mr Ford earlier yesterday and said the mayor has accepted that he has a problem.
"He acknowledges he has a substance abuse problem and he wants to do something about it," Mr Morris told The Associated Press.
Ford has faced a series of scandals over the past year featuring a string of incidents including public drunkenness and him appearing to threaten "murder" in another video.
Police documents have also alleged Mr Ford has used racially abusive language, sexually propositioned a female colleague and snorted cocaine in a restaurant.
He strongly denies these allegations.
Mr Ford said last year that he quit drinking alcohol after having a "come to Jesus moment" but later acknowledged that he drank again. A number of recordings of the mayor intoxicated have surfaced since.
He admitted "rocky moments over the past year" during his official campaign launch earlier this month but vowed to fight harder than ever to win re-election.
Mr Ford, who was the first to register as a candidate in January, invoked the spirit of second chances during a speech in front of supporters.
John Tory, who is running against Mr Ford in the election, said he is relieved that Mr Ford is seeking help but said "for the good of the city" he should resign.