New York is reeling after two police officers were shot and killed on Saturday in an "assassination" by a man who appeared to claim on social media he was acting in revenge for the deaths of black suspects who died in custody.
Officials said the uniformed officers were shot "execution-style" by a man who approached their marked police car shortly before 3pm in the Bedford-Stuyvesant area of Brooklyn. The gunman, who was named as 28-year-old, Ismayyil Brinsley, then ran into the entrance of a subway station, pursued by other officers, where he shot himself in the head.
In the wake of the attack, the city's main police union, the Patrolmen's Benevolent Association, blamed the mayor, Bill de Blasio" for the shootings claiming that his "words, actions and policies" had turned the NYPD into a "wartime police department".
At a press conference on Saturday evening at Brooklyn's Woodhull Medical Centre, where the two fatally inured officers were taken, New York Police Commissioner William Bratton said it was believed that earlier in the day the suspect had shot and injured his ex-girlfriend in the city of Baltimore. He had then posted a several "anti-police" messages on social media that officers were investigating.
In pictures: Protests over death of Eric Garner
US media said that in the messages posted on Instagram, Brinsley had said he was "putting wings on pigs". He then referred to Eric Garner and Michael Brown, two unarmed black men whose deaths at at the hands of police have sparked national protests, and added: "Let's take two of theirs."
Brinsley also posted a picture of a silver handgun. Police said they recovered a semi-automatic handgun from the subway station where Brinsley had taken his own life.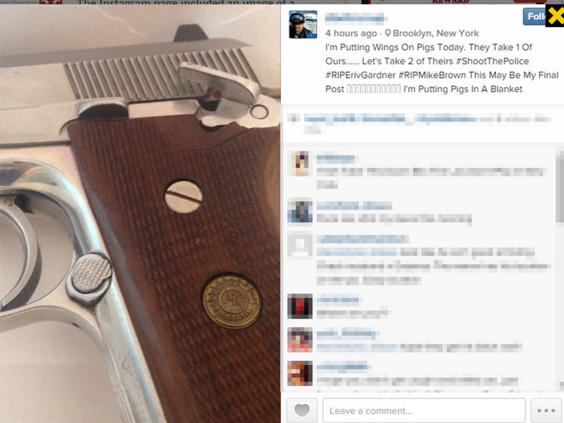 Mr Bratton said that in the wake of the shooting in Baltimore, police there had issued an alert about Brinsley, which police in New York received sometime after 2pm on Saturday.
Mr Bratton said tragically this warning arrived at around the same time that Brinsley approached the side of the police car, took a shooting stance and fired several shots through the window, hitting the officers in the head. He said the two patrolmen did not have an opportunity to draw their weapons and may not have even have seen the killer.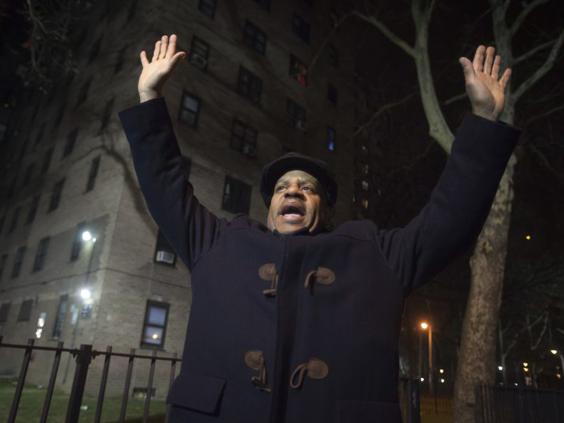 "Two of New York's finest were shot and killed with no warning, no provocation," said Mr Bratton. "They were, quite simply, assassinated - targeted for their uniform and for the responsibility they embraced to keep the people of this city safe."
The two officers were named as Wenjin Liu, a seven-year veteran of the force who had recently married, and Rafael Ramos, who was married with a 13-year-old son.
The killing of the officers comes at a time of widespread public anger directed at police in the US after the failure to prosecute officers for their alleged role in a flurry of deaths of black suspects.
In recent days, New York has seen daily demonstrations from protesters angry over a decision not to prosecute an officer who put Mr Garner in a so-called choke-hold, a move that killed him. Protesters have carried placards based on the last words said to have been uttered by Mr Garner – 'I can't breathe'.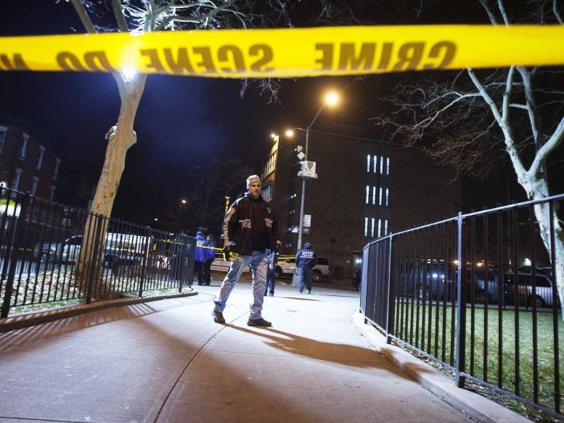 The move not to prosecute the man who had placed Mr Garner in the choke-hold followed soon on the heels of a decision by a Missouri grand jury not to indict a white officer in the fatal shooting of Mr Brown, an unarmed black 18-year-old.
The president of the police officers union, Patrick Lynch, and Mayor Bill de Blasio have been locked in a public battle over treatment of officers following the New York grand jury's decision. Just days ago, Mr Lynch suggested police officers sign a petition that demanded the mayor not attend their funerals should they die in the line of duty.
A statement apparently issued by the city's main police union, the Patrolmen's Benevolent Association, blamed the mayor for Saturday's shootings.
"The mayor's hands are literally dripping with our blood because of his words, actions and policies and we have, for the first time in a number of years, become a wartime police department," it said. "We will act accordingly."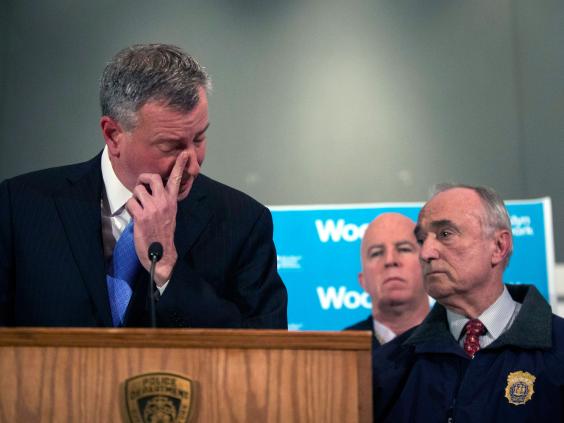 Mr de Blasio took part in Saturday's press conference. He said the officers had been killed "execution-style" and said he had met with the officers' family members, including Mr Ramos's teenage son who was struggling to make sense of what had happened.
Taking questions from reporters, the mayor sought to avoid further controversy. "This is a time to think about these families, not politics. We should be thinking about how to support these families," he said.
The Rev Al Sharpton, a New York civil rights leader who has supported the families of Mr Brown and Mr Garner, said he was outraged by the officers' killings and the suggestion they were linked to the men's deaths.
"Any use of the names of Eric Garner and Michael Brown, in connection with any violence or killing of police, is reprehensible and against the pursuit of justice in both cases," he said in a statement.
Mr Bratton, the police commissioner, said there was no evidence that Brinsley was linked to any terrorist group but said officers would probe whether he was linked to any groups involved in anti-police protests.
One unconfirmed media report suggested Brinsley, who had most recently been living in Atlanta, Georgia, may have been linked to the Black Guerrilla Family, a  Baltimore-based gang that had vowed to kill officers in retaliation for the death of Mr Garner,
Mr Bratton said that it was the seventh time since 1972 since two police partners had been killed in the line of duty.
The last officer killed by gunfire was Peter Figoski, who lost his life in 2011. Mr Figoski was responding to a report of a break-in at a Brooklyn apartment. He was shot in the face and killed by one of the suspects hiding in a side room when officers arrived.
Reuse content