Police in Washington DC have lifted the lockdown that was placed on Capitol Hill after a man with a gun drew his weapon and was shot and injured by an officer in a visitors centre.
For several tense hours on Monday, tourists and Capitol Hill employees were told not to move, after a security cordon was thrown around one of the most closely guarded places in the US. 
Police later revealed that the man had been taken to hospital, where his condition was not immediately known. They said they believed it was an isolated incident and had no terror link. A female bysander also suffered shrapnel injuries - presumably from the shots fired by the officer. Contrary to earlier reports, no police officer was injured.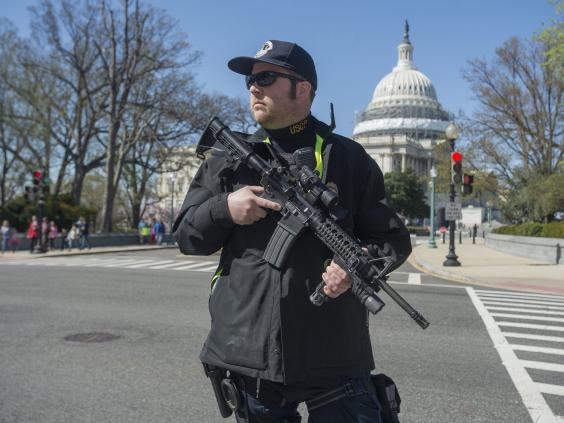 US Capitol Police Chief Matthew Verderosa told reporters said that the gunman was caught as he went through the screening process at the visitor's centre.
"He drew what appeared to be a weapon," he said. "He pointed at a police officer."
He said at least one officer opened fire and struck the gunman. Mr Verderosa said the man was known to Capitol police from prior contacts but he did not elaborate. He added: "We believe this is an act of a single person who has frequented the Capitol grounds before. There is no reason to believe this is anything more than a criminal act."
The incident, which happened at around 2.40pm, unfolded at time when the US is on heightened alert following a series of terror attacks overseas. Congress was on recess and politicians were back in their home districts, though the city was full of tourists enjoying Washington's famous cherry blossoms.
President Barack Obama had earlier in the day overseen his final Easter Egg Roll as president. Beyoncé and Jay Z were among his guests. A total of 35,000 people attended the event.
Reports said Capitol Hill workers had been told to stay in place as a lockdown was ordered. The White House was also placed on lockdown, though CNN said this was the result of a separate incident in which someone was trying to enter the grounds. That person was also detained.
A number of emergency response teams were dispatched to the location in the centre of the nation's capital city where the shots were said to have been fired.
Trevor Kussman, a textile executive visiting with his wife and children from Chicago, told the Washington Post that his family was inside the visitor's centre watching an educational movie when an announcement was made about "shots being fired". The movie continued to play, but some people got up to leave, he said.
After the first reports that shots had been fired, an email was sent to employees on Capitol Hill warning them to keep sheltering in place but said: "No further gunshots being reported."
The e-mail added: "One suspect is in custody, no further suspects appear to be at large, however the US Capitol Police are continuing to investigate."
In 2013, a Connecticut woman was shot and killed by police officers after trying to drive through a White House security checkpoint and then speeding down Pennsylvania Avenue and driving her car into a security barricade on the northeast side of the Capitol grounds.
In 1998, a mentally ill gunman opened fire at an entrance to the Capitol building, killing two Capitol Police officers - Jacob Chestnut and John Gibson.