Barack Obama and Raul Castro shook hands last night in an historic manifestation of thawing animosity between the US and Cuba after more than 50 years.
The two presidents met at the Summit of the Americas. UN Secretary General Ban Ki-moon and Latin American leaders looked on and praised efforts made to improve relations between the two nations after decades of sanctions on Cuba and isolation.
Obama and Castro will meet again today to talk about renewing diplomatic ties after they were severed 54 years ago after the 1959 revolution led by the Cuban leader and his brother Fidel.
The US president assured leaders that his country is no longer interested in trying to impose its will on Cuba. It is hoped that trade, leisure and travel ties between the two countries can be improved to restore full diplomatic relations.
However, the US trade embargo against the island can only be revoked by the Republican-controlled Congress and fears have been expressed that rampant capitalism will wreak havoc on the strong Cuban cultural identity.
In pictures: Timeline of US and Cuba relations
In pictures: Timeline of US and Cuba relations
1/19 Cuba timeline

July 1953: Fidel Castro begins a revolutionary campaign against the regime of Cuban President Fulgencio Batista

2/19 Cuba timeline

January 1959: Castro and Che Guevara enter Havana after a successful final offensive. Batista flees, and Castro becomes prime minister, ruling by decree

3/19 Cuba timeline

October 1960: Castro's reforms sees hundreds of US businesses in Cuba nationalised and their owners not compensated. In December, US US breaks off diplomatic relations and imposes a trade embargo

4/19 Cuba timeline

April 1961: Cuban exiles launch the Bay of Pigs invasion with US backing

5/19 Cuba timeline

October 1962: A 13-day confrontation known as the Cuban missile crisis begins when Castro allows the USSR to deploy nuclear missiles on the island. Generally regarded as the closest the world has come to nuclear war

6/19 Cuba timeline

1962: US President John F Kennedy signs off a naval blockade

Getty Images

7/19 Cuba timeline

April 1980: A sharp downturn in the Cuban economy and Castro temporarily lifting restrictions sees around 125,000 people, many of them released convicts, flee to the US

8/19 Cuba timeline

February 1996: Cuba shoots down two US aircraft operated by Miami-based Cuban exiles, prompting the US to make its trade embargo permanent

9/19 Cuba timeline

June 2001: The case of the "Cuban Five" begins, as five spies in Miami are convicted of providing intelligence to the Havana government

10/19 Cuba timeline

Nov 2001: US sells $30m of food to the Cuban government to assist in the aftermath of Hurricane Michelle, which killed 22 people, the first food export between the countries for more than 40 years

11/19 Cuba timeline

Oct 2003: US President George W Bush announces fresh anti-communist measures, including tightening the travel embargo and creating a new government body, the Commission for Assistance to a Free Cuba

12/19 Cuba timeline

Aug 2006: President Bush seizes the opportunity of President Castro's illness and a handover of powers to Raul Castro, urging Cubans to work towards democratic change

13/19 Cuba timeline

Feb 2008: Raul Castro officially takes over as president. Washington responds by saying its trade embargo will remain in force unless free and fair elections are held

14/19 Cuba timeline

Dec 2008: A poll by Florida International University suggests for the first time that a majority of Cuban-Americans living in Miami want an end to the embargo

15/19 Cuba timeline

April 2009: President Obama lifts restrictions on family travel to Cuba

16/19 Cuba timeline

Dec 2009: US aid worker Alan Gross is detained in Cuba on suspicion of spying for Washington

AP

17/19 Cuba timeline

Nov 2010: American Ballet Theatre performs in Cuba for the first time in 50 years, the most high-profile in a series of cultural exchanges

18/19 Cuba timeline

Sep 2012: Cuba hints at its willingness to do a deal with Washington on the Gross case

19/19 Cuba timeline

December 2013: President Obama and Raul Castro shake hands at the memorial service for Nelson Mandela. Castro says in English: "Mr President, I am Castro." It was hailed in Cuba as "the beginning of the end" for what were then described as "US aggressions"
"Our Cuba policy, instead of isolating Cuba, was isolating the United States in our own backyard," Obama's deputy national security adviser, Ben Rhodes, said yesterday.
Private business restrictions have already been relaxed on the island with small enterprises being opened by Cubans in their homes and garages, such as restaurants and internet cafes.
Also, Obama appears to be close to removing Cuba from a list of countries that it says sponsors terrorism. Castro has insisted on it as a condition for restoring diplomatic ties, but it is not known when this will be implemented.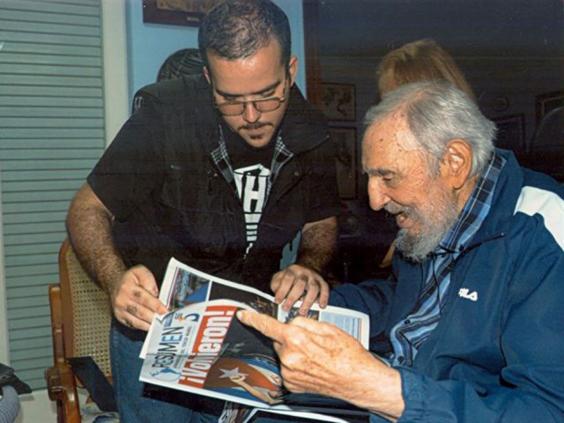 In January, Fidel demanded that the US hand back control of Guantanamo Bay to Cuba. Washington refused.
In the face of domestic opposition to improving relations, Obama said that the deal is not one-sided and that his government will push Cuba to reform human rights and political freedoms.
Venezuela's socialist president, Nicolas Maduro, toned down his anti-American rhetoric to hail the reconciliation as well as Cuba's attendance for the first time in the summit's 21-year history.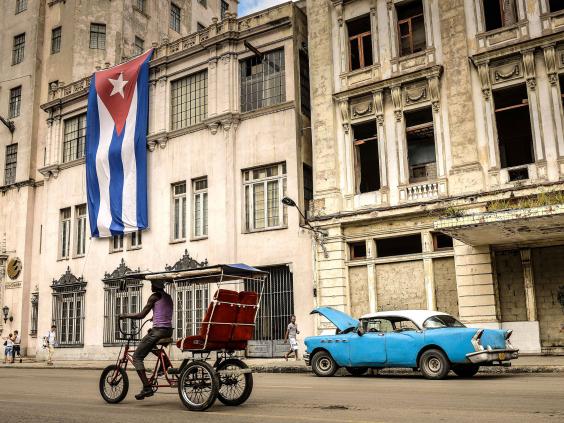 "The fact that Cuba is here is the greatest achievement of Latin America and the Caribbean," said Maduro.
"When Raul sat in that chair, which belongs to Cuba, 60 years of revolution sat down. Fidel sat down," he added.
Former Cuban leader Fidel Castro, who is now aged 88, served as prime minister from 1959 to 1976 and president from 1976 to 2008 – when he handed power to his brother Raul, 83.
Castro insists he will be cautious in passing any reforms and that Cuba has no intention of ending Communist Party rule.
Reuse content