Call it a liquor legend. As revolution engulfed Cuba at the end of the 1950s, the coconut tree that Facundo Bacardi had planted at his distillery in Santiago de Cuba in 1862, as a symbol of company prosperity, began to wither and die. Months later, Fidel Castro would seize the property and the Bacadi family would flee the island.
"El Coco", as it was called, is nowadays merely a fake to be found inside the Bacardi museum at what is now the company's main factory just outside San Juan, Puerto Rico, where most of its famous rum has been produced since it left Cuba. The museum is a paean to Bacardi's Cuban roots. Even the labels on its premium bottles pay homage to the old Santiago days, with the words "Distilled in Puerto Rico" barely visible.
Close to the tree stands a copper still, rescued from the original Santiago de Cuba distillery, with the sounds of dripping and gurgling supplied by hidden loudspeakers. It's all designed to whet our appetites for the free sample of eight-year-old Bacardi that awaits us in plastic cups near the reconstruction of the original Bacardi bar in pre-revolution Havana. Among Bacardi's best customers then was Ernest Hemingway, a longtime Cuba denizen, who mentioned its rum in two of his novels.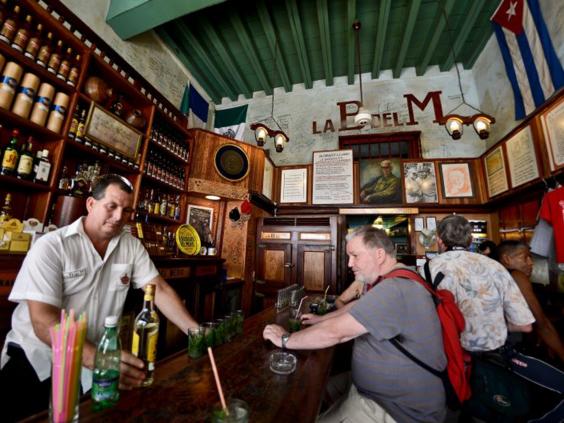 Now, after 53 years in exile, the still family-owned Bacardi is suddenly being forced to ponder the obvious dilemma: now that the United States is talking to the regime of Fidel's brother, Raul Castro, about an eventual end to its embargo of the island, is it perhaps time to return and plant a new El Coco in Cuba?
It could happen, at least if the guide on a tour through the Bacardi museum has any insight into management's thinking. "They are very happy with what is happening to the Cuban people," she ventured, before ostensibly breaking real news: "It is still too early to know, but they would love to have their headquarters in Cuba." She may have been jumping the gun. Or maybe not. The stakes have to do more with cut-throat business rivalry than sentimentality.
The opening up of Cuba threatens to reignite a long-running and bitter feud between Bacardi and the French beverage giant Pernod Ricard. Last week it revealed that it has plans to begin exporting its Havana Club rum, produced in a joint partnership with the Cuban government in Cardenas, to the US as soon as it can.
In pictures: Timeline of US and Cuba relations
In pictures: Timeline of US and Cuba relations
1/19 Cuba timeline

July 1953: Fidel Castro begins a revolutionary campaign against the regime of Cuban President Fulgencio Batista

2/19 Cuba timeline

January 1959: Castro and Che Guevara enter Havana after a successful final offensive. Batista flees, and Castro becomes prime minister, ruling by decree

3/19 Cuba timeline

October 1960: Castro's reforms sees hundreds of US businesses in Cuba nationalised and their owners not compensated. In December, US US breaks off diplomatic relations and imposes a trade embargo

4/19 Cuba timeline

April 1961: Cuban exiles launch the Bay of Pigs invasion with US backing

5/19 Cuba timeline

October 1962: A 13-day confrontation known as the Cuban missile crisis begins when Castro allows the USSR to deploy nuclear missiles on the island. Generally regarded as the closest the world has come to nuclear war

6/19 Cuba timeline

1962: US President John F Kennedy signs off a naval blockade

Getty Images

7/19 Cuba timeline

April 1980: A sharp downturn in the Cuban economy and Castro temporarily lifting restrictions sees around 125,000 people, many of them released convicts, flee to the US

8/19 Cuba timeline

February 1996: Cuba shoots down two US aircraft operated by Miami-based Cuban exiles, prompting the US to make its trade embargo permanent

9/19 Cuba timeline

June 2001: The case of the "Cuban Five" begins, as five spies in Miami are convicted of providing intelligence to the Havana government

10/19 Cuba timeline

Nov 2001: US sells $30m of food to the Cuban government to assist in the aftermath of Hurricane Michelle, which killed 22 people, the first food export between the countries for more than 40 years

11/19 Cuba timeline

Oct 2003: US President George W Bush announces fresh anti-communist measures, including tightening the travel embargo and creating a new government body, the Commission for Assistance to a Free Cuba

12/19 Cuba timeline

Aug 2006: President Bush seizes the opportunity of President Castro's illness and a handover of powers to Raul Castro, urging Cubans to work towards democratic change

13/19 Cuba timeline

Feb 2008: Raul Castro officially takes over as president. Washington responds by saying its trade embargo will remain in force unless free and fair elections are held

14/19 Cuba timeline

Dec 2008: A poll by Florida International University suggests for the first time that a majority of Cuban-Americans living in Miami want an end to the embargo

15/19 Cuba timeline

April 2009: President Obama lifts restrictions on family travel to Cuba

16/19 Cuba timeline

Dec 2009: US aid worker Alan Gross is detained in Cuba on suspicion of spying for Washington

AP

17/19 Cuba timeline

Nov 2010: American Ballet Theatre performs in Cuba for the first time in 50 years, the most high-profile in a series of cultural exchanges

18/19 Cuba timeline

Sep 2012: Cuba hints at its willingness to do a deal with Washington on the Gross case

19/19 Cuba timeline

December 2013: President Obama and Raul Castro shake hands at the memorial service for Nelson Mandela. Castro says in English: "Mr President, I am Castro." It was hailed in Cuba as "the beginning of the end" for what were then described as "US aggressions"
In recent years, Bacardi, which over time has grown into a $5bn (£3.2bn) corporation that also owns Grey Goose vodka, Bombay Sapphire gin, Dewar's and Martin Rossi, fought a protracted legal battle with Pernod over selling Havana Club in the US. The dispute drew in the World Trade Organisation, the European Commission and even the US Congress. Bacardi eventually prevailed and has sold Havana Club in the US since 2012. Thus, what Pernod sells as Havana Club in Europe must be labelled with a new name if it is to be sold in the US. The company has opted for "Havanista".
Yet, Bacardi now has a new problem. Nary a drop of genuine Cuban rum has been poured in the US for more than five decades, at least not legally. Until now. In December, Barack Obama, as part of a first round of easing trade restrictions, declared that Americans travelling to Cuba under various dispensations could bring back cigars and alcohol up to a total value of $100. And when the embargo goes, Cuban rum could start to flow in torrents.
While Bacardi, for the moment, can offer only rum made in Puerto Rico, Pernod is gearing up to play its Cuban edge. "If the embargo is lifted, we could gain access to an enormous market and a substantial growth booster for the coming years," Jérôme Cottin-Bizonne, chief executive of Pernod Ricard's Havana Club, told Reuters in Cuba last week. Thus the gauntlet was again thrown down.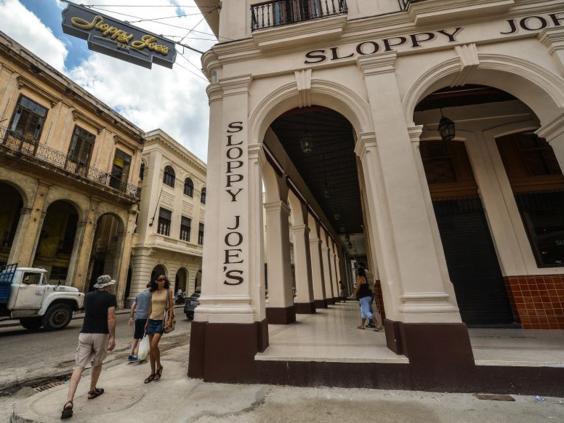 Watching nervously is Puerto Rico. Already under strain from a brutal economic recession that has barely let up in eight years, the government is fearful of the further effects that the opening up of Cuba could have on its economy, especially on tourism. And losing Bacardi, whose bat logo adorns bars from one end of the island to the other, would be a body blow.
The island's best hope is that Bacardi will at least take its time before setting even one foot back in its ancestral land. "I think they'll wait until the Castros die before they do that," said Sergio Marxuach, policy director of the Centre of a New Economy, a think-tank in San Juan and a friend of Joaquin Bacardi, one of the surviving family directors. "There is no love lost there." For its part, Bacardi is weighing its words on the subject with consummate care, unlike, perhaps, the tour guide at the museum.
"Regarding the current Cuban front, it's too early and would be highly speculative to comment on the embargo, sales, return and/or any actions relating to Cuba," a company spokeswoman, Amy Federman, carefully told The Independent on Sunday, before offering a more formal company statement: "Bacardi is proud of its Cuban roots. We have the utmost respect and sympathy for the Cuban people with whom we share a common heritage. Regarding the diplomatic actions, we will need to wait and see what the impacts are ... In the meantime, we continue to support the restoration of fundamental human rights in Cuba."
Even the name of the world's most popular rum cocktail, the Cuba Libre (rum and Coca-Cola), would seem to beg Bacardi to return to Cuba. Yet, there is one headwind that Pernod may face trying to ply Havanista in the US. The still powerful anti-Castro forces in Miami will surely mobilise to impede its prospects by reminding the public of the French company's long history, dating back to 1994, of working jointly with the Castro regime on the island, long before the current thaw began.
If it is only the headquarters that Bacardi wants to relocate on the island, it would first be a loss for Bermuda, which is currently where the company has its corporate base. But if it goes further, it could encompass the distillery in Catano, directly across the harbour from the famous Spanish fort in Old San Juan, was inaugurated in Puerto Rico by Bacardi in 1936, long before its flight from Cuba. Later christened the "Cathedral of Rum" because of the soaring, Art Deco-style edifice of its main building, it is the biggest rum distillery in the world. Its total abandonment would be a wrench not just for Puerto Rico, but also for the company.
There are several real palms just in front of its Catano cathedral, by the way. They seem to be thriving.
Reuse content