Bernie Sanders declared that the people of Iowa had delivered a message to the world after he pushed his political challenge to within a hairs breath of Hillary Clinton - a margin of less than half a percentage point that he called a "virtual tie".
"Iowa I thank you," Mr Sanders declared, as he spoke to supporters at a hotel near Des Moines Airport, jabbing his finger on the podium within a sea of supporters at a hotel across the road from the airport where a charter plane was waiting to bear him and his entourage to New Hampshire where the next round with Ms Clinton now awaits.
"Nine months when ago I came to this beautiful state, we had no political organisation, we had no money, we had no name recognition and we were taking on the most powerful political organisation in the United State of America."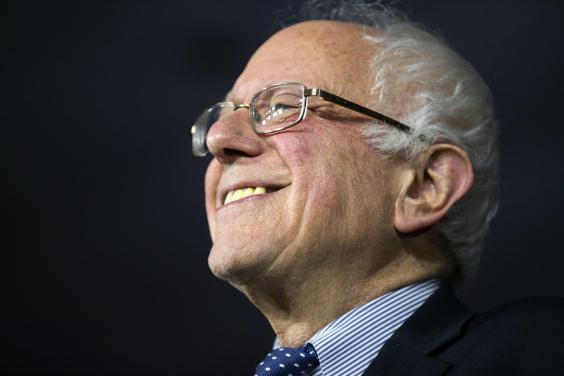 He added: "Tonight, while the results are not fully in, we are in a virtual tie."
With more than 95 per cent of precincts having reported Ms Clinton was on 49.8 per cent, with Mr Sanders on 49.6 per cent. Martin O'Malley secured less than one percent and announced he was ending his campaign.
It was unclear when the final results would arrive. CNN reported that around 90 of the more than 1,600 precincts holding votes, had said they did not expect to report their results until Tuesday morning.
Mr Sanders, 74, who describes himself as a democratic socialist, has utterly upended expectations since he launched his campaign last spring. His effort to confront inequality and to remove the influence of Wall Street and corporations from politics, has struck a chord with many, particularly younger people.
He said that the results in this first vote in the US presidential campaign would ensure he obtained the same number of Iowa delegates as Ms Clinton.
Yet he said the support he had secured, revealed that people were fed up with establishment politics, establishment economics and the establishment media.
"The American people know this country is based on fairness," he said. "It's not fair when the top tenth of the top one per cent own more than the bottom 90 per cent."
Ms Clinton told her supporters she was breathing a "big sigh of relief" after the results and thanked her supporters. She lost to then-Senator Barack Obama in 2008 and was pushed into third place, narrowly behind John Edwards. 
The former first lady congratulated Mr Sanders and Mr O'Malley and not declare victory in her remarks.  "It is rare that we have the opportunity we do now to have a real contest of ideas," she said.
Trailing by a few points in most polls ahead of the caucuses, Mr Sanders clearly could only leave Iowa gratified and fueled up for New Hampshire and the primary states beyond even if, once the final numbers are in, Ms Clinton may have just eked out a tiny victory.
Certainly the mood in the ballroom when he appeared was one of heady ebullience, with few supporters fretting any longer whether he would eventually be declared the official winner or not.  "We did it," was the refrain of the mostly young voters as they filed out at the end and Mr Sanders was bound for his aircraft.
"Oh, this is great," Michael Briggs, his campaign spokesman. When asked to assess the night's outcome for his boss, the US Senator from Vermont, he briefly seemed lost for words.  "Look we came from nowhere."
Indeed, in American politics, the victory – or near victory – in the first round of the nomination process of a 74-year-old politician who proudly boasts his credentials as a democratic socialist would have once seemed unthinkable.
It may be true that Ms Clinton may just have escaped the disaster that a clean loss in Iowa would have dealt her.  But at the same time, the extraordinary photo-finish will give Mr Sanders the right to call himself a giant-slayer and at the very least give him additional momentum going forward into New Hampshire where already holds a significant lead in the polls.
Building that momentum is especially critical for him, however, because after New Hampshire come races in two states, South Carolina and Nevada, with much more diverse populations potentially giving Ms Clinton an edge with support from Hispanics and African Americans.
While the razor-thin difference between the candidates was astonishing, it was not unprecedented for Iowa.  Four years ago in the Republican caucuses, Rick Santorum was eventually found to have beaten Mitt Romney by just eight votes across the whole state.
Reuse content