It was short, simple and utterly to the point.
After Donald Trump took to social media to threaten to dispatch his supporters to flood the rallies of Bernie Sanders, the Vermont senator was quick to respond in kind.
"Send them," he said. "They deserve to see what a real honest politician sounds like."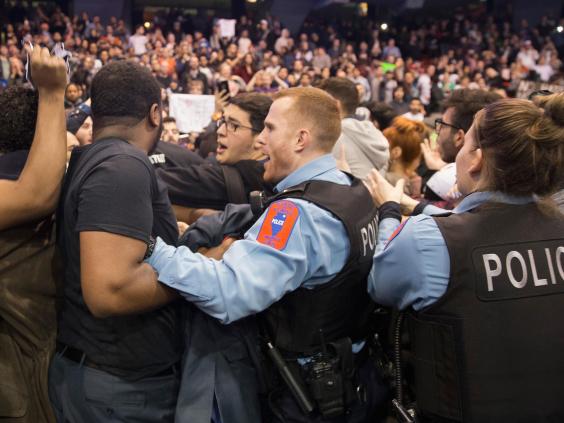 The message, posted on Mr Sanders' campaign's official twitter feed, came as the two men exchanged accusations in the aftermath of clashes at a rally organised by Mr Trump in Chicago on Friday night. Mr Trump ultimately decided to cancel the event amid security concerns.
Almost immediately, Mr Trump blamed Mr Sanders for the disruptions, saying that he had sent his own supporters to disrupt the event. In a threat to the Democratic contender, Mr Trump said Mr Sander was lying when he said his supporters had not been ordered to attend the event.
"Be careful Bernie, or my supporters will go to yours," he said on Twitter.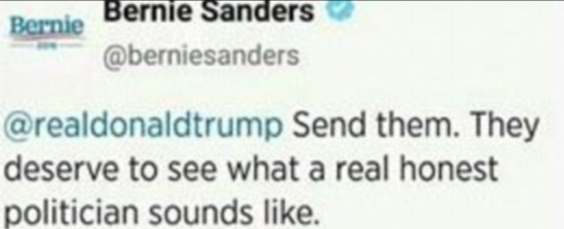 Mr Sanders' campaign responded with its own tweet, since deleted, but the Vermont senator followed up by issuing a statement in which he called Mr Trump a "pathological liar".
Donald Trump's most controversial quotes
Donald Trump's most controversial quotes
1/14 On Isis:

"Some of the candidates, they went in and didn't know the air conditioner didn't work and sweated like dogs, and they didn't know the room was too big because they didn't have anybody there. How are they going to beat ISIS?"

Getty

2/14 On immigration:

"I will build a great wall — and nobody builds walls better than me, believe me —and I'll build them very inexpensively. I will build a great, great wall on our southern border, and I will make Mexico pay for that wall. Mark my words."

Reuters

3/14 On Free Trade:

"Free trade is terrible. Free trade can be wonderful if you have smart people. But we have stupid people."

PAUL J. RICHARDS | AFP | Getty Images

4/14 On Mexicans:

"When Mexico sends its people, they're not sending their best. They're sending people that have lots of problems. They're bringing drugs. They're bringing crime. They're rapists."

Getty

5/14 On China:

"I just sold an apartment for $15 million to somebody from China. Am I supposed to dislike them?... I love China. The biggest bank in the world is from China. You know where their United States headquarters is located? In this building, in Trump Tower."

Getty Images

6/14 On work:

"If you're interested in 'balancing' work and pleasure, stop trying to balance them. Instead make your work more pleasurable."

AP

7/14 On success:

"What separates the winners from the losers is how a person reacts to each new twist of fate."

8/14 On life:

"Everything in life is luck."

AFP

9/14 On ambition:

"You have to think anyway, so why not think big?"

Getty Images

10/14 On his opponents:

"Bush is totally in favour of Common Core. I don't see how he can possibly get the nomination. He's weak on immigration. He's in favour of Common Core. How the hell can you vote for this guy? You just can't do it."

Reuters

11/14 On Obamacare:

"You have to be hit by a tractor, literally, a tractor, to use it, because the deductibles are so high. It's virtually useless. And remember the $5 billion web site?... I have so many web sites, I have them all over the place. I hire people, they do a web site. It costs me $3."

Getty Images

12/14 On Barack Obama:

"Obama is going to be out playing golf. He might be on one of my courses. I would invite him. I have the best courses in the world. I have one right next to the White House."

PA

13/14 On himself:

"Love him or hate him, Trump is a man who is certain about what he wants and sets out to get it, no holds barred. Women find his power almost as much of a turn-on as his money."

Getty Images

14/14 On America:

"The American Dream is dead. But if I get elected president I will bring it back bigger and better and stronger than ever before and we will make America great again."

GETTY
"Obviously, while I appreciate that we had supporters at Trump's rally in Chicago, our campaign did not organise the protests," he said.
"What caused the protests at Trump's rally is a candidate that has promoted hatred and division against Latinos, Muslims, women, and people with disabilities, and his birther attacks against the legitimacy of President Obama."
He added: "What Donald Trump must do now is stop provoking violence and make it clear to his supporters that people who attend his rallies or protest should not be assaulted, should not be punched, should not be kicked. In America people have a right to attend a political rally without fear of physical harm."
The increasingly heated atmosphere in the campaign comes as the six remaining candidates prepare for five primary contests on Tuesday that could help decide who becomes each party's nominee. The six are contesting in Florida and Ohio, where the delegates are given on a winner-takes-all, and Missouri, North Carolina and Illinois, where delegates are awarded on a proportional basis.
Reuse content