A US election advert dating back to 1964 has gone viral after bearing uncanny similarities to the current state of America's Republican Party.  
Titled 'Confessions of a Republican', an actor, Bill Bogert, can be seen expressing his concerns over election candidate Barry Goldwater, whose conservative views were alienating liberal Republicans.  
The most eerie lines sound like they could be lifted straight from the political discussion of today, as Donald Trump becomes ever nearer to being a candidate for the 2016 presidential election.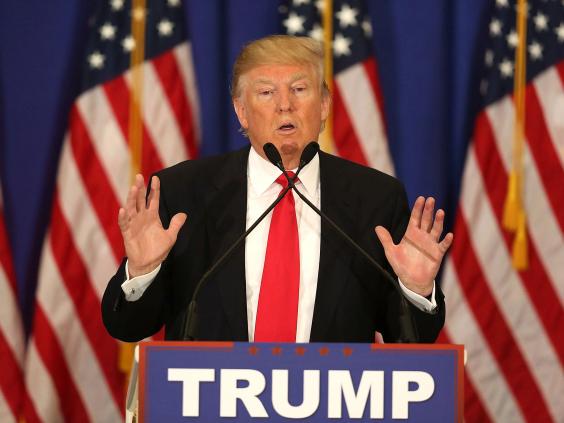 After declaring himself a lifelong Republican, the actor goes on to say 'when we come to Senator Goldwater, now it seems to me we're up against a very different kind of a man. This man scares me.'
Other than overall fears over what such a conservative President would bring to the country, other lines appear to pinpoint precise concerns over Trump's platform today.
Addressing supporters of the right-wing candidate
"A friend of mine just said to me, "Listen, just because a man sounds a little irresponsible during a campaign doesn't mean he's going to act irresponsibly."
At the last Republican debate, Trump was repeatedly pressed to reveal an off-the-record conversation he had with The New York Times, in which it is alleged he suggested a much softer approach to immigration. 
Donald Trump's most controversial quotes
Donald Trump's most controversial quotes
1/14 On Isis:

"Some of the candidates, they went in and didn't know the air conditioner didn't work and sweated like dogs, and they didn't know the room was too big because they didn't have anybody there. How are they going to beat ISIS?"

Getty

2/14 On immigration:

"I will build a great wall — and nobody builds walls better than me, believe me —and I'll build them very inexpensively. I will build a great, great wall on our southern border, and I will make Mexico pay for that wall. Mark my words."

Reuters

3/14 On Free Trade:

"Free trade is terrible. Free trade can be wonderful if you have smart people. But we have stupid people."

PAUL J. RICHARDS | AFP | Getty Images

4/14 On Mexicans:

"When Mexico sends its people, they're not sending their best. They're sending people that have lots of problems. They're bringing drugs. They're bringing crime. They're rapists."

Getty

5/14 On China:

"I just sold an apartment for $15 million to somebody from China. Am I supposed to dislike them?... I love China. The biggest bank in the world is from China. You know where their United States headquarters is located? In this building, in Trump Tower."

Getty Images

6/14 On work:

"If you're interested in 'balancing' work and pleasure, stop trying to balance them. Instead make your work more pleasurable."

AP

7/14 On success:

"What separates the winners from the losers is how a person reacts to each new twist of fate."

8/14 On life:

"Everything in life is luck."

AFP

9/14 On ambition:

"You have to think anyway, so why not think big?"

Getty Images

10/14 On his opponents:

"Bush is totally in favour of Common Core. I don't see how he can possibly get the nomination. He's weak on immigration. He's in favour of Common Core. How the hell can you vote for this guy? You just can't do it."

Reuters

11/14 On Obamacare:

"You have to be hit by a tractor, literally, a tractor, to use it, because the deductibles are so high. It's virtually useless. And remember the $5 billion web site?... I have so many web sites, I have them all over the place. I hire people, they do a web site. It costs me $3."

Getty Images

12/14 On Barack Obama:

"Obama is going to be out playing golf. He might be on one of my courses. I would invite him. I have the best courses in the world. I have one right next to the White House."

PA

13/14 On himself:

"Love him or hate him, Trump is a man who is certain about what he wants and sets out to get it, no holds barred. Women find his power almost as much of a turn-on as his money."

Getty Images

14/14 On America:

"The American Dream is dead. But if I get elected president I will bring it back bigger and better and stronger than ever before and we will make America great again."

GETTY
The candidate's willingness to contradict himself
"A reporter will go to Senator Goldwater and he'll say, "Senator, on such and such a day, you said, and I quote, 'blah blah blah' whatever it is, end quote." And then Goldwater says, "Well, I wouldn't put it that way." I can't follow that. Was he serious when he did put it that way? Is he serious when he says I wouldn't put it that way? I just don't get it. A President ought to mean what he says." 
Many commentators have highlighted Trump's tendency to contradict himself, perhaps none better than when Stephen Colbert had the billionaire debate himself, (jump to 3:44 for the debate's start).
Concern over his endorsements
"I mean, when the head of the Ku Klux Klan, when all these weird groups come out in favour of the candidate of my party — either they're not Republicans or I'm not."
Trump recently refused to reject the endorsement of David Duke, leader of the Klu Klux Klan, despite having condemned him publicly before. He has since blamed a faulty earpiece for his remarks during the controversial interview. 
As seen in the full version of the advert below, history appears to be repeating itself. Although the individual policies may differ, concerns over a certain candidate's approach feels very similar.
"I wish I could believe that he has the imagination to be able to just shut his eyes and picture what this country would look like"
The advert was made in support of President Lyndon B. Johnson, who would go on to win the election, and the actor involved has since told reporters his concerns were genuine. 
"No, I certainly did not vote for Barry Goldwater. I voted for Lyndon Johnson. Ask me how long it's been since I voted for a Republican." 
Reuse content