Following Donald Trump's call to ban Muslims entering the United States, comparisons have surfaced associating the Republican with the fascist dictator Adolf Hitler.
In a statement released on Monday, the Republican presidential front runner called for a "complete shutdown of Muslims entering the United States until our country's representatives can figure out what is going on".
The comments have been met with extensive backlash from Democrats, Republicans and political leaders around the world.
Former New Jersey Republican Governor, Christine Todd Whitman, compared Mr Trump's comments to those of Hitler's in the run-up to World War II.
"If you read your history in the lead-up to the Second World War this is the kind of rhetoric that allowed Hitler to move forward," Ms Whitman told CNN.  
Philadelphia Mayor, Michael Nutter accused Mr Trump of taking "a page from the play book of Hitler" saying his comments "engenders a level of fear mongering that we have not seen literally since the 1930s and 1940s."
Further comparisons have abounded. Tuesday's front page of the Philadelphia Daily News showed a picture of Mr Trump speaking with his hand in the air, in a gesture similar to a Nazi salute, with the headline "The New Furor" – "Furor" acting as a homophone for "Führer", the infamous German word for leader.
In Atlanta, Georgia, two posters depicting Mr Trump with a Hitler-style moustache in front of a swastika were displayed on a busy motorway, 11 Alive reports; while cartoons and memes have circulated on social media comparing the two figures.
Remind you of someone? Trump wants to ban Muslims from entering U.S. @StuBykofsky @joeberkery @PhillyDailyNews Tues. pic.twitter.com/lVc9jjTm2S

— David Lee Preston (@DavidLeePreston) December 8, 2015
Mdr lourd #DonaldTrump #hitler #politic pic.twitter.com/SHNg3FuWJ4

— amazon jawn (@FR0MTHESUN) November 28, 2015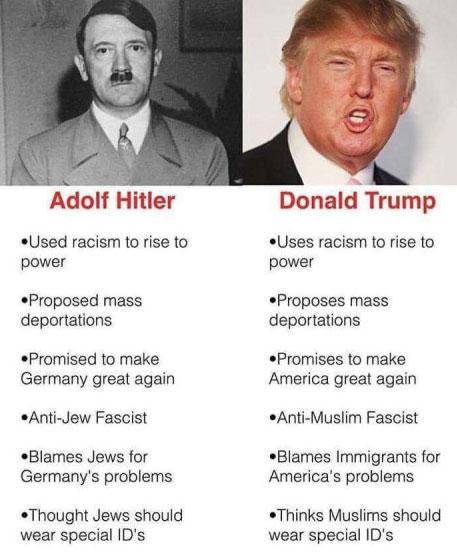 Some have disputed the comparisons. Dov Wilker, the Director of the American Jewish Committee in Atlanta, told 11 Alive: "There is no way to justify what he said, but to compare the two, I think minimizes what the Nazi regime did and I think provides Donald Trump with another avenue to continue his remarks."
Academics studying fascism have said Mr Trump's behaviour does not meet the dictionary definition of fascism, which describes an overtly anti-democratic movement that suppresses all opposition as a way to fulfill political goals.
History professor Robert Paxton of Columbia University told CNN he would not call Mr Trump a fascist, but understood why some might point out similarities.
"He's good at making astonishing speeches that make people sit up and take notice," said Mr Paxton. "Hitler and Mussolini - no one had ever seen public rallies like the meetings they'd have."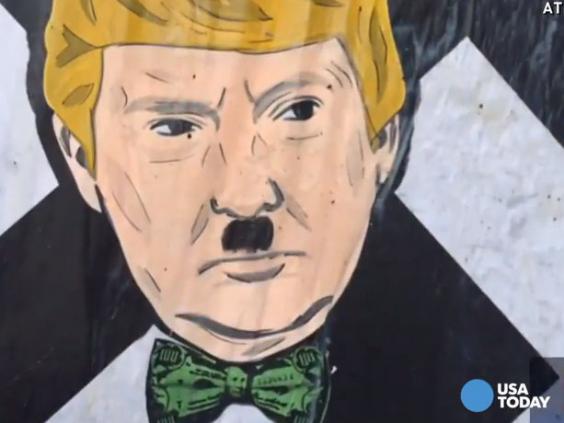 In response to the accusations Mr Trump cited President Franklin D Roosevelt's detention of Japanese, German and Italian immigrants during World War II.
Speaking to ABC News Mr Trump cited Mr Roosevelt's classification of many Japanese, Germans and Italians living in the US during World War II as "enemy aliens."
"This is a president highly respected by all; he did the same thing," Mr Trump said.
Mr Trump added he was not endorsing the detention camps and his proposal would not apply to Muslim US citizens.
Reuse content