Donald Trump has claimed an attempt by a protester to rush the stage at a rally in Ohio was "probably Isis-related". 
A video caught the moment an audience member tried to breach the security barrier surrounding the presidential frontrunner at the rally in Dayton on Saturday. 
The Republican frontrunner was surrounded and manhandled by security but did not leave the stage. 
"I was ready for him, but it's much easier if the cops do it, don't we agree?" Mr Trump said to the crowd.
Thomas Dimassimo was later arrested and charged with disorderly conduct and inducing panic.
"Trump was giving his speech and everyone was into it. And within about a split second somebody from around the bend had jumped over the fence and was charging Donald Trump," eyewitness Chris Famiano told ABC.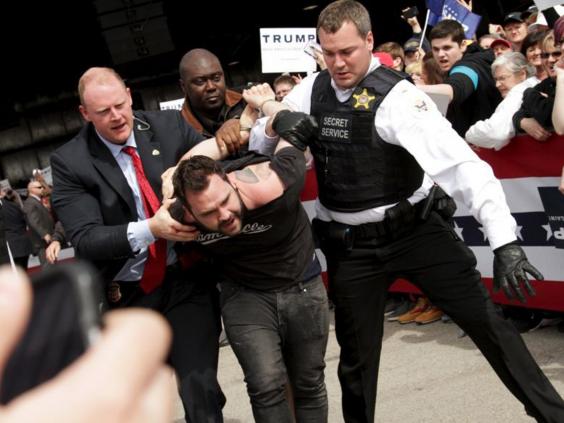 "And before you know it the Secret Service had like four or five guys on him, they wrestled him to the ground." 
"They put him in the ties and then they took him away."
Mr Trump later claimed that a video, which had been found by one of his "internet people", showed Dimassimo making "all sorts of gestures" and that he was probably linked  to Isis,
The claim has since been ridiculed by experts. According to the Chronicle, Charles Lister, a fellow at the Middle East Institute, said: "This is utterly farcical; the video is incontrovertibly fake and Trump's accusations about it being linked to ISIS serve only to underline the totality of his ignorance on this issue,"
The incident follows a rally in Chicago which was abandoned on Friday night after protests turned violent. 
A campaign statement said: "Mr Trump just arrived in Chicago and after meeting with law enforcement has determined that for the safety of all of the tens of thousands of people that have gathered in and around the arena, tonight's rally will be postponed to another date."
Donald Trump's most controversial quotes
Donald Trump's most controversial quotes
1/14 On Isis:

"Some of the candidates, they went in and didn't know the air conditioner didn't work and sweated like dogs, and they didn't know the room was too big because they didn't have anybody there. How are they going to beat ISIS?"

Getty

2/14 On immigration:

"I will build a great wall — and nobody builds walls better than me, believe me —and I'll build them very inexpensively. I will build a great, great wall on our southern border, and I will make Mexico pay for that wall. Mark my words."

Reuters

3/14 On Free Trade:

"Free trade is terrible. Free trade can be wonderful if you have smart people. But we have stupid people."

PAUL J. RICHARDS | AFP | Getty Images

4/14 On Mexicans:

"When Mexico sends its people, they're not sending their best. They're sending people that have lots of problems. They're bringing drugs. They're bringing crime. They're rapists."

Getty

5/14 On China:

"I just sold an apartment for $15 million to somebody from China. Am I supposed to dislike them?... I love China. The biggest bank in the world is from China. You know where their United States headquarters is located? In this building, in Trump Tower."

Getty Images

6/14 On work:

"If you're interested in 'balancing' work and pleasure, stop trying to balance them. Instead make your work more pleasurable."

AP

7/14 On success:

"What separates the winners from the losers is how a person reacts to each new twist of fate."

8/14 On life:

"Everything in life is luck."

AFP

9/14 On ambition:

"You have to think anyway, so why not think big?"

Getty Images

10/14 On his opponents:

"Bush is totally in favour of Common Core. I don't see how he can possibly get the nomination. He's weak on immigration. He's in favour of Common Core. How the hell can you vote for this guy? You just can't do it."

Reuters

11/14 On Obamacare:

"You have to be hit by a tractor, literally, a tractor, to use it, because the deductibles are so high. It's virtually useless. And remember the $5 billion web site?... I have so many web sites, I have them all over the place. I hire people, they do a web site. It costs me $3."

Getty Images

12/14 On Barack Obama:

"Obama is going to be out playing golf. He might be on one of my courses. I would invite him. I have the best courses in the world. I have one right next to the White House."

PA

13/14 On himself:

"Love him or hate him, Trump is a man who is certain about what he wants and sets out to get it, no holds barred. Women find his power almost as much of a turn-on as his money."

Getty Images

14/14 On America:

"The American Dream is dead. But if I get elected president I will bring it back bigger and better and stronger than ever before and we will make America great again."

GETTY
"Thank you very much for your attendance and please go in peace."
Chicago police later denied that the Trump campaign had discussed postponing the event with them.
Five people, including one journalist, were arrested and two police officers were hurt during the disorder.
Reuse content