When Donald Trump was watching his 16-year-old daughter Ivanka host the 1997 Miss Teen USA pageant, he turned to the then-Miss Universe and asked: "Don't you think my daughter's hot? She's hot, right?"
That anecdote, told to the New York Times by Brook Antoinette Mahealani Lee, appears to be the first recorded incident of the Republican presidential candidate and reality TV star making comments about his daughter's body which those present have deemed inappropriate.
In the almost 20 years since, Mr Trump has called his eldest daughter "voluptuous". He's said it's OK to describe her as "a piece of ass", though she is a senior executive in his business empire. And he's said that, if she wasn't his daughter, "perhaps [he'd] be dating her".   
Mr Trump's history of denigrating women has come to fore of the US presidential debate, after audio tapes emerged of him boasting about "grabbing them by the p***y" from a 2005 recording of Access Hollywood.
Here's a recap of all the way he has spoken about one of the most important women in his life, Ivanka Trump.
On The Howard Stern Show, 2003
Donald Trump bragged about his then-22-year-old daughter's body, saying: "You know who's one of the great beauties of the world, according to everybody? And I helped create her. Ivanka. 
"My daughter, Ivanka. She's 6 feet tall, she's got the best body. She made a lot money as a model—a tremendous amount."
New York magazine interview, December 2004
"Let me tell you one thing: Ivanka is a great, great beauty. Every guy in the country wants to go out with my daughter. But she's got a boyfriend."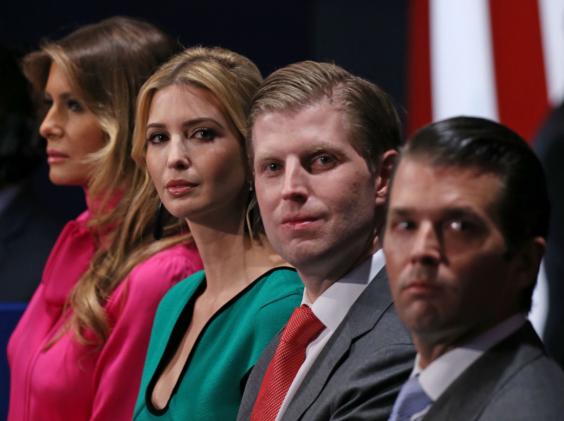 On The Howard Stern Show, 2004
Mr Trump replies in the affirmative when host Howard Stern asks him if he can call Ivanka "a piece of ass".
Trump: "My daughter is beautiful, Ivanka."
Stern: "By the way, your daughter…"
Trump: " - she's beautiful"
Stern: "Can I say this? A piece of ass."
Trump: "Yeah."
On The View, 2006
Donald and Ivanka appeared together on The View while promoting Season Three of The Apprentice, in which Mr Trump's children featured for the first time as his advisors.
When asked how he would react if Ivanka, a former teen model, posed for Playboy, Trump replied, "It would be really disappointing — not really — but it would depend on what's inside the magazine."
He added: "I don't think Ivanka would do that, although she does have a very nice figure. I've said if Ivanka weren't my daughter, perhaps I'd be dating her."
"Isn't that terrible? How terrible? Is that terrible?"
On The Howard Stern Show, October 2006
Stern remarks that Ivanka "looks more voluptuous than ever", and asked if she has received breast implants. Trump engages in the discussion, saying she has not.
"She's actually always been very voluptuous," Trump responds. "She's tall, she's almost 6 feet tall and she's been, she's an amazing beauty."
Donald Trump's most controversial quotes
Donald Trump's most controversial quotes
1/14 On Isis:

"Some of the candidates, they went in and didn't know the air conditioner didn't work and sweated like dogs, and they didn't know the room was too big because they didn't have anybody there. How are they going to beat ISIS?"

Getty

2/14 On immigration:

"I will build a great wall — and nobody builds walls better than me, believe me —and I'll build them very inexpensively. I will build a great, great wall on our southern border, and I will make Mexico pay for that wall. Mark my words."

Reuters

3/14 On Free Trade:

"Free trade is terrible. Free trade can be wonderful if you have smart people. But we have stupid people."

PAUL J. RICHARDS | AFP | Getty Images

4/14 On Mexicans:

"When Mexico sends its people, they're not sending their best. They're sending people that have lots of problems. They're bringing drugs. They're bringing crime. They're rapists."

Getty

5/14 On China:

"I just sold an apartment for $15 million to somebody from China. Am I supposed to dislike them?... I love China. The biggest bank in the world is from China. You know where their United States headquarters is located? In this building, in Trump Tower."

Getty Images

6/14 On work:

"If you're interested in 'balancing' work and pleasure, stop trying to balance them. Instead make your work more pleasurable."

AP

7/14 On success:

"What separates the winners from the losers is how a person reacts to each new twist of fate."

8/14 On life:

"Everything in life is luck."

AFP

9/14 On ambition:

"You have to think anyway, so why not think big?"

Getty Images

10/14 On his opponents:

"Bush is totally in favour of Common Core. I don't see how he can possibly get the nomination. He's weak on immigration. He's in favour of Common Core. How the hell can you vote for this guy? You just can't do it."

Reuters

11/14 On Obamacare:

"You have to be hit by a tractor, literally, a tractor, to use it, because the deductibles are so high. It's virtually useless. And remember the $5 billion web site?... I have so many web sites, I have them all over the place. I hire people, they do a web site. It costs me $3."

Getty Images

12/14 On Barack Obama:

"Obama is going to be out playing golf. He might be on one of my courses. I would invite him. I have the best courses in the world. I have one right next to the White House."

PA

13/14 On himself:

"Love him or hate him, Trump is a man who is certain about what he wants and sets out to get it, no holds barred. Women find his power almost as much of a turn-on as his money."

Getty Images

14/14 On America:

"The American Dream is dead. But if I get elected president I will bring it back bigger and better and stronger than ever before and we will make America great again."

GETTY
Rolling Stone interview, September 2015
"After I met Ivanka and praised her to her father, he said, 'Yeah, she's really something, and what a beauty, that one. If I weren't happily married and, ya know, her father . . .'"
On the Dr Oz show, September 2016
The Republican was discussing long-awaited details about his health, and was joined on stage for the pre-record by Ivanka. After they kissed, the host commented: "It's nice to see a dad kiss his daughter."
According to several studio witnesses, Mr Trump replied that he kisses Ivanka "with every chance [he] gets". The comment was apparently edited out of the final cut of the show when it went to air.
In May, Ivanka Trump gave a lengthy interview to CBS News in which she said claims about her father's conduct with women - specifically in the New York Times article in which it was alleged he asked people if they thought his daughter was "hot" - were "pretty disturbing".
"I was bothered by it, but it's [the story has] largely been discredited since," she said. 
She said she had "known my father obviously my whole life", and said he was "not a groper". 
"He has total respect for women," she said. "He believes ultimately in merit."
Reuse content