Donald Trump praised Saddam Hussein at a campaign rally on Tuesday, embracing the dictator who oppressed Iraq for more than 30 years, aggressively suppressed dissent in his country and was widely considered one of the leading enemies of the United States.
"Saddam Hussein was a bad guy. Right? He was a bad guy, really bad guy. But you know what he did well? He killed terrorists. He did that so good. They didn't read them the rights -- they didn't talk, they were a terrorist, it was over," Trump said as many in his audience of about 2,000 laughed on Tuesday evening. "Today, Iraq is Harvard for terrorism. You want to be a terrorist, you go to Iraq. It's like Harvard. Okay? So sad."
This is not the first time Trump has praised Hussein or other dictators, although his comments on Tuesday night gathered much more attention than his earlier comments. In October, Trump said that the world would be "100 percent" better if dictators like Hussein and Moammar Gadhafi were still in power. In February, Trump said at a political event in New Hampshire that "whether you like Saddam Hussein or not, he used to kill terrorists" and now Iraq is a breeding ground for terrorists.
Although this stance is not a new one for Trump, some of his Republican colleagues rushed to distance themselves from the presumptive nominee on Tuesday evening. During an interview on Fox News, House Speaker Paul Ryan (R-Wis.) pointed to Hussein's record of human rights abuses and distanced himself from Trump without condemning the candidate directly.
Donald Trump's most controversial quotes
Donald Trump's most controversial quotes
1/14 On Isis:

"Some of the candidates, they went in and didn't know the air conditioner didn't work and sweated like dogs, and they didn't know the room was too big because they didn't have anybody there. How are they going to beat ISIS?"

Getty

2/14 On immigration:

"I will build a great wall — and nobody builds walls better than me, believe me —and I'll build them very inexpensively. I will build a great, great wall on our southern border, and I will make Mexico pay for that wall. Mark my words."

Reuters

3/14 On Free Trade:

"Free trade is terrible. Free trade can be wonderful if you have smart people. But we have stupid people."

PAUL J. RICHARDS | AFP | Getty Images

4/14 On Mexicans:

"When Mexico sends its people, they're not sending their best. They're sending people that have lots of problems. They're bringing drugs. They're bringing crime. They're rapists."

Getty

5/14 On China:

"I just sold an apartment for $15 million to somebody from China. Am I supposed to dislike them?... I love China. The biggest bank in the world is from China. You know where their United States headquarters is located? In this building, in Trump Tower."

Getty Images

6/14 On work:

"If you're interested in 'balancing' work and pleasure, stop trying to balance them. Instead make your work more pleasurable."

AP

7/14 On success:

"What separates the winners from the losers is how a person reacts to each new twist of fate."

8/14 On life:

"Everything in life is luck."

AFP

9/14 On ambition:

"You have to think anyway, so why not think big?"

Getty Images

10/14 On his opponents:

"Bush is totally in favour of Common Core. I don't see how he can possibly get the nomination. He's weak on immigration. He's in favour of Common Core. How the hell can you vote for this guy? You just can't do it."

Reuters

11/14 On Obamacare:

"You have to be hit by a tractor, literally, a tractor, to use it, because the deductibles are so high. It's virtually useless. And remember the $5 billion web site?... I have so many web sites, I have them all over the place. I hire people, they do a web site. It costs me $3."

Getty Images

12/14 On Barack Obama:

"Obama is going to be out playing golf. He might be on one of my courses. I would invite him. I have the best courses in the world. I have one right next to the White House."

PA

13/14 On himself:

"Love him or hate him, Trump is a man who is certain about what he wants and sets out to get it, no holds barred. Women find his power almost as much of a turn-on as his money."

Getty Images

14/14 On America:

"The American Dream is dead. But if I get elected president I will bring it back bigger and better and stronger than ever before and we will make America great again."

GETTY
"He was one of the 20th century's most evil people. He was up there. He committed mass genocide against his own people using chemical weapons," Ryan told Fox News' Megyn Kelly when asked for his reaction. "Saddam Hussein was a bad guy."
Ryan dismissed several questions about his past criticism of Trump earlier in the interview, pointing out that he endorsed him last month but that he believes Trump is ultimately "far better to be commander in chief than Hillary Clinton in my mind." But he added: "When he says things that I don't agree with I'm going to speak my mind," he said.
Trump was joined at the Tuesday evening rally by Sen. Bob Corker (R-Tenn.), the chairman of the foreign relations committee who is on Trump's shortlist of potential running mates.
Hillary Clinton's campaign jumped to condemn Trump's comments.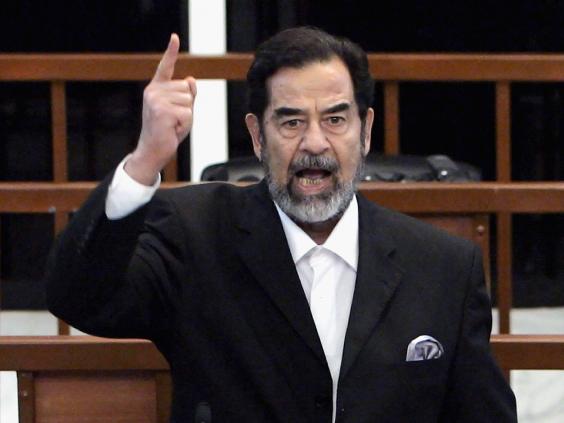 "Donald Trump's praise for brutal strongmen seemingly knows no bounds," said Jake Sullivan, a senior policy adviser, in a statement. "In reality, Hussein's regime was a sponsor of terrorism – one that paid families of suicide bombers who attacked Israelis, among other crimes. Trump's cavalier compliments for brutal dictators, and the twisted lessons he seems to have learned from their history, again demonstrate how dangerous he would be as commander-in-chief and how unworthy he is of the office he seeks."