Multiple videos show a protester at a Donald Trump rally in North Carolina being sucker-punched by a Trump supporter.
The videos, which appeared on social media early Thursday and are shot from different perspectives, show an African American with long hair wearing a white T-shirt leaving the Trump rally as the audience boos. He is being led out of the rally by men in uniforms that read "Sheriff's Office." The man extends a middle finger to the audience on his way out.
Then, out of nowhere, the man is punched by a pony-tailed man, who appears to be white, in a cowboy hat, black vest and pink shirt as the crowd begins to cheer. The protester stumbles away, and then is detained by a number of the men in uniforms, who handcuff him while he is on the ground.
"Chill, chill!" an onlooker says. "You don't gotta grab him like that!"
Rakeem Jones, the man who was hit, said the punch came out of nowhere.
"Boom, he caught me," Jones told The Washington Post in a telephone interview. "After I get it, before I could even gain my thoughts, I'm on the ground getting escorted out. Now I'm waking up this morning looking at the news and seeing me getting hit again."
Jones said he and four friends — a "diverse" group that included a white woman, a Muslim, and a gay man, had gone to the rally as a "social experiment." He said the woman with them started shouting once Trump's speech began.
"She shouted, but at the same time, they were shouting too," Jones, a 26-year-old inventory associate, said. "Everyone was shouting, too. … No one in our group attempted to get physical."
Jones blamed the Cumberland County officers escorting him from the rally for failing to protect him — then detaining him instead of the man who he claims attacked him.
"It's happening at all these rallies now and they're letting it ride," Jones said. "The police jumped on me like I was the one swinging." He added: "My eye still hurts. It's just shocking. The shock of it all is starting to set in. It's like this dude really hit me and they let him get away with it. I was basically in police custody and got hit."
Ronnie C. Rouse, a man who shot one of the videos, was with Jones at the rally.
Donald Trump's most controversial quotes
Donald Trump's most controversial quotes
1/14 On Isis:

"Some of the candidates, they went in and didn't know the air conditioner didn't work and sweated like dogs, and they didn't know the room was too big because they didn't have anybody there. How are they going to beat ISIS?"

Getty

2/14 On immigration:

"I will build a great wall — and nobody builds walls better than me, believe me —and I'll build them very inexpensively. I will build a great, great wall on our southern border, and I will make Mexico pay for that wall. Mark my words."

Reuters

3/14 On Free Trade:

"Free trade is terrible. Free trade can be wonderful if you have smart people. But we have stupid people."

PAUL J. RICHARDS | AFP | Getty Images

4/14 On Mexicans:

"When Mexico sends its people, they're not sending their best. They're sending people that have lots of problems. They're bringing drugs. They're bringing crime. They're rapists."

Getty

5/14 On China:

"I just sold an apartment for $15 million to somebody from China. Am I supposed to dislike them?... I love China. The biggest bank in the world is from China. You know where their United States headquarters is located? In this building, in Trump Tower."

Getty Images

6/14 On work:

"If you're interested in 'balancing' work and pleasure, stop trying to balance them. Instead make your work more pleasurable."

AP

7/14 On success:

"What separates the winners from the losers is how a person reacts to each new twist of fate."

8/14 On life:

"Everything in life is luck."

AFP

9/14 On ambition:

"You have to think anyway, so why not think big?"

Getty Images

10/14 On his opponents:

"Bush is totally in favour of Common Core. I don't see how he can possibly get the nomination. He's weak on immigration. He's in favour of Common Core. How the hell can you vote for this guy? You just can't do it."

Reuters

11/14 On Obamacare:

"You have to be hit by a tractor, literally, a tractor, to use it, because the deductibles are so high. It's virtually useless. And remember the $5 billion web site?... I have so many web sites, I have them all over the place. I hire people, they do a web site. It costs me $3."

Getty Images

12/14 On Barack Obama:

"Obama is going to be out playing golf. He might be on one of my courses. I would invite him. I have the best courses in the world. I have one right next to the White House."

PA

13/14 On himself:

"Love him or hate him, Trump is a man who is certain about what he wants and sets out to get it, no holds barred. Women find his power almost as much of a turn-on as his money."

Getty Images

14/14 On America:

"The American Dream is dead. But if I get elected president I will bring it back bigger and better and stronger than ever before and we will make America great again."

GETTY
"We're definitely anti-Trump," Rouse told The Post.
Rouse said as soon as Trump's speech began, someone in the crowd singled out him and his friends, screaming, "You need to get the f— out of there!" Rouse said that his group had not said anything and that the comment was unprovoked. But he said they were almost immediately surrounded by eight Cumberland County sheriff officers, who escorted them out. On the way up the stairs, the attack came.
Rouse, a 32-year-old musician, said he didn't see the punch but saw the aftermath — his friend "slammed" by officers to the ground and handcuffed. Noting that someone in the crowd shouted, "Go home n—–s," he said he was taken aback.
"We've been watching all this stuff happen to everyone else," Rouse said. "This isn't Biloxi. This isn't Montgomery. This is Fayetteville. … it's a well-cultured area." Noting Fayetteville's proximity to Fort Bragg, he added: "I wanted to take my 11-year-old child, to give him a touch of what's happening political-wise. I'm glad I didn't. I've never been more embarrassed to be from here in my life. It's just appalling."
Fayetteville is in Cumberland County, but an official from the Cumberland County Sheriff's Office, reached by The Post early Wednesday, said officers from that jurisdiction were not the ones who detained the man. The Fayetteville Police Department also told The Post they did not detain anyone at the rally, held at the city's Crown Coliseum. Jones said he and his friends were not arrested.
Trump rallies are getting a reputation for violence by Trump supporters against disruptive protesters. Police in Fayetteville had to form a line separating pro- and anti-Trump groups outside the coliseum.
According to CBS New York, police are investigating at least two alleged assaults at a recent Kentucky rally. One involved a young African American woman who was repeatedly shoved and called "scum."
Trump himself has not been quick to criticize the violence. After a fight erupted between protesters and police last year in Birmingham, Trump said: "'Maybe he should have been roughed up." Of a protester in Nevada last month, Trump said: "I'd like to punch him in the face." In Kentucky, he said: "Get him out. Try not to hurt him. If you do I'll defend you in court. … Are Trump rallies the most fun? We're having a good time."
According to CBS New York, he referred to an incident at a New Hampshire rally where a protester started "swinging and punching." Trump said some people in the audience "took him out."
"It was really amazing to watch," he said.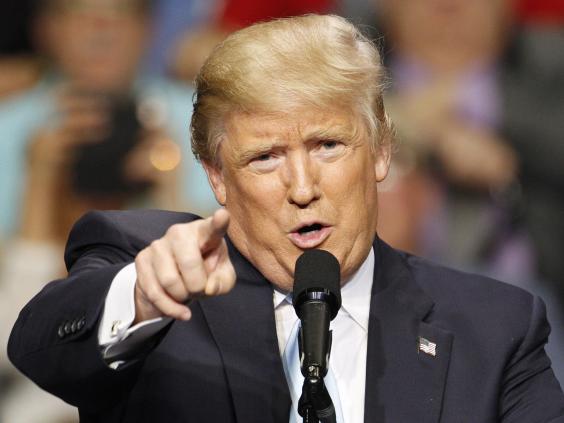 At the Fayetteville rally, Trump called protesters "professional troublemakers," as ABC reported. As video posted by the Fayetteville News-Observer shows, his speech was repeatedly interrupted as protesters were escorted out and the crowd chanted, "USA." He criticized one protester for wearing a "very dirty undershirt."
Nor were the protesters enamored of Trump.
"He spreads hate," protester Marianna Kuehn told WRAL.
Copyright: Washington Post
Reuse content