After Donald Trump came second to Ted Cruz in Iowa and went silent for all of 16 hours, there was speculation that the man known for his endless swagger would emerge subdued.
Pretty soon, it was clear nothing had changed. He was almost immediately back to the same insults, controversial comments and headline-grabbing behaviour that had dominated his campaign since he declared his candidacy last June.
In New Hampshire, a state supposedly more used to favouring feisty underdogs rather than flash tycoons, Mr Trump stuck to his game. And on Tuesday night he was rewarded not just with a victory, but win with a margin of victory not seen since John McCain beat George W Bush in 2000.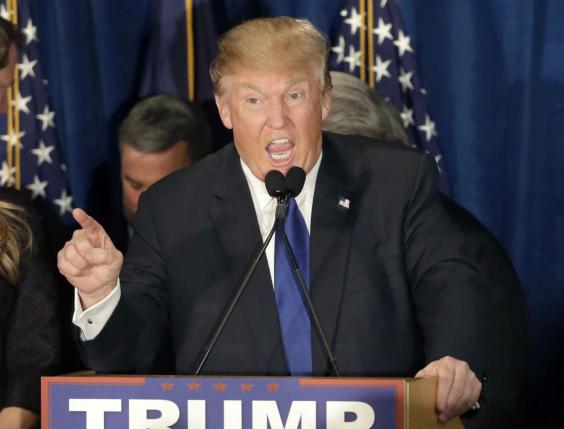 "Oh, wow, wow, wow. So beautiful, so beautiful," said Mr Trump, as he declared victory on Tuesday night, arriving on stage to Revolution by The Beatles. "We are going to make America great again."
The 69-year-old real estate agent and reality television celebrity, had been predicted to win in New Hampshire by a considerable margin. But after he was beaten into second place in Iowa, there was speculation that some of the air may have seeped out of his balloon.
As such, he and his supporters will have been delighted both by the scale of his victory, and the manner in which he secured it.
Since declaring his White House run last summer, Mr Trump has sought to tap into widespread frustration with mainstream politics and policies. Indeed, he and Bernie Sanders, who won Democratic contest on Tuesday, have exposed genuine anger among the public towards Washington.
At the large rallies he held across the state, he spoke a language of toughness and no compromise. He promised that he would deliver on jobs, on tackling the problem of illegal immigration and boosting money to the military and veterans.
He was also willing to upend any notions that individuals seeking the presidency should be civil to their rivals, or try and speak the language of political correctness. Indeed, at his final rally in New Hampshire, held on Monday night in Manchester, Mr Trump declared that Mr Cruz was a "p***y" for not backing the use of waterboarding.
The issue had come up at the Republican debate on Saturday night, when Mr Trump declared: "I'd bring back waterboarding. And I'd bring back a hell of a lot worse than waterboarding."
While some people were attracted to his willingness to speak in such a blunt way, others who turned out to his events were drawn by his celebrity and to see a blast of show business fun.
Yet many of those who lined up to fill university stadium and sports arenas genuinely believed that Mr Trump could use his skills as a businessman and entrepreneur to help restore the polish to a country they believed was heading in the wrong direction.
Among those attending one of Mr Trump's events last Sunday in the city of Plymouth were Toby and Wendy Shaw. They stood holding a placard bearing Mr Trump's name and said they were tired with what had happened to the country. How long would people keep on voting for the same politicians only for nothing to change, they asked.
"People are fed up with the lies," said Mr Shaw. "How many years have we had these politicians? It's time for someone with a backbone to stand up and do what needs to be done."
Mr Trump has been heavy on confidence and swagger and light on the specifics of his policies. But he has managed to secure votes from across the spectrum because he he has been able to position himself as someone who was tough and yet at the same time was more moderate than some of his rivals on issues such as abortion.
Mr Trump must now travel to South Carolina and Nevada, where he encounter a much more diverse electorate and one that may not be so open to his comments.
Typically enough, on Tuesday night, Mr Trump promised that he would go there and win.
"We are going to star winning again," he said, to cheers.
"We are going to win so much, you're going to be so happy. I love you all. Thank you New Hampshire."
Reuse content