If the US elects Donald Trump as president it would be "dangerous" for the rest of the world, the UN's rights chief has warned in an extraordinary intervention.
Speaking in Geneva, Jordanian Prince Zeid Ra'ad al-Hussein highlighted comments the Republican candidate has made about torture and "vulnerable people" in particular, describing them as "deeply unsettling and disturbing".
Mr Zeid told reporters a Trump presidency would be "dangerous from an international point of view".
Russia immediately sprang to Mr Trump's defence, with Moscow's ambassador to the UN suggesting it was not Mr Zeid's place to criticise would-be heads of state and foreign governments.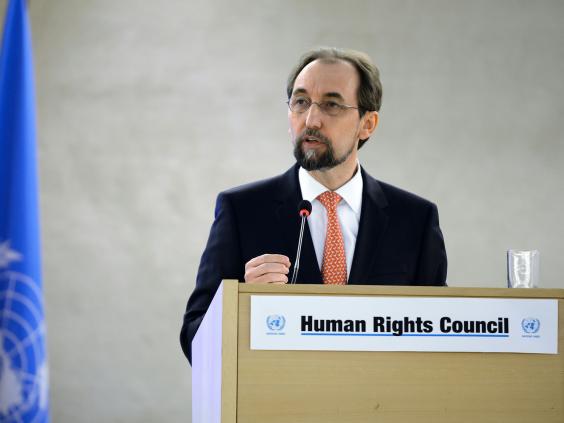 But Mr Zeid said he refused to tone down his remarks decrying dangers posed by "populists and demagogues". 
He said: "If Donald Trump is elected, on the basis of what he has said already and unless that changes, I think it's without any doubt that he would be dangerous from an international point of view."
During his campaign to be elected president on 8 November, Mr Trump has called for a ban on all Muslims entering the US, and in the second TV debate against Hillary Clinton on Sunday described refugees as "the Trojan Horse of all time".
The Republican began his campaign on 16 June 2015 with a speech in which he said of Mexicans: "They're bringing drugs. They're bringing crime. They're rapists. And some, I assume, are good people."
And he has spoken positively about alleged war crimes committed by US troops abroad, saying "we have to fight fire with fire". On waterboarding detainees, which the US banned in 2006 as being both an illegal and ineffective method of torture, Mr Trump has said: "I like it a lot. I don't think it's tough enough."
Mr Trump has described any links to Russia or the Russian president Vladimir Putin as conspiracy theories, though Russian state media have made no secret of their support for his candidacy over that of Hillary Clinton.
What did Donald Trump say during the second presidential debate?
What did Donald Trump say during the second presidential debate?
1/8 On the leaked tape from 2005 where he talks about sexually assaulting women

"I'm very embarrassed by it, I hate it, but it's locker room talk. It's one of those things. I will knock the hell out of Isis"

Getty

2/8 On Hillary Clinton

"I hate to say it but if I win I'm going to instruct my attorney general to get a special prosecutor to look into your situation. There has never been so many lies, so much deception. You ought to be ashamed of yourself."

Rex

3/8 On Bill Clinton

"What he's done to women, there's never been anybody in the history of politics in this nation that's been so abusive to women."

AP

4/8 On whether his alleged opposition to Iraq War had been disproven

"It's not debunked. It's not debunked."

Getty

5/8 On exploiting tax loopholes

"I absolutely used it, and so did Warren Buffett, and so did George Soros and so did many people who Hillary is getting money from."

Getty

6/8 On claims he's sexist

"I have great respect for women. Nobody has more respect for women than I do."

Reuters

7/8 On what he respects about Hillary Clinton

"I will say this about Hillary - she doesn't quit, she doesn't give up. I tell it like it is. She's a fighter."

Reuters

8/8 On his controversial immigration policies

"It's called extreme vetting. We're going to areas like Syria, where they are coming in by the tens of thousands because of Barack Obama and Hillary Clinton wanting to allow a 550 per cent increase [of refugees] over Obama. People are coming into this country. We have no idea who they are, where they are from and what their feelings are about this country."

Getty
US media have nonetheless repeatedly raised the issue of Mr Trump's ties to Russia "beneath the surface". Speaking to NBC last month, Mr Trump praised Mr Putin's approval ratings in Russia, said he was a "far" better leader than Barack Obama, and added that if he "says great things about me, I'm going to say great things about him".
Reuse content