The grammar used by Donald Trump in his speeches as he campaigned to become the Republican presidential candidate corresponds to that used by students aged 11 and under.
The 69-year-old businessman's language tailed his counterparts. Ted Cruz and Marco Rubio both used grammar corresponding to children aged between 11 and 14 - students between grades six and eight in the US.
But their vocabulary was more advanced and matched students aged between 13 and 16.
In the study, 'A Readability Analysis of Campaign Speeches from the 2016 US Presidential Campaign', researchers from Carnegie Mellon University's Language Technologies Institute (LTI) wanted to establish the reading level of the candidates' speeches. They analysed a number of transcripts for each candidate, including campaign trail speeches, victory speeches and defeat speeches.
They found that the Democratic presidential candidates also used grammar typical of students aged between 11 and 14.
But the vocabulary used by Bernie Sanders was more advanced than that used by Hillary Clinton. The 74-year-old Vermont senator uses words similar to those used by students aged between 15 and 18.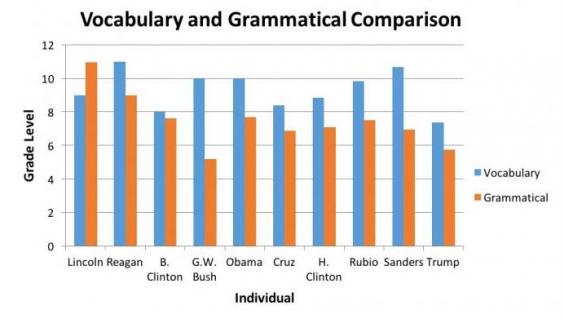 The researchers also compared the speeches of the current presidential candidates to past leaders. The historical review showed the language used by Abraham Lincoln, the US president from 1861 to 1865, and Ronald Reagan, who led from 1981 to 1989, was more advanced.
George W Bush had the least advanced level of grammar out of all the subjects. However, he and incumbent president Barack Obama had the same level of vocabulary.
Donald Trump's most controversial quotes
Donald Trump's most controversial quotes
1/18 On Mexicans

"When Mexico sends its people, they're not sending the best. They're not sending you, they're sending people that have lots of problems and they're bringing those problems with us. They're bringing drugs. They're bring crime. They're rapists… And some, I assume, are good people."

AFP/Getty Images

2/18 On Senator McCain

"He's not a war hero... He was a war hero because he was captured. I like people who weren't captured."

Getty Images

3/18 On Megyn Kelly

"You could see there was blood coming out of her eyes. Blood coming out of her wherever."

AFP/Getty Images

4/18 On Vladimir Putin

"He's running his country, and at least he's a leader, unlike what we have in this country."

Getty Images

5/18 On his popularity

"I could stand in the middle of Fifth Avenue and shoot somebody and I wouldn't lose any voters."

AFP/Getty Images

6/18 On torture

"I would bring back waterboarding and I'd bring back a hell of a lot worse than waterboarding."

Getty Images

7/18 On his body

"Look at those hands, are they small hands? And, [Republican rival Marco Rubio] referred to my hands: 'If they're small, something else must be small.' I guarantee you there's no problem. I guarantee."

AFP/Getty Images

8/18 On president Obama

"He is the founder of Isis."

Getty Images

9/18 On the Second Amendment

"Hillary wants to abolish — essentially abolish the Second Amendment. By the way, if she gets to pick, if she gets to pick her judges, nothing you can do, folks. Although the Second Amendment people, maybe there is, I don't know."

AFP/Getty Images

10/18 On Hilary Clinton's emails

"Russia, if you're listening, I hope you're able to find the 30,000 emails that are missing."

AFP/Getty Images

11/18 On sexual assault

In a statement regarding the release of a 2005 video in which he can be heard boasting about sexual assault: "This was locker room banter, a private conversation that took place many years ago. Bill Clinton has said far worse to me on the golf course."

Getty Images

12/18 On tax loopholes

"I absolutely used it, and so did Warren Buffett, and so did George Soros and so did many people who Hillary is getting money from."

AFP/Getty Images

13/18 On his accuser

"Believe me, she would not be my first choice, that I can tell you."

Getty Images

14/18 On Hillary Clinton

"Such a nasty woman"

Getty Images

15/18 On his pro-life stance

"Based on what she's saying ... you can take the baby and rip the baby out of the womb in the ninth month, on the final day, and that's unacceptable"

Getty Images

16/18 On his accusers

"Total fabrication. The events never happened. Never. All of these liars will be sued after the election is over."

Getty Images

17/18 On the 'rigged' election system

"I will totally accept the results of this great and historic presidential election — if I win."

Getty Images

18/18 On Hillary Clinton

"I hate to say it but if I win I'm going to instruct my attorney general to get a special prosecutor to look into your situation. There has never been so many lies, so much deception. You ought to be ashamed of yourself."

Getty Images
Elliot Schumacher, one of the people behind the study, said the speeches of Mr Trump and Ms Clinton showed the greatest language variation, indicating that they worked harder to tailor them to appeal to particular audiences along the campaign trail.
Maxine Eskenazi, who also carried out the study, said: "Assessing the readability of campaign speeches is a little tricky because most measures are geared to the written word, yet text is very different from the spoken word."
"When we speak, we usually use less structured language with shorter sentences," she said.