The grammar used by Donald Trump in his speeches as he campaigns to become the Republican presidential candidate corresponds to that used by students aged 11 and under.
The 69-year-old businessman's language tailed his counterparts. Ted Cruz and Marco Rubio - although he has now dropped out of the race - both used grammar corresponding to children aged between 11 and 14 - students between grades six and eight in the US.
But their vocabulary was more advanced and matched students aged between 13 and 16.
In the study, 'A Readability Analysis of Campaign Speeches from the 2016 US Presidential Campaign', researchers from Carnegie Mellon University's Language Technologies Institute (LTI) wanted to establish the reading level of the candidates' speeches. They analysed a number of transcripts for each candidate, including campaign trail speeches, victory speeches and defeat speeches.
They found that the Democratic presidential candidates also used grammar typical of students aged between 11 and 14.
But the vocabulary used by Bernie Sanders was more advanced than that used by Hillary Clinton. The 74-year-old Vermont senator uses words similar to those used by students aged between 15 and 18.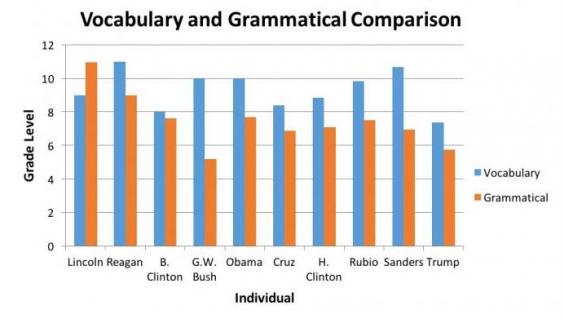 The researchers also compared the speeches of the current presidential candidates to past leaders. The historical review showed the language used by Abraham Lincoln, the US president from 1861 to 1865, and Ronald Reagan, who led from 1981 to 1989, was more advanced.
George W Bush had the least advanced level of grammar out of all the subjects. However, he and incumbent president Barack Obama had the same level of vocabulary.
Donald Trump's most controversial quotes
Donald Trump's most controversial quotes
1/14 On Isis:

"Some of the candidates, they went in and didn't know the air conditioner didn't work and sweated like dogs, and they didn't know the room was too big because they didn't have anybody there. How are they going to beat ISIS?"

Getty

2/14 On immigration:

"I will build a great wall — and nobody builds walls better than me, believe me —and I'll build them very inexpensively. I will build a great, great wall on our southern border, and I will make Mexico pay for that wall. Mark my words."

Reuters

3/14 On Free Trade:

"Free trade is terrible. Free trade can be wonderful if you have smart people. But we have stupid people."

PAUL J. RICHARDS | AFP | Getty Images

4/14 On Mexicans:

"When Mexico sends its people, they're not sending their best. They're sending people that have lots of problems. They're bringing drugs. They're bringing crime. They're rapists."

Getty

5/14 On China:

"I just sold an apartment for $15 million to somebody from China. Am I supposed to dislike them?... I love China. The biggest bank in the world is from China. You know where their United States headquarters is located? In this building, in Trump Tower."

Getty Images

6/14 On work:

"If you're interested in 'balancing' work and pleasure, stop trying to balance them. Instead make your work more pleasurable."

AP

7/14 On success:

"What separates the winners from the losers is how a person reacts to each new twist of fate."

8/14 On life:

"Everything in life is luck."

AFP

9/14 On ambition:

"You have to think anyway, so why not think big?"

Getty Images

10/14 On his opponents:

"Bush is totally in favour of Common Core. I don't see how he can possibly get the nomination. He's weak on immigration. He's in favour of Common Core. How the hell can you vote for this guy? You just can't do it."

Reuters

11/14 On Obamacare:

"You have to be hit by a tractor, literally, a tractor, to use it, because the deductibles are so high. It's virtually useless. And remember the $5 billion web site?... I have so many web sites, I have them all over the place. I hire people, they do a web site. It costs me $3."

Getty Images

12/14 On Barack Obama:

"Obama is going to be out playing golf. He might be on one of my courses. I would invite him. I have the best courses in the world. I have one right next to the White House."

PA

13/14 On himself:

"Love him or hate him, Trump is a man who is certain about what he wants and sets out to get it, no holds barred. Women find his power almost as much of a turn-on as his money."

Getty Images

14/14 On America:

"The American Dream is dead. But if I get elected president I will bring it back bigger and better and stronger than ever before and we will make America great again."

GETTY
Elliot Schumacher, one of the people behind the study, said the speeches of Mr Trump and Ms Clinton showed the greatest language variation, indicating that they worked harder to tailor them to appeal to particular audiences along the campaign trail.
Maxine Eskenazi, who also carried out the study, said: "Assessing the readability of campaign speeches is a little tricky because most measures are geared to the written word, yet text is very different from the spoken word."
"When we speak, we usually use less structured language with shorter sentences," she said.
Reuse content