He may have called for a "total and complete shutdown of Muslims entering the United States until our country's representatives can figure out what the hell is going on."
While on the campaign trail, President-elect Trump may also have claimed – falsely – that thousands of Muslims in New Jersey "where you have large Arab populations" were cheering when the Twin Towers came down in the September 11 attacks.
That, though, does not seem to have stopped the prime minister of the country with the fourth largest Muslim population in the world from appearing to welcome Donald Trump with open arms and a fawning letter now he has been elected US President.
Either through genuine conviction or diplomatic necessity, Sheikh Hasina, prime minister of Bangladesh, home to 145 million Muslims, has wasted no time in congratulating Mr Trump and heaping praise on his "extraordinary leadership to serving the American people and global humanity."
The letter, which follows United Nations protocol in addressing Mr Trump as "Excellency",  cordially invites him and his wife Melania to Bangladesh, and pays tribute to "the warm, friendly people of the United States."  
There is no mention of Mr Trump's campaign comments, the Islamophobia of some of his supporters, or the fact that delighted ex- Klu Klux Klan 'grand wizard' David Duke has claimed "our people played a huge role in electing Trump."
"Excellency," Ms Hasina's letter begins, "On behalf of the Government and the people of Bangladesh, I convey our congratulations to you on your election as the 45th President of the United States of America.
"Your victory is certainly a testimony to your extraordinary leadership quality to serving the American people and also the global humanity. [sic]"
Donald Trump's most controversial quotes
Donald Trump's most controversial quotes
1/18 On Mexicans

"When Mexico sends its people, they're not sending the best. They're not sending you, they're sending people that have lots of problems and they're bringing those problems with us. They're bringing drugs. They're bring crime. They're rapists… And some, I assume, are good people."

AFP/Getty Images

2/18 On Senator McCain

"He's not a war hero... He was a war hero because he was captured. I like people who weren't captured."

Getty Images

3/18 On Megyn Kelly

"You could see there was blood coming out of her eyes. Blood coming out of her wherever."

AFP/Getty Images

4/18 On Vladimir Putin

"He's running his country, and at least he's a leader, unlike what we have in this country."

Getty Images

5/18 On his popularity

"I could stand in the middle of Fifth Avenue and shoot somebody and I wouldn't lose any voters."

AFP/Getty Images

6/18 On torture

"I would bring back waterboarding and I'd bring back a hell of a lot worse than waterboarding."

Getty Images

7/18 On his body

"Look at those hands, are they small hands? And, [Republican rival Marco Rubio] referred to my hands: 'If they're small, something else must be small.' I guarantee you there's no problem. I guarantee."

AFP/Getty Images

8/18 On president Obama

"He is the founder of Isis."

Getty Images

9/18 On the Second Amendment

"Hillary wants to abolish — essentially abolish the Second Amendment. By the way, if she gets to pick, if she gets to pick her judges, nothing you can do, folks. Although the Second Amendment people, maybe there is, I don't know."

AFP/Getty Images

10/18 On Hilary Clinton's emails

"Russia, if you're listening, I hope you're able to find the 30,000 emails that are missing."

AFP/Getty Images

11/18 On sexual assault

In a statement regarding the release of a 2005 video in which he can be heard boasting about sexual assault: "This was locker room banter, a private conversation that took place many years ago. Bill Clinton has said far worse to me on the golf course."

Getty Images

12/18 On tax loopholes

"I absolutely used it, and so did Warren Buffett, and so did George Soros and so did many people who Hillary is getting money from."

AFP/Getty Images

13/18 On his accuser

"Believe me, she would not be my first choice, that I can tell you."

Getty Images

14/18 On Hillary Clinton

"Such a nasty woman"

Getty Images

15/18 On his pro-life stance

"Based on what she's saying ... you can take the baby and rip the baby out of the womb in the ninth month, on the final day, and that's unacceptable"

Getty Images

16/18 On his accusers

"Total fabrication. The events never happened. Never. All of these liars will be sued after the election is over."

Getty Images

17/18 On the 'rigged' election system

"I will totally accept the results of this great and historic presidential election — if I win."

Getty Images

18/18 On Hillary Clinton

"I hate to say it but if I win I'm going to instruct my attorney general to get a special prosecutor to look into your situation. There has never been so many lies, so much deception. You ought to be ashamed of yourself."

Getty Images
After expressing confidence that "under your leadership, the existing bilateral relations between our two friendly nations would be further strengthened," the Bangladeshi prime minister adds: "I cordially invite you and Mrs Melania Trump to visit Bangladesh at a mutually convenient time and see for yourself the phenomenal development that took place in Bangladesh in the recent years."
She signs off: "I wish you and your family good health, long life and happiness, and the warm, friendly people of the United States continued peace, progress and prosperity.
"Please accept, Excellency, the assurances of my highest consideration."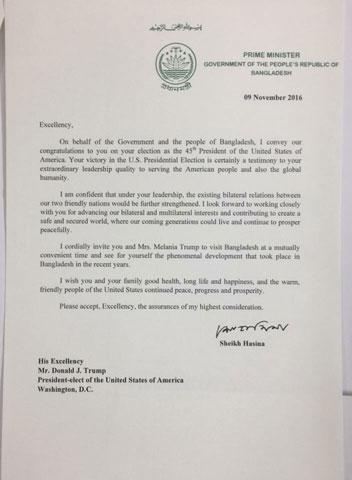 Trump's rival Hillary Clinton also seems to have been warmly received by Ms Hasina when she visited as Secretary of State in 2012.  Ms Clinton's visit was the first by a US Secretary of State since 2003 and reflected the growing ties with a country which the Obama administration saw as having a moderate Muslim population that had a role to play in demonstrating the alternatives to extremism.
In the same year, however, the leak of a cable from Ms Clinton's State Department did expose some differences with the Bangladeshi government.  
Written in 2010, the cable suggested that the war crimes tribunal set up by Ms Hasina's ruling Awami League party to try suspects over alleged atrocities during the 1971 war of independence from Pakistan was also being used to crush political opponents.
Making claims that were subsequently denied by the Bangladeshi government, the cable, made public by Wikileaks, said "There is little doubt that hard-line elements within the ruling party believe the time is right to crush Jamaat-e-Islami and other Islamic parties."
There were also tensions in 2013 when the Obama administration suspended trade privileges for Bangladesh in response to concerns about labour rights in the country after 1,200 people died in the Rana Plaza factory collapse, one of the global garment industry's worst accidents.
Whether Bangladesh will fare better with "His Excellency Donald J Trump, President-elect of the US", who was noticeably protectionist on the campaign trail, remains to be seen.