A pro-guns group in North Carolina has announced a raffle for a special prize this Election Day that will include an AR-15 assault rifle, a generous supply of ammunition and a portrait of Hillary Clinton, the Democratic nominee for president, to take to the shooting range. 
The raffle is a fund-raiser for Grass Roots North Carolina, GRNC, an organisation based in Raleigh that is dedicated to help elect politicians in the state who oppose new gun control legislation and helping defeat those they consider to be "anti-gun".
Some will see in it chilling proof that remarks previously made by Donald Trump seemingly almost goading gun-rights activists into physical violence against his Democrat foe have had consequences, even if it is a poster of her being talked about, not the candidate herself. 
"Now, the unhinged Republican nominee's jaw-dropping comments appear to be gaining some terrifying traction," an article in the New York Daily News observed. 
In a posting on its website, the group reveals that the raffle prize will be a "Palmetto State Armory M4-configured AR-15", a thousand rounds of "high quality ammunition" and, in gleeful capital letters, a "FREE PORTRAIT OF HILLARY CLINTON!"
Exactly what the winner might do with the picture of the former first lady is not spelled out. But the group jests: "Of course, we won't tell you what to do with the photo, but when we ran a picture of Hillary on the front of our newsletter, we heard it was very popular at the range".
Encouraging North Carolinians to part with their money to buy tickets, the announcement added: "We all know that if Hillary Clinton is elected President on November 8, panic buying will ensure that by November 9, there won't be a gun (or ammunition) available for love nor money."
The drawing is to be held on Election Day as voting across the country will determine whether Ms Clinton, who has announced her support for new gun controls including reviving an assault weapons ban that expired under President George W. Bush, or Donald Trump.
The Republican nominee stirred outrage on the left nearly three weeks ago when he assailed Ms Clinton for allegedly wanting to take guns away from people and then called on her security detail to drop its weapons so he could see what might happen to her next.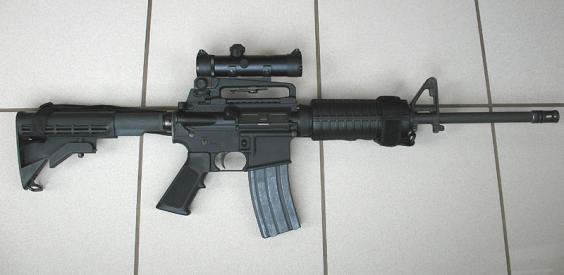 Critics said it was not the first instance of Mr Trump inciting violence against his Democratic rival for the White House, whom he has erroneously accused of planning to overturn the second amendment to the constitution that guarantees the right to bear arms.
At an earlier rally in August, Mr Trump warned supporters that they would be powerless to stop Ms Clinton curbing their gun-owning rights if she is elected president.
 "If she gets to pick her judges, nothing you can do, folks," he said, before adding: "Although the Second Amendment people - maybe there is, I don't know." His campaign was later interviewed by the Secret Service about the statement. 
The Raleigh group said the money it raised from the gun-and-Hillary raffle would be used to try to stop various candidates for office in North Carolina that did not support their pro-guns stance.  The raffle tickets are being sold for $10 each. Or 15 can be yours for a mere $100. 
The AR-15 in questions can be bought online in kit version for about $550.
The North Carolina group had in fact backed Ted Cruz from the Republican nomination during the primary elections, saying that Mr Trump had in his past been supportive of gun control. One of Senator Cruz's television spots showed him wrapping bacon around the barrel of an assault weapon and allegedly firing it enough times in the shooting range that it sizzled. 
Reuse content