Handwriting and signatures are one of the biggest elements of individuality that we have, and can be used by graphologists – those that analyse handwriting – to determine personality traits.
Since becoming President-elect of the United States, Donald Trump is in ownership of one of the most powerful signatures in the world.
Tracey Trussell of the British Institute of Graphologists has taken a look to see what it can reveal about the man soon to be taking up the Oval Office. 
​She explains that the large writing, upright slant and long tall letters indicate a whole host of characteristics about Mr Trump.
Ms Trussell says: "His signature transmits wild ambition, dynamism, bravery and fearlessness.  
"He's hungry for power and has both determination and stubbornness in spades."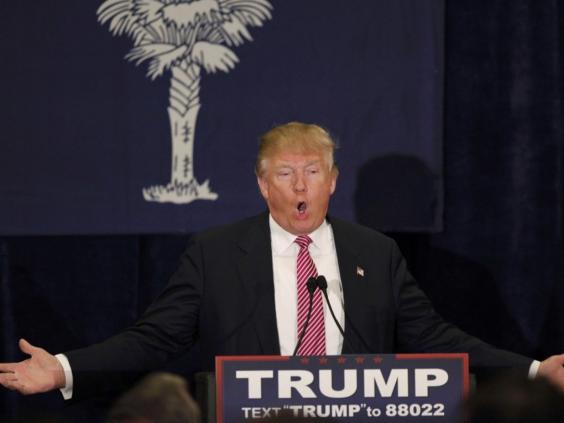 She claims that Mr Trump's style indicates that, despite his forceful nature, he is protective too, especially when it comes to his family.
Ms Trussell analysis suggests that he isn't much of a listener, but is "undoubtedly a tough negotiator - he excels at being hard lined, bold and direct."
Mr Trump's bold nature has been more than apparent in his political statements so far.
These include his announcements that he will build a wall between the US and Mexico, that Muslims will be banned from entering the United States, and calling for Hillary Clinton to be imprisoned. 
Donald Trump's most controversial quotes
Donald Trump's most controversial quotes
1/18 On John McCain

Asked about Senator John McCain – a former POW in Vietnam – at the Family Leadership Summit in Ames, Iowa: "He's not a war hero... He was a war hero because he was captured. I like people who weren't captured." 18 July 2015

2/18 On Megyn Kelly

"You could see there was blood coming out of her eyes. Blood coming out of her wherever." 7 August 2015

3/18 On Vladimir Putin

"He's running his country, and at least he's a leader, unlike what we have in this country." 18 December 2015

4/18 On his popularity

"I could stand in the middle of Fifth Avenue and shoot somebody and I wouldn't lose any voters." 23 January 2016

5/18 On torture

"I would bring back waterboarding and I'd bring back a hell of a lot worse than waterboarding." 7 February 2016

6/18 On his body

"Look at those hands, are they small hands? And, [Republican rival Marco Rubio] referred to my hands: 'If they're small, something else must be small.' I guarantee you there's no problem. I guarantee." 3 March 2016

7/18 On Hillary Clinton

"Russia, if you're listening, I hope you're able to find the 30,000 emails that are missing." 27 July 2016

8/18 On Captain Khan's parents

In an interview with ABC news after the Democratic National Convention, Trump speculates about the parents of killed Muslim soldier Captain Humayun Khan: "I saw him. He was, you know, very emotional. And probably looked like — a nice guy to me. His wife, if you look at his wife, she was standing there. She had nothing to say. She probably — maybe she wasn't allowed to have anything to say." 30 July

9/18 On the Second Amendment

"Hillary wants to abolish — essentially abolish the Second Amendment. By the way, if she gets to pick, if she gets to pick her judges, nothing you can do, folks. Although the Second Amendment people, maybe there is, I don't know." 9 August 2016

10/18 On President Barack Obama

"He is the founder of Isis." 10 August

11/18 On sexual assault

In a statement regarding the release of a 2005 video in which he can be heard boasting about sexual assault: "This was locker room banter, a private conversation that took place many years ago. Bill Clinton has said far worse to me on the golf course." 7 October 2016

12/18 On Hillary Clinton's emails

"I hate to say it but if I win I'm going to instruct my attorney general to get a special prosecutor to look into your situation. There has never been so many lies, so much deception. You ought to be ashamed of yourself." 9 October 2016

13/18 On avoiding income tax

Also during the second debate, he was confronted about evading federal income tax for almost two decades: "I absolutely used it, and so did Warren Buffett, and so did George Soros and so did many people who Hillary is getting money from." 9 October 2016

14/18 On his accusers

Referring to one of his accusers at a rally in North Carolina: "Believe me, she would not be my first choice, that I can tell you." 14 October 2016

15/18 On Hillary Clinton

"Such a nasty woman" 19 October

16/18 On pro-life policies

At the third debate he was asked about his pro-life policies: "Based on what she's saying ... you can take the baby and rip the baby out of the womb in the ninth month, on the final day, and that's unacceptable." 19 October 2016

17/18 On the 'rigged' election system

"I will totally accept the results of this great and historic presidential election — if I win." 20 October

18/18 On suing his accusers

Speaking at the iconic Gettysburg Address in Pennsylvania, he promised to get his revenge against the more than dozen women who have accused him of sexual assault. "Total fabrication. The events never happened. Never. All of these liars will be sued after the election is over." 22 October
Aside from some of the more apparent points, there were some surprises in the analysis, too.
Mr Trump is famous for his strong stances and viewpoints, but Ms Trussell pointed out that there is a sign in Mr Trump's handwriting of flexibility.
The long tall letters indicate "he's not quite as inflexible potentially as people think."
On that one, the world will have to wait and see.
Reuse content