Hillary Clinton threw down the gauntlet before a room packed full of students - and Jack Lovell picked it up.
The former secretary of state told the 405 students who crowded inside the hall at the New England College in Henniker, that she understood many young people were supporting her rival, Senator Bernie Sanders. She said she wanted to answer questions not just from her supporters, but from those opposed to her.
Mr Lovell, a 17-year-old student from New York and a supporter of Mr Sanders jumped to his feet seized the chance to ask the first question: after all the controversy over Benghazi and her use of a private email server, just why should people - especially young idealistic people - trust her?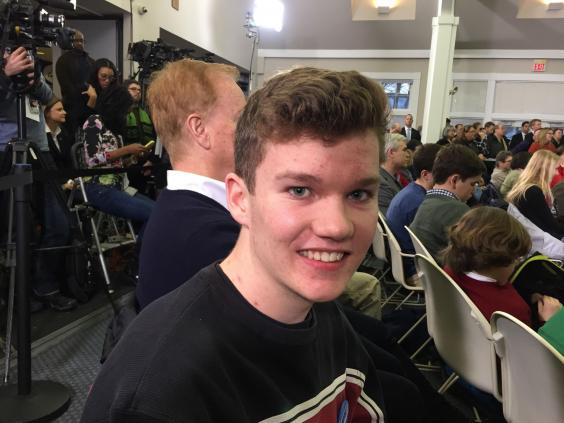 "It's a really fair question," said Ms Clinton, saying that she had been the subject of smears and attacks from Republicans and others.
"I have been in public life for a number of years. I've been trying to stand up for those without a voice. I know about the forces that oppose me. But I'm still standing and they are still trying to bring me down."
The former first lady has made special efforts since she declared she was running for the White House last spring, to reach out to young voters. She is more than aware of the unlikely surge of electricity and excitement, the 74-year-old former mayor of Burlington has created among younger voters. 
If such a situation needed underscoring, in last week's vote in Iowa, the caucus that marked the very first voting in the 2016 presidential campaign, Mr Sanders received 84 per cent of support among voters aged between 17 to 29, with Ms Clinton getting just 14 per cent.
Speaking in an informal setting in the private college, established in 1946 for those returning from the Second World War, she said she understood a lot of people were still deciding who to vote for.
"I know there are a lot of remaining questions that are being asked of those of us asking for your vote," said Ms Clinton, 68. "I know that a lot of yr colleagues are supporting my opponent. I want you to know that even if you don't support me, I will support you."
Ms Clinton spoke for more than an hour-and-a-half, during which time she covered everything from the economy to LGBT rights, America's armed forces and what she termed the "offensive" language with which a number of Republicans had referred to Muslims and immigrants
She said she understood that many people were angry and frustrated. But she said America did not need more vitriol.
"Anger is a powerful emotion," she said. "But it is not a plan."
Mr Lovell, the young man from New York, said he was impressed with what the former secretary of state had to say, especially over the controversy over Benghazi. "She made it appear like it was more the work of the media," he said.
Asked if he would consider voting for her, he said Ms Clinton would make a good second choice, far better than any of the Republicans.
But he added: "When I listen to Mr Sanders, the hairs stick up on the back of my neck."
Reuse content