A new poll taken as Donald Trump was reeling after the publication of a lewd sex tape, suggests Hillary Clinton has established a 14-point lead over her Republican rival.
An average of nationwide polls collated by Real Clear Politics suggested Ms Clinton led Mr Trump by fewer than five points. But a new survey carried for NBC News/Wall Street Journal found Ms Clinton on 46 points and Mr Trump on 35 points. Libertarian Gary Johnson's support stood at nine per cent, and Green Party candidate Jill Stein had just two per cent.
However, the survey found that in a head-to-head matchup, Ms Clinton's lead over Mr Trump grew to 14 points – with the Democrat on 52 per cent and Mr Trump on 38 per cent.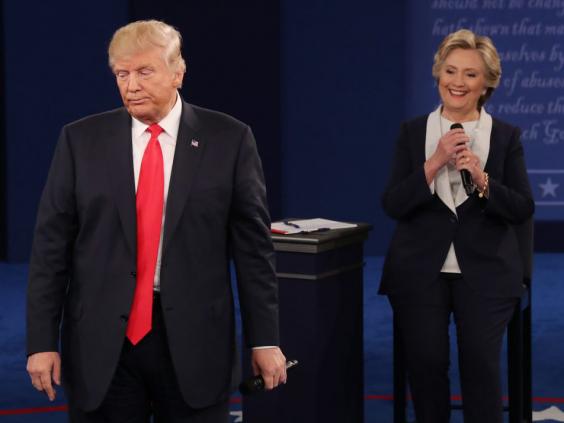 What did Donald Trump say during the second presidential debate?
What did Donald Trump say during the second presidential debate?
1/8 On the leaked tape from 2005 where he talks about sexually assaulting women

"I'm very embarrassed by it, I hate it, but it's locker room talk. It's one of those things. I will knock the hell out of Isis"

Getty

2/8 On Hillary Clinton

"I hate to say it but if I win I'm going to instruct my attorney general to get a special prosecutor to look into your situation. There has never been so many lies, so much deception. You ought to be ashamed of yourself."

Rex

3/8 On Bill Clinton

"What he's done to women, there's never been anybody in the history of politics in this nation that's been so abusive to women."

AP

4/8 On whether his alleged opposition to Iraq War had been disproven

"It's not debunked. It's not debunked."

Getty

5/8 On exploiting tax loopholes

"I absolutely used it, and so did Warren Buffett, and so did George Soros and so did many people who Hillary is getting money from."

Getty

6/8 On claims he's sexist

"I have great respect for women. Nobody has more respect for women than I do."

Reuters

7/8 On what he respects about Hillary Clinton

"I will say this about Hillary - she doesn't quit, she doesn't give up. I tell it like it is. She's a fighter."

Reuters

8/8 On his controversial immigration policies

"It's called extreme vetting. We're going to areas like Syria, where they are coming in by the tens of thousands because of Barack Obama and Hillary Clinton wanting to allow a 550 per cent increase [of refugees] over Obama. People are coming into this country. We have no idea who they are, where they are from and what their feelings are about this country."

Getty
The survey was conducted as Mr Trump sought to divert attention from controversy sparked by the emergence of video footage recorded in 2005, in which he bragged about sexually assaulting women. The emergence of the video, which he had filmed for Access Hollywood, saw Mr Trump being condemned by senior members of his own party, with some urging him to drop out of the race.
Mr Trump's bruising, aggressive performance on Sunday night's debate – an event where be brought up Bill Clinton's history of sexual controversies and accused Ms Clinton of aiding and abetting her husband – was enough to change the immediate media narrative. On Monday morning, his vice-presidential running mate Mike Pence told CNN he was proud of Mr Trump's performance and that he was standing by him.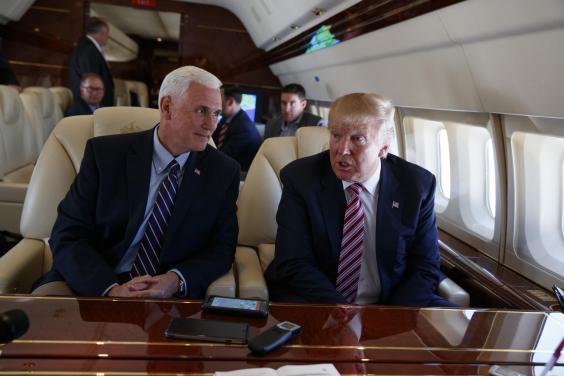 "You know I'll always keep my conversations with Donald Trump and my family private," said Mr Pence, who later campaigned for Mr Trump in North Carolina. "But it's absolutely false to suggest that at any point in time we considered dropping off this ticket." 
The new poll also found that Democrats overall now have a seven-point advantage on the question of which party voters want to see in control of Congress.
Forty-nine percent of voters said they would like to see Democrats in power on Capitol Hill, compared to 42 percent who chose the Republicans. That represents an increase from the three-point advantage for Democrats last month. It is also the largest advantage for Democrats since the October 2009 government shutdown.
Although voters overall are split over the impact of the 2005 tape, in which Mr Trump described kissing and touching women's bodies without their consent, less than a quarter of Republicans said the revelations should be grounds for other GOP Senate and House candidates to drop their backing of Mr Trump,  or call for him to drop out of the race.
A total of 52 per cent of respondents said that the tape should be an issue in the campaign, while 42 percent say it shouldn't.
While 31 per cent of voters said Mr Trump's comments about women were "inappropriate, but typical of how some men talk in private with other men", a total of 41 per cent said the remarks were "completely unacceptable".
Reuse content