Former Ku Klux Klan leader David Duke praised Donald Trump's pick for National Security Advisor for promoting an anti-Semitic tweet over the summer. 
Duke's endorsement of General Michael Flynn's tweet comes as each of the President-elect's appointments have drawn criticism for their racist views – including the choice for Attorney General, Jeff Sessions, a man once deemed "too racist" to serve as a federal judge.
Donald Trump's most controversial quotes
Donald Trump's most controversial quotes
1/18 On Mexicans

"When Mexico sends its people, they're not sending the best. They're not sending you, they're sending people that have lots of problems and they're bringing those problems with us. They're bringing drugs. They're bring crime. They're rapists… And some, I assume, are good people."

AFP/Getty Images

2/18 On Senator McCain

"He's not a war hero... He was a war hero because he was captured. I like people who weren't captured."

Getty Images

3/18 On Megyn Kelly

"You could see there was blood coming out of her eyes. Blood coming out of her wherever."

AFP/Getty Images

4/18 On Vladimir Putin

"He's running his country, and at least he's a leader, unlike what we have in this country."

Getty Images

5/18 On his popularity

"I could stand in the middle of Fifth Avenue and shoot somebody and I wouldn't lose any voters."

AFP/Getty Images

6/18 On torture

"I would bring back waterboarding and I'd bring back a hell of a lot worse than waterboarding."

Getty Images

7/18 On his body

"Look at those hands, are they small hands? And, [Republican rival Marco Rubio] referred to my hands: 'If they're small, something else must be small.' I guarantee you there's no problem. I guarantee."

AFP/Getty Images

8/18 On president Obama

"He is the founder of Isis."

Getty Images

9/18 On the Second Amendment

"Hillary wants to abolish — essentially abolish the Second Amendment. By the way, if she gets to pick, if she gets to pick her judges, nothing you can do, folks. Although the Second Amendment people, maybe there is, I don't know."

AFP/Getty Images

10/18 On Hilary Clinton's emails

"Russia, if you're listening, I hope you're able to find the 30,000 emails that are missing."

AFP/Getty Images

11/18 On sexual assault

In a statement regarding the release of a 2005 video in which he can be heard boasting about sexual assault: "This was locker room banter, a private conversation that took place many years ago. Bill Clinton has said far worse to me on the golf course."

Getty Images

12/18 On tax loopholes

"I absolutely used it, and so did Warren Buffett, and so did George Soros and so did many people who Hillary is getting money from."

AFP/Getty Images

13/18 On his accuser

"Believe me, she would not be my first choice, that I can tell you."

Getty Images

14/18 On Hillary Clinton

"Such a nasty woman"

Getty Images

15/18 On his pro-life stance

"Based on what she's saying ... you can take the baby and rip the baby out of the womb in the ninth month, on the final day, and that's unacceptable"

Getty Images

16/18 On his accusers

"Total fabrication. The events never happened. Never. All of these liars will be sued after the election is over."

Getty Images

17/18 On the 'rigged' election system

"I will totally accept the results of this great and historic presidential election — if I win."

Getty Images

18/18 On Hillary Clinton

"I hate to say it but if I win I'm going to instruct my attorney general to get a special prosecutor to look into your situation. There has never been so many lies, so much deception. You ought to be ashamed of yourself."

Getty Images
Mr Flynn was met with fierce criticism in July after he shared a tweet in response to the Hillary Clinton campaign's suggestion that Russia was behind the emil hack of the Democratic National Committee.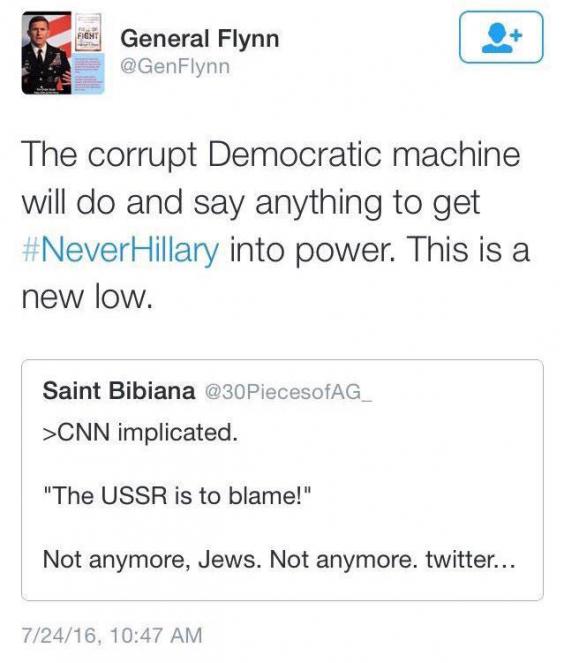 "The corrupt Democratic machine will do and say anything to get [Clinton] into power. This is a new low," he tweeted, linking to a tweeted from a user called Saint Bibiana. 
It said: "CNN implicated. 'The USSR is to blame!' … Not anymore, Jews. Not anymore."
Mr Flynn deleted the tweet shortly after he sent it out, saying "the earlier retweet was a mistake". He claimed that he only intended to tweet a link to the CNN clip of Clinton campaign manager Robby Mook's statement.
Despite Mr Flynn's disavowal of the tweet, Duke championed the choice of Flynn as national security Isis with an anti-Semitic remark of his own. 
"Great pick!" he tweeted. "Gen Flynn's retweet shows he knows that the Saudis, Isis, and the Jewish-NeoCons are the real enemies - NOT Assad and NOT Russia!"
Mr Flynn has made clear his views against Islam. 
In February he called fear of Muslims "rational". He has also referred to Islam as a "political ideology" that "hides behind religion.
People who have worked closely with Mr Flynn while he ran the Defence Intelligence Agency said that the incoming National Security Advisor does not have a firm grasp of facts – a common criticism of Mr Trump himself. 
Mr Flynn had previously asserted that Shariah Law is expanding in the US, according to the New York Times, an outrageously false claim. 
Such claims from the man who will be among the new President's top aides had been dubbed "Flynn facts".
Reuse content