Far from the over-heated cable TV studios and indignant editorial boardrooms many voters in America, including those who say they are still on the fence about whom to support, remain unsure that the allegations of abusive behaviour towards women in the past should disqualify Donald Trump from being president.
Interviews conducted by The Independent almost a week after a first leak that quickly turned the phrase "grabbing pussy" into a crude sort of national punchline – both in the Mall of America in Minnesota and in one of the state's staunchest Republican congressional districts northwest of Minneapolis – revealed a complex picture where revulsion was often mixed with forgiveness.
In this corner of the Midwest, moreover, the stereotype of a Trump supporter, who loves him no matter what, was much harder to find than voters carefully trying to make up their own minds about what it all means. Much more elusive, though, were committed Clinton fans. Instead, the most common theme was that she – and her husband, Bill Clinton – have done much worse.
"He is not a crook, like Hillary Clinton," said Debbie Bullock, 61, who was visiting the world's most infamous retail emporium, where shops are a second thought beside the jangle of indoor rollercoaster rides and theme park attractions, with her husband, Louis Bullock. Both agreed: no one who has allegedly been a public servant for so long gets to be a millionaire without being corrupt.
Like some of the other women voters we spoke to, she was ready simply to disregard the allegations of Mr Trump shaming women with verbal – or worse – abuse. "I don't have a problem with it," she offered flatly. "I agree with him that that was locker-room talk. Where were these women a year ago? Why now all of a sudden are they crawling out of the woodwork?"
The other counts against the Clintons were rehearsed in almost identical fashion by successive voters in both places. She was responsible for the deaths of Americans in Benghazi in 2012. She threatened America's security using a private email server. She will take America on the same downhill course that Barack Obama has set it on. And, well, Bill had his intern.
"To judge a man in the present time for a ten-year-old statement is, I guess, pretty short-sighted and not very forgiving," argued Christian Nickol, 31 who, with a baby in arm and one other infant on the floor was waiting for his wife and three more children to whoosh down a river-raft slide and get a soaking. He described himself as leaning Trump.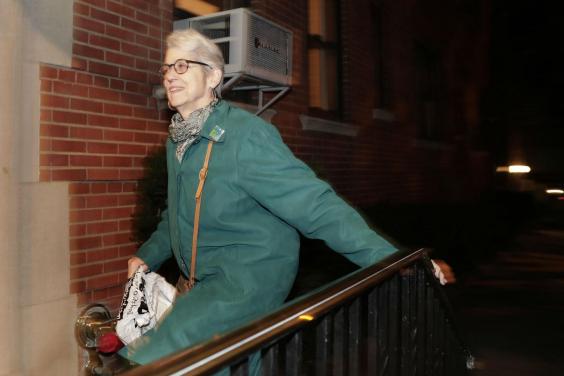 "I mean she has basically caused people to lose their lives in recent history as well as not keep the United States secure as it should be, as a Secretary of State," he added. 
Barely anyone seemed able to express love for Mr Trump as a person. "I don't like Donald Trump, I don't like the way he talks," Louis Bullock conceded. "His way of acting, going about himself, I don't like that," added Quinn Riley, in the mall as a birthday treat for his small daughter, pulling at his cuff. Nearly always, however, an "even so" followed. As Mr Bullock put it: "I kind of wonder, how did the guy get to be a billionaire if he is such a simpleton? He has got to have some kind of sense."
"His straightforwardness is good sometimes but it is very, very bad sometimes," Mr Riley added. "The only thing that I find positive about Donald Trump is that he is a successful businessman and our financial state of the country and how we right-size it." He too described himself as uncertain still, but more interested in Mr Trump than Ms Clinton.
Over and over, however, as these voters juggled their distaste of the Republican nominee on a personal level with some gut desire to see him president anyway, they turned to comparisons with Ms Clinton.
"As immoral a man as he probably he is, I don't think he is responsible for deaths of people - of Americans - like Hillary is," Mr Nickol noted. "He has said some crazy stuff," Joe Cusyk, 59, wandering the rides in the Mall on his own, remarked. "But I was a member of the military and the fact she left those people over there in Mogadishu die (he presumably meant Benghazi), you know, I have a big problem with that."
And then there the comparisons with Bill, which Mr Trump himself has been pedalling hard. 
"I want to know, how can Bill Clinton do it in the White House with another woman and that's not a big deal compared with the words that Trump spews," said Janet Doll, who with her husband and brother-in-law, Mike and Bill Doll, was drinking cocktails in the middle of the afternoon at the Corner Bar in St Michael, Minnesota, after burying a beloved aunt at noon. "Oh my god, everyone spews crap sometimes, but he can actually do it in the White House?"
"I think it's deplorable," Bill Doll said of some of what is being said of Mr Trump and his past behaviour, but went on: "It's stuff he said, it's not stuff he did. Hillary has actually done illegal things." And like many other voters at the Mall and in St Michael, a small town in the heart of the congressional district that was once represented by former presidential candidate, and arch-conservative, Michele Bachmann, he pointed an accusing finger at the US media. 
"I think at this point that Trump is not going to win or he is going to need a miracle to do it, because the mainstream media is against him," he said, alleging, for example, that it had somehow conspired to give her debate questions in advance while not giving them to him.
Minding a very lonely Al's Bowling Alley down the road in St Michael, Cher Strand said something else that quickly emerged as a common theme. "I'm voting for the lesser of two evils," she said, "because as far as I'm concerned they're both crack-pots."
But, once more, that meant the Republican, not the Democrat. "Yes, I know, it's a bad record that he has on women. But even though he might be a traitor to women, she is a traitor to her country," she explained, also a large cocktail at hand.
Back in the aunty's wake in the Corner Bar, Mike Doll offered perhaps the most dispiriting observation of all. "It's come down to this: I am going to hate voting for Trump, but I am going to love not voting for Hillary."
Reuse content