She knew it was coming, but the sheer scale of her defeat in New Hampshire may yet have caught Hillary Clinton by surprise. As she reminded her voters that the important thing when you get knocked is to get up again. And that is what she now has to do.
This is not how she thought it would be. Mrs Clinton won New Hampshire eight years ago against Barack Obama, even if the nomination was eventually his. It was the state that made her husband, Bill Clinton, the 'comeback kid' in 1992, propelling him all the way to the White House.
So this is a loss that surely hurts. It's personal. Some kind of shakeup in the Clinton campaign is now inevitable. Both she and her husband are reportedly deeply unhappy with how parts of the campaign have been run.
Mrs Clinton now desperately needs to turn up the gas to keep her once vaunted campaign afloat. True, she won Iowa, but by less than half a percentage point. A big loss to Senator Bernie Sanders in New Hampshire hands him all the momentum. 
It is a turn that surely will also have the Democratic Party's underwear in a painful knot. Mr Sanders has turned out to be a campaigning genius with his gruff demand for a political revolution to up-end the status quo and restore economic equality. But he calls himself a democratic socialist, surely not a winning label come the general election in November.
Now Mrs Clinton has a perception problem and her most urgent quest is to shore up the firewall of African-American and Hispanic voters she thinks she has in the next states to vote in the nomination process. First comes Nevada in eight days, more critically, South Carolina on 27 February
The Clintons, it is true, have historical ties to the black community, going back to when Mr Clinton was Governor of Arkansas. Civil rights organisations, pastors and their congregations have long felt a deep appreciation of her and a husband.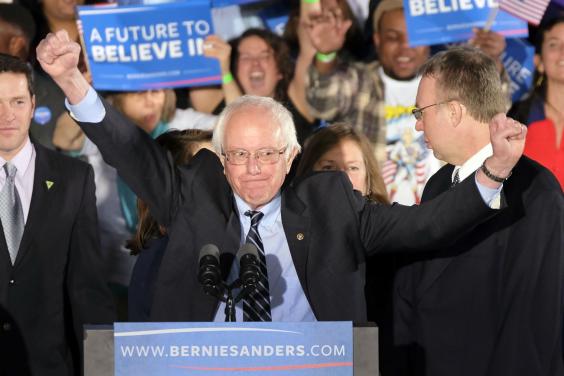 Mr Sanders will work hard to woo young blacks and Hispanics, but has little time to dismantle Ms Clinton's broader advantage with minority voters, though he will start that effort with his meeting in New York on Wednesday morning with the Reverand Al Sharpton, a civil rights veteran.
But beyond the strategizing, the tactics and the staffing, can Ms Clinton make herself anew, into a candidate who can connect and who convinces voters that she understands what ails them. "People have every right to be angry but they're also hungry, they're hungry for solutions," she said, conceding defeat. "I will work harder than anyone to actually make the changes that make your lives better."
And she has to find a way to deflect the Sanders line of attack that she is embedded precisely in the American elite that he thinks should be taken down. And the problem, of course, is that she is.
Reuse content