Sarah Palin cancelled a campaign stop for Donald Trump in Florida on Monday after her husband Todd was injured in a snow machine crash.
Reports said that Todd Palin was in "a very serious" crash Sunday night and is currently hospitalised in intensive care.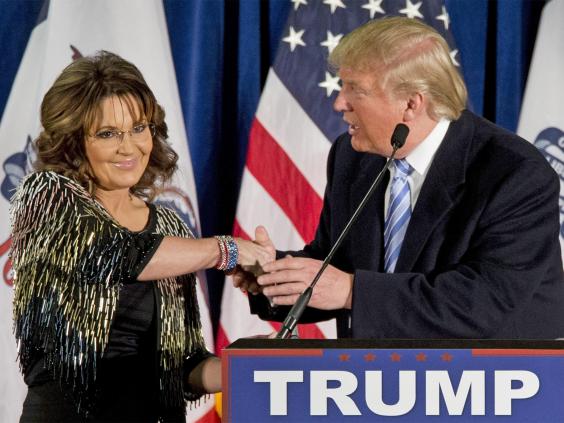 In a statement, Mr Trump's campaign said: "Todd Palin was in a bad snow machine accident last night and is currently hospitalized. Governor Palin is returning to Alaska to be with her husband and looks forward to being back on the campaign trail soon. Mr Trump's thoughts and prayers are with the Palin family at this time."
NBC News said Alaska governor was still planning to stop at an event for Mr Trump in Tampa but has cancelled her other planned appearances with the GOP frontrunner, whom she endorsed earlier this year. She has been in contact with medical personnel and will be traveling back to Alaska today, the source said.
Palin was scheduled to appear on Mr Trump's behalf at noon ET in The Villages, Florida. Just minutes before its scheduled start time, the Trump campaign advised that the event had been cancelled.
"The event scheduled for Governor Sarah Palin to take place today in The Villages, Florida at 12.00 PM, has been cancelled," that earlier brief statement from the Trump campaign read. 
"Governor Palin wishes her best to Mr Trump in the upcoming primaries."
Reuse content